2001 Maniacs (2005) review
Dir. Tim Sullivan

By: Steve Pulaski
Rating: ★★★½
Part of me and my girlfriend's 30-movie Halloween marathon. This review was originally published in August 2018.
They don't make 'em like 2001 Maniacs anymore, that's for sure. Tim Sullivan's proudly anarchic, unabashedly devilish film is certainly a product of its era. Released in 2005, it existed long before social media would grill it to the point of being an overcooked piece of cancel culture. It features bros, boobs, and brutal kills, so much so that those expecting a faithful remake of Herschel Gordon Lewis' Two Thousand Maniacs! might find themselves underwhelmed if they're not expecting what lies ahead with this strange yet abashedly entertaining remake.
The film follows a group of college students en route to spring break in Florida. Their names and identities are less important than the ways in which they'll get killed. Early into their journeys, they find their way into Pleasant Valley, which looks like one of those Civil War reenactment towns. The town is governed by Mayor Buckman (Robert Englund), who wears an eye-patch with the Confederate Flag and refers to the collegians who pass through city limits as "Yanks." As soon as they arrive, they realize that they've come to town in time for the "Guts and Gory Jubilee." The groups consist of three frat-bros, a guy and his two lady friends, and an interracial biker couple.
Immediately upon arriving in Pleasant Valley, it's as if the group transported back in time. This is one of those locales who takes Civil War reenactments very seriously. Little do they know that they're the ones on the menu for this year's Guts and Glory Jubilee.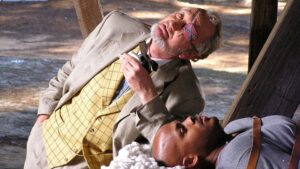 The setting is a playground for a litany of gore, racial stereotypes, scantily clad women, sexual innuendoes, and southern fried mayhem, all of which captured with wit and maniacal charm thanks to Sullivan and Chris Kobin's writing. 2001 Maniacs is essentially walking on a field of landmines with its Mel Brooksian sense of humor, but somewhat miraculously, it rarely stumbles thanks to the light-hearted tone and the sheer inventiveness of the kills. One of the fratboys gets skewered like a pig, another gets a fellatio from a demon, and one woman being honored turns into her being crushed by a makeshift Liberty Bell.
It also helps when the cast of victims, in addition to those playing the residents of Pleasant Valley, all understand the assignment when it comes to the project's tone. Robert Englund fits his role of Mayor Buckman like a glove, serving other Deep South humor and cruelty with ease. Lin Shaye is every bit his equal as Granny Boone, the owner of the ranch on which the college kids decide to stay. Meanwhile, the great Giuseppe Andrews plays a deceptively charming local, who orchestrates one of the meanest and nastiest kills in the movie. Even country singer Travis Tritt of all people shows up for an early cameo where he shows a decisively different version of himself.
2001 Maniacs is a film that makes tremendous use of its runtime (only 87 minutes). It trims the needless fat, stretches its $1.5 million budget, and gets the most out of its characters and setting. Far from high art but way better than the designation of low-brow, this is an accomplished horror-comedy that boasts enough of both not to run thin on entertainment value.
NOTE: As of this writing, 2001 Maniacs is available to watch on Tubi, free of charge.
Starring: Robert Englund, Lin Shaye, Giuseppe Andrews, Jay Gillespie, Matthew Carey, Peter Stormare, Marla Malcolm, Mushond Lee, Eli Roth, Kane Hodder, and Travis Tritt. Directed by: Tim Sullivan.