The Holdovers (2023) review
Dir. Alexander Payne

By: Steve Pulaski
Rating: ★★★★
In 2018, director Alexander Payne was tapped to be a part of Amy Scott's Hal, a documentary which recalled the career of filmmaker Hal Ashby. Ashby thrived in Hollywood in the 1970s, making films about unique individuals that frequently ingratiated themselves in the counterculture of the era. When the 1980s hit, and filmmakers such as Martin Scorsese and Steven Spielberg exploded onto the scene, and the structure of Hollywood became more corporate, Ashby refused to play ball, and thus his popularity dwindled into relative obscurity.
Payne's latest work, The Holdovers, has a lot in common with the films of Ashby on a humanist level. In many ways, the picture itself feels like it was made in the 1970s and was only discovered recently. The film even opens with faux-retro logos of Focus Features and Miramax (despite both studios not even existing in that period), and bears that grainy and hazy reel-aesthetic, as if we're watching the film through a fog of cigarette smoke. Ashby would be proud, although he might've privately wished he had made this film first.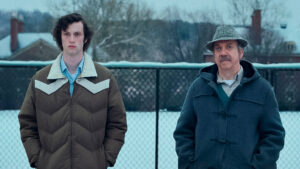 The Holdovers centers around Paul Hunham, an unapologetically brutal history teacher at Barton Academy in 1970 New England. Hunham's punishing workload and unforgiving practices render him loathed by students and faculty alike, but it doesn't take a shrink to see him for what he is: a rapidly aging proctor whose own life goals and dreams passed him by long ago and left him with merely a glimmer of power, which he uses to keep his students in line.
Every holiday break, inevitably, a few kids need to stay at Barton for one reason or another. This year, it is Paul who must chaperone them over the two-week recess, as five students have nowhere to go for the holidays. One thing leads to another, and four of the students are able to take a vacation of their own after a few days stuck in purgatory. This leaves Angus Tully (newcomer Dominic Sessa) as the lone left-behind, in the company of Paul and the school cook Mary (Da'Vine Joy Randolph, Only Murders in This Building).
Angus is informed by his mother last minute that he is not to come home to her and his new stepfather, as they are about to take the honeymoon they never got (despite getting married in July). Angus is a bright boy, but he's prone to impulsive decision-making and occasional fits of rage, which have caused him to be expelled from three schools.
Meanwhile, Mary is grieving the loss of her son, who was killed in Vietnam. Together, with Paul — whose cynicism and perpetual negativism even wears her down at multiple points — the two are the de facto mother and father figure to Angus. However, they're so much more. The Holdovers is about a lot of things, but it's also about those unexpected friendships and mentorships that somehow find you when you're at a fork in the road with your own life. Maybe those folks give you all the answers you're seeking, but they come at a time when some guidance and a new perspective is necessary. This goes for all the characters involved, regardless of age or stage-of-life.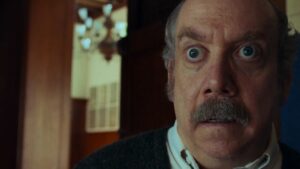 When down to three, David Hemingson's masterful screenplay really gets to work in assuring the trifecta of individuals are developed into human beings. It's no coincidence that Payne's best film since Sideways also stars Paul Giamatti in his meatiest role in years. Paul Hunham is no John Keating, but he has his principles about academia and refuses to let the sons of wealthy alums skate by with suboptimal work ethics. Giamatti is blisteringly funny with every acidic (yet often deserved) insult he hurls at Angus or any of the other initial "holdover" students. He's irascible to the point that one wonders how he's lasted this long at such an ivory tower prep school. Hemingson loans him more than a few extended sequences that see his character further developed, and Giamatti is primed to make them all click.
Then we have Da'Vine Joy Randolph, the big-hearted yet grief-stricken soul of the movie. Like Paul and Angus, she's at a very distinct chapter in her life. Having lost her husband and her son, both before they turned 25, Mary tries her best to remain composed, as difficult as it often is. Through an understated performance, one not without a lot of strong comedic timing, Randolph makes you fall in love with Mary, the individual, faster than her male counterparts. Here's hoping the already decorated 37-year-old obtains more roles that show off her dramatic chops.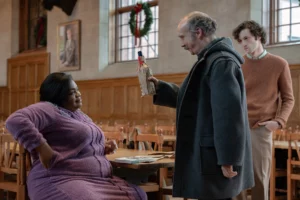 Furthermore, it's as if we're watching Dominic Sessa grow into his comfort zone as an actor as the film marches forward. While the film has him playing a bit of a one-note jerk to start, Sessa is able to allow his charm and idiosyncrasies shine during the second half.
Over the course of 133 minutes, Payne devotes long stretches to Paul and Angus' initially combative relationship that slowly and steadily grows warmer. The idea of misfits joining together to form their own makeshift family is certainly a familiar one, but Payne and Hemingson make it feel fresh with the quietly perceptive revelations they leave for their characters to realize. Overtime, Paul begins to confront his place in life when faced with a teenager who is trying to figure out what road he himself is on. Most Barton kids tend to go on to Yale, Dartmouth, Cornell, or Harvard. Angus' homelife is so erratic that he might go to Vietnam for all he knows.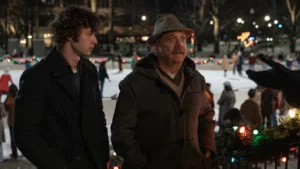 It's so fitting that The Holdovers is from the same director who gave us such cinematic gifts as Sideways, The Descendants, and Nebraska. More than a decade ago, Payne remarked that there might be a problem with a world in which "making small, human, and humorous films is considered 'an achievement." "It should be the norm," he stated. Back in the 1970s, it certainly was. A film like The Holdovers would've been playing in thousands of US theaters, and it would've fit right in with a lot of the fare at the time. Now, it's lucky to break even in a climate saturated by films more than five or six times its budget.
I'm at the point where I'm done metaphorically crossing my fingers that a film of this nature overperforms its predicted box office haul. With streaming so dominant, I'm confident The Holdovers will find the audience that will embrace it, and those who unassumingly stumble upon it are reminded of the undying empathetic powers of cinema.
NOTE: The Holdovers is now playing exclusively in theaters.
REVIEWS OF OTHER ALEXANDER PAYNE FILMS:
My review of Sideways (2004)
My review of The Descendants (2011)
My review of Nebraska (2013)
My review of Downsizing (2017)

Starring: Paul Giamatti, Dominic Sessa, Da'Vine Joy Randolph, Carrie Preston, Brady Hepner, Ian Dolley, Jim Kaplan, Michael Provost, Andrew Garman, Gillian Vigman, and Tate Donovan. Directed by: Alexander Payne.