In the Heights review (2021)
Dir. Jon M. Chu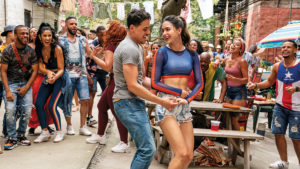 By: Steve Pulaski
Rating: ★★★★
This film is included in my "Best of 2021" list
In the Heights is exactly the kind of electrifying theatrical experience I longed for since theaters closed their doors. It's a jubilant celebration of individuality with one banger after another and setpieces that will surely rival any blockbuster released this year. When it comes to crafting a rich story, piling on likable character types, versatile lyrics, emotional heft, and a vibrant pastiche, Lin-Manuel Miranda can have the crown.
There are many voices we come to hear in In the Heights, but the loudest belongs to Usnavi (Anthony Ramos, Hamilton). We meet him on a beach while he's telling a group of kids about his memories of New York City's Washington Heights neighborhood. "Say it," he implores them often, to which the kids respond by yelling "Washington Heights!" "If you don't, it'll disappear," Usnavi explains.
The titular song — maybe my favorite in a crowded soundtrack of great tunes — introduces us to some of Usnavi's neighbors. There's Abuela Claudia (Olga Merediz), who is not his biological grandmother, but serves the role for many; his cousin Sonny (Gregory Diaz IV), who helps run Usnavi's bodega; Kevin Rosario (Jimmy Smits), who runs his car service in the wake of encroaching gentrification while fighting to pay Stanford tuition for his daughter Nina (Leslie Grace), who is back in town; and Benny (Corey Hawkins, Straight Outta Compton), a longtime friend of Usnavi's who harbors a crush for Nina. Meanwhile Usnavi nurses one of his own for Vanessa (Melissa Barrera), a go-getter working at a salon with her sights set on being a big city fashion designer.
Washington Heights is captured as a busy, lived-in ecosystem with a diverse population of Dominicans, Cubans, Puerto Ricans, Blacks, and more. You can throw a stone and hit someone with big dreams of leaving the area behind in favor of perceived greener pastures. The orphaned Usnavi, for one, has been stashing away money to move to the Dominican Republic to revive his late father's beach-bar, which was devastated by a recent hurricane. As the move comes closer, the waves of nostalgia and immeasurable appreciation for the work-minded yet loving community start to wash over him.
The film was written by Quiara Alegría Hudes, the author of the original book, which was then adapted to a Tony Award-winning stage-play by Lin-Manuel Miranda. Having not seen the play, I can't imagine those who have griping about the technical mastery Jon M. Chu's film so valiantly flaunts. Chu and cinematographer Alice Brooks direct this symphony with a sharpness that has it shattering any and all spatial boundaries on-screen. With the aid of hundreds of extras and dozens of different settings, the Heights is given an identity that might as well be a stadium-sized mural of color and personality.
It's difficult not to see some similarities between In the Heights and Spike Lee's Do the Right Thing, as the story takes place over several scorching-hot days as a neighborhood-wide blackout is imminent. You can practically see the sidewalk bubble as the characters fry in 90-degree temperatures with little relief once the power finally goes off. Chu and Brooks make a point to incorporate various colors into this beautiful palette. Where Lee utilized red most prominently, the two opt to blend hues and create a dynamic visual appearance that makes the production feel so large and attractive.
Such mundane daily occurrences as going to the bodega or listlessly sitting in a back-alley become exhilarating playgrounds for the actors in which to congregate and sing. Some of the most enjoyable bits happen in a local salon run by the fiery Daniela (Daphne Rubin-Vega) and her crew of gossipy yet good-natured employees (Dascha Polanco, Stephanie Beatriz). Not one better than when Nina makes her return and gets a makeover accompanied by a song-and-dance routine appropriately titled "No Me Diga." Later in the film, when the blackout has exhausted every Heights resident, Daniela shows up disgusted by the laziness of the town and insights a "Carnaval Del Barrio" number that will win you over with its performers' movements in a tight alley.
Similar to Hamilton, In the Heights' runtime might leave you exhausted. There are lulls in the narrative, but they are brief. The weight of the production never gets the best of it despite the over-two hour investment demanded. Summer twenty-one is going to be one for the books for many of us, who are looking to exhaust ourselves with plans, vacations, moves, outings, and what-have-you. In the Heights is a beyond delightful kickoff to that and might provide you the motivation you need to get going yourself.
NOTE: In the Heights is available to stream on HBO Max for a limited time, but you'd be mistaken to stream it as opposed to seeing it on the biggest theater screen in your area.
Starring: Anthony Ramos, Melissa Barrera, Corey Hawkins, Gregory Diaz IV, Leslie Grace, Jimmy Smits, Olga Merediz, Daphne Rubin-Vega, Dascha Polanco, and Stephanie Beatriz. Directed by: Jon M. Chu.