Steve Pulaski's Top 10 Films of 2021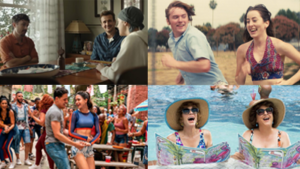 I'm a touch tardy on these two year-end lists on account of three or four movies I wanted to watch before making my final ranking. Some stats to begin: I watched 108 releases this year (2021 movies exclusively) with 239 movies watched in the year. 33 of those movies I watched in the theater. I went back to the theater in May 2021; the first time since March 2020. The first movie I saw was Spiral: From the Book of Saw. It was at least better than the movie I had last seen in the theater at that point (I Still Believe).
Lastly, I'm thrilled I can showcase these lists (and future ones) on this beautiful new website for which I'm eternally grateful. As a whole, it's still a work in progress. I've been uploading my backlog conservatively. I'm extremely grateful for everyone checking out my work on multiple different platforms. After more than 10 years, I'm proud that it's in a centralized space.
Without further adieu, here are my favorites of 2021. Also included are streaming platforms where you can watch said movies.
[….]
1. Our Friend: Our Friend is a movie that's confident in its saddest moments. It knows better than to bombard us with sappy music. It lets the dialog carry those moments, no music necessary. We as the audience then come to grips with the gravity of the situation and don't have scenes offset with a score that overplays the moment. The nonlinear structure also adds a level of engagement that wouldn't have been there had it been chronological. We see these people as giving but flawed, compassionate but comprised. It adds a balance that makes for a dimensional character study. While it doesn't have you rushing for the Zoloft ala Manchester By the Sea— another Casey Affleck home-run — I suggest you keep a box of tissues near. Maybe two. It's important to think and feel during these days, and Gabriela Cowperthwaite's marvel provides a terrific conduit.
Where to watch: Amazon Prime (with subscription), Vudu, YouTube
2. Pig: It's not what Michael Sarnoski's Pig is about but how it's about it, in so many words. It's a sullen picture liable to leave you feeling glum once the credits commence. Yet it's the way in which it moves, subverting your expectations in forgoing incredulous twists, in turn being beautifully impressionistic. At its most basic, the core of Pig is about being alive, as painful and as awful as it can be at times.
Where to watch: Hulu, Vudu, YouTube
3. The Card Counter: Of all the aesthetics, it's Robert Levon Been's moody soundtrack that sends The Card Counter over the top. Been's minimalist production and repetitive lyrics are liable to score any future nightmares you might have, and compliment a picture that reminds us that anyone is capable of going on tilt. Paul Schrader's infrequent releases compared to his contemporaries leads many (and myself) to forget what a visceral filmmaker he is. The subject matter embedded in First Reformed led many to believe it would be his last. The Card Counter proves the 75-year-old writer/director hasn't run out of things to say; he just takes his time in presenting a complete package.
Where to watch: Apple TV, Vudu, YouTube
4. Licorice Pizza: Like most Paul Thomas Anderson joints, Licorice Pizza prioritizes essence over logical plot progressions. Thankfully, it casts a spell strong enough to dazzle you where you won't be burdened by the incredulous circumstances. Alana Haim possesses a radiant magnetism you simply cannot coach. Both her and Cooper Hoffman have a chemistry as prickly as it is loving. It also shows you what we men put ourselves through for a first kiss as well.
Where to watch: now playing in theaters
5. In the Heights: In the Heights is exactly the kind of electrifying theatrical experience I longed for since theaters closed their doors. It's a jubilant celebration of individuality with one banger after another and setpieces that will surely rival any blockbuster released this year. When it comes to crafting a rich story, piling on likable character types, versatile lyrics, emotional heft, and a vibrant pastiche, Lin-Manuel Miranda can have the crown.
Where to watch: HBO Max
6. Barb and Star Go to Vista Del Mar: You'll probably know after the trailer whether or not you want to see Barb and Star Go to Vista Del Mar. I recall seeing the trailers early last year and hearing whispered feedback from fellow theatergoers expressing confusion when it ended. I was already sold, albeit cautiously optimistic. Coming a decade after the two collaborated to make Bridesmaids, I'm elated to say Barb and Star Go to Vista Del Mar is Annie Mumolo and Kristen Wiig's comic opus thus far. This is what cult classics are made of.
Where to watch: Hulu, Vudu, YouTube
My review of Barb and Star Go to Vista Del Mar
7. DMX: Don't Try to Understand: Part of HBO's "Music Box" documentary series — created by Bill Simmons, the same man responsible for ESPN's 30 for 30 — Don't Try to Understand started as a simple window into the life of one of hip-hop's loudest voices of the 1990s and 2000s. And then, when Earl "DMX" Simmons died in April 2021, it inadvertently became something more poignant. The final glimpse into a man who endured so much pain in his life that barking, both figuratively and literally, seemed to be the only response. The fact that Frierson and Slater don't try to draw attention to the finality of the wealth of moments within this documentary makes it all the more authentic. They know that we know what happened. Instead, they focus on what we should be so grateful to see. And what we'll ultimately remember.
Where to watch: HBO Max
My review of DMX: Don't Try to Understand
8. Mandibles: It took nine films, but Quentin "No Reason" Dupieux — who has gifted us stories about sentient killer tires, crooked cops, and deerskin jackets — has finally made his first great picture. Mandibles is as splendid a screwball comedy as they come, brimful of effective situation humor and a lingering relaxed pace that assures it never gets too bonkers for its own good.
Where to watch: Hulu
9. City of Lies: City of Lies was originally supposed to be released in theaters in the fall of 2018, but was mysteriously taken off the schedule. Reportedly, Depp got into a physical altercation with the film's location manager and a lawsuit contributed to its delay. Color me conspiratorial, but I simply don't buy that cockamamie justification. That incident may have played a role, but I highly doubt it would've resulted in a three-year delay. I have a very hard time believing the LAPD didn't put some kind of pressure on Miramax to smother the release of the film. We'll likely never know who pulled the trigger and ended the lives of Tupac Shakur and Christopher "Biggie Smalls" Wallace at such a tender age, but at the least, we're starting to learn the why behind all the unknowing.
Where to watch: Amazon Prime Video (with subscription), Hulu, and Starz
10. The Green Knight: If you come to The Green Knight expecting a conventional, Hollywood-minded take on Arthurian legend, you should know you're mistaken within the first few minutes. Falling snow and ash litter the screen against a backdrop of misty fog, setting a somber tone from the jump. From there, you're taken on a relatively quiet, meditative journey that is anything but linear. This isn't King Arthur by way of arthouse cinema. This is King Arthur with narrative grace, as opposed to past installments that pillaged the material and left the swords and carnage.
Where to watch: Vudu, YouTube
Honorable mentions (no order): Last Night in Soho, The Lost Daughter, West Side Story