West Side Story (2021) review
Dir. Steven Spielberg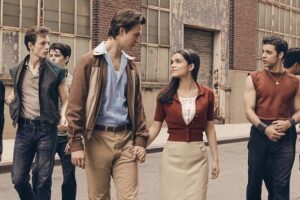 By: Steve Pulaski
Rating: ★★★½
At 74-years-old, Steven Spielberg's West Side Story is somehow, someway his first ever musical. More surprising, however, is that after watching it, it would lead you to believe that Spielberg only directs musicals — if you didn't know any better. That's the level of craftsmanship and care he brings to the granddaddy of the genre.
I mentioned in my review of the original film, written this week, that for as acclaimed as West Side Story is institutionally, it doesn't get a tremendous amount of recognition from general audiences. Nowhere near the level of acclaim still afforded to Singin' in the Rain. At a time when the cinematic landscape was becoming global, and in turn, more experimental, Robert Wise and Jerome Robbins' 1961 film — which netted 10 Oscars — felt like Old Hollywood digging into its hallmarks. It resulted in a spirited, if flawed, work conceived on a massive scale; the kind of musical where the choreography was more memorable than many of the songs.
Dare I make the controversial claim that Spielberg's remake improves on the original? I think I will. Beyond remaining mostly faithful to the story and thoughtfully updating little details, Spielberg and writer Tony Kushner (Angels in America) do what simply couldn't be done in 1961 and that's humanize the Puerto Rican characters — not to mention actually cast actors of color. Just as significant to the central narrative is the immigrant experience. Gone is the occasionally interchangeable look of the Sharks and Jets. What's in its place are colorful characters that burst with youthful energy. They spin, slide, glide, and trot around the city-streets ostensibly because they have so much angsty energy that they cannot contain themselves. This is both gangs' release.
Set to the backdrop of crumbling New York infrastructure, where shadows of cranes and wrecking balls contribute to symbolically potent frames, it's a reminder that for as broken as these kids' home-lives are, their stories and personalities aren't even close to being fully erected.
The opening sequence illustrates the rivalry between the Sharks and the Jets in great detail. Largely focused on the Jets, Spielberg's camera sweeps through the busy streets of New York City as the slew of rabble-rousers douse a Puerto Rican mural with paint. The Jets are led by Riff (Mike Faist), who is growing mighty sick of the rivals gaining traction on his turf. Leading the Puerto Rican Sharks is Bernardo (David Alvarez), an aspiring boxer, who warns his baby sister Maria (Rachel Zegler) early that she shouldn't so much as look at a "gringo." That lecture is in one ear and out the other that same evening at a school dance when Maria catches the eye of Tony (Ansel Elgort), an ex-Jet fighting to stay on the straight-and-narrow after being locked up for murder. Tony now resides in the basement of the store in which he works with shop-owner Valentina (Rita Moreno, whose performance as Anita in the original film earned her an Oscar) watching over him.
No amount of threats, blows, or increasing rage between the two gangs can keep Tony and Maria from skipping town and milking every moment together. Bernardo's partner Anita (Ariana DeBose) tries to get him to back off his sibling, but to little avail. With a major brawl scheduled between the Sharks and Jets, both sides are committed to the thought of the whites and the Puerto Ricans remaining segregated forever.
Spielberg's West Side Story is a film made by unfairly talented men and women who are nothing short of fluent in the language of cinema. Beyond one of the best to ever do it behind the camera, and Kushner's accomplished writing, there's cinematographer Janusz Kamiński yet again serving up delicious eye-candy and downright sexy camerawork, choreographer Justin Peck doing Robbins justice, and at least three performances you're sure to remember in Faist, DeBose, and perhaps above all, Zegler.
I'm liable to have a mental tug-of-war over this, but I am almost compelled to say that the duo of Elgort and Zegler outshine Natalie Wood and Richard Beymer. In the original West Side Story, Tony was written less like a gang-member and more akin to a conventional Hollywood lead, while Wood's Maria was rendered a plain Jane due to a lack of sufficient character development. Wood and Beymer were bested by George Chakiris and Moreno's Bernardo and Anita, respectively, simply because their romance felt more lived-in. The obvious difference here is that Kushner's script affords the Puerto Ricans ample character development; souls as opposed to stereotypes. Zegler is downright phenomenal, hitting every beat as if she's a veteran. Elgort, by contrast, never conveys the stakes of being a reformed gangmember on the cusp of going back to his old ways in pursuit of love, but his scenes with Zegler are no less tenderly romantic.
Moreno's Valentina replaces Doc as the local shop-owner and solicitor of wisdom. It didn't dawn on me until it happened that this recontextualizes a major climactic event involving Anita in the third act. As great as Doc's moment was in the original film, Moreno addresses the elephant in the room and puts a new stamp of power on the scene.
Also altered is the setup for my favorite number, "Gee, Officer Krupke," which occurs in the booking room of a police station. The number itself is explosive. Peck's choreography is robust and elaborate as the actors clearly worked overtime lugging benches, flinging books, and tossing papers in a joyous act of rebellion.
So much of West Side Story comes from Spielberg, as gifted a director as any whom we are so fortunate to have. This isn't the classic 1950s Broadway play by way of Glee. This is a beautiful picture that brings renewed life to the exquisite songwriting of Stephen Sondheim and Leonard Bernstein, and draws attention to the immigrant experience in America thanks to Kushner's writing. This is the rare elite remake. Treat yourself this holiday season.
NOTE: West Side Story is now playing exclusively in theaters.
My review of West Side Story (1961)
Starring: Ansel Elgort, Rachel Zegler, David Alvarez, Ariana DeBose, Mike Faist, and Rita Moreno. Directed by: Steven Spielberg.