Death on the Nile (2022) review
Dir. Kenneth Branagh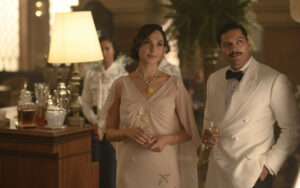 By: Steve Pulaski
Rating: ★★½
Kenneth Branagh returns as Hercule Poirot for another perfectly adequate mystery in Death on the Nile. Like Branagh's Murder on the Orient Express, one of the most unexpected box office hits of its year, some of the finer details prevent it from achieving greatness. That said, these are still entertaining, involving mysteries. I wouldn't complain about getting one from Branagh every other year. They're a fine middle-ground between dramatic ensembles and bloody crime-dramas.
Speaking of ensembles, Death on the Nile isn't quite working with the same firepower in terms of casting. It's quite difficult to top a movie that boasted Willem Dafoe, Penélope Cruz, Johnny Depp, Judi Dench, and Leslie Odom, Jr. However, screenwriter Michael Green does a better job at getting the players involved in the storyline with this sequel. Orient Express occasionally felt too crowded to give its individual castmembers equal opportunity to shine. You lose some, but gain some here.
The world-famous, second-to-none detective Hercule Poirot (reprised by Branagh) is given something of his own origins story as well. Before he was solving mysteries, Poirot was helping his squadron on the frontlines of World War I. Portrayed by a convincingly de-aged Branagh, he devises a strategy to attack the Germans, but a booby trap mutilates his face in the process. HIs lover visits him in the infirmary and suggests he grow a mustache.
There we have the story behind one of the greatest pieces of face furniture in pop culture history.
Flash-forward to 1937 London and Poirot is in a packed blues club, where he's introduced to performer Salome Otterbourne (Sophie Okonedo) and her manager/niece, Rosalie (Letitia Wright). It's here where Poirot is also acquainted with a handsome lad named Simon Doyle (Armie Hammer) and his fiancée, Jacqueline de Bellefort (Emma Mackey). But once Jacqueline introduces Simon to her childhood friend, Linnet Ridgeway (Gal Gadot), as lavishing a dame as they come, Simon only has eyes for her. It was game over the moment Linnet entered the club in a long, flowing silver gown.
Weeks later, the crew is set to board the S.S. Karnak in Egypt for a riverside getaway. Also along for the trip is Poirot's old friend Bouc (Tom Bateman, also reprising his role), his prickly, wealthy mother (Annette Bening), Linnet's lawyer/cousin (Ali Fazal), as well as her ex fiancé (an understated Russell Brand), her maid (Rose Leslie), godmother (Jennifer Saunders), and her godmother's nurse (Dawn French). The trip is underscored by the animosity and resentment Jackie harbors for both Simon and Linnet, who have now planned to marry.
Then all hell breaks loose on the Karnak, culminating with a shocking murder that sends Poirot off and running to do what he does most nobly.
Death on the Nile gets off to a turbulent start. Green's screenplay prioritizes frothy conversations about love over any sort of developing tension. Over the course of the first 45 minutes, we are afforded some context about Poirot (what became of his aforementioned lover, for one), though these moments are often delivered through flowery, winded monologues. It takes a rather substantial amount of time for the cast to board the Karnak and the mystery to muster.
There's also some questionable CGI, which gives the backgrounds an intensely glossy sheen, distracting from the inherent beauty of the locations. It looks less "golden age" and more artificial than Orient Express.
Green's script grounds itself better in the final hour, when it has no choice but to embrace the murder(s) and inherent whodunit nature of Agatha Christie's famous novel. The cast is uniformly up to the challenge. Branagh was born to play Poirot, that much we already know. Emma Mackey plays manic well, growing progressively more unhinged right up until the first gunshot is fired. Annette Bening and Letitia Wright chime in with delectable snark, and Sophie Okonedo commands your attention whether she's singing or speaking. If there's a weaker link, it's Gadot, who delivers almost every line as if she's doing voiceover work. It sounds…too perfect, especially given the circumstances.
Now that solid groundwork has been established, I hope that if Branagh opts for future Christie adaptations, he starts going beneath the book-stacks, serving up lesser-known stories that aren't burdened by comparison to previous film adaptations and well-known texts. Death on the Nile sometimes comes off as a dusty relic with a facelift, but for some sweet stretches, it's undeniably compelling.
NOTE: Death on the Nile is now streaming on HBO Max.
My review of Murder on the Orient Express (2017)
My review of A Haunting in Venice
Starring: Kenneth Branagh, Armie Hammer, Gal Gadot, Emma Mackey, Tom Bateman, Sophie Okonedo, Letitia Wright, Russell Brand, Annette Bening, Ali Fazal, Jennifer Saunders, Rose Leslie, and Dawn French. Directed by: Kenneth Branagh.