Top Gun: Maverick (2022) review
Dir. Joseph Kosinski

By: Steve Pulaski
Rating: ★★★★
In a few fleeting moments, you can tell the ear-to-ear smile on Tom Cruise's face is a genuine one. He seems giddy to be back in uniform as "Maverick," the character who started his storied career as an action movie hero back in 1986. You can't fake Cruise's smile. You see the earnestness in his eyes, especially when they moisten at times.
I couldn't have told you what the first excellent legacyquel was earlier today, but it's now Top Gun: Maverick as far as I'm concerned. It's at least a Mach 5 improvement over the original. More significantly, it's a deftly plotted, gorgeously choreographed, intensely paced triumph for modern blockbusters.
The film takes place 36 years after the original. The only person who has aged better than Pete "Maverick" Mitchell is Tom Cruise himself. He's still in the Navy and has refused multiple promotions so he can continue flying. In the early minutes of the film, Maverick takes a prototype plane to its Mach 10 speed objective before his superior (Ed Harris) finds out. For his disobedience, Maverick is sent back to the Top Gun training facility in San Diego where he must train a group of graduates for a difficult mission. The order is actually sent down by Iceman (Val Kilmer), who needs no introduction.
The situation involves an unnamed foreign country that has constructed an underground uranium-enrichment plant, which is set to go live in weeks. Maverick states that "two miracles" need to happen in order for this mission to be successful. A pilot has to fly at extremely low altitude, drop a very precise bomb, then fly up a steep incline with potentially lethal pressure on their body and aircraft in order to escape.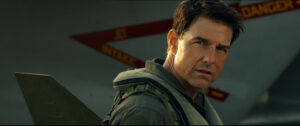 One of the young pilots Maverick is ordered to train is Rooster (Miles Teller), the son of his late wingman Goose. Rooster has two major reasons to hate his new teacher; he let his father die and subsequently blocked his entry into the Naval Academy. Other pilots include the smug Hangman (Glen Powell, playing another arrogant character ala his work in Everybody Wants Some!!), the astute Payback (Jay Ellis, Escape Room), Phoenix (Monica Barbaro, The Good Cop), the only female pilot, and just plain "Bob" (Lewis Pullman, The Strangers: Prey at Night). There's also Penny (Jennifer Connelly), a single mother and bar-owner who catches Maverick's eye. It's a romance that could've been better developed, but when a Hollywood movie with a nine-figure budget has this much to offer, you're more forgiving.
Top Gun: Maverick sets the stage for a great time early. A series of fighter planes land on a runway during several training exercises as Kenny Loggins' classic "Danger Zone" plays over the opening credits. Don't be mistaken; this long-in-the-works sequel isn't built on excessive fan service. Its foundation is laid by a strong cast and a likable assortment of characters. Teller is the ideal Rooster, plus his familiarity with director Joseph Kosinski (the two worked together on the underappreciated Only the Brave) allows for a dimensional portrayal of a young man who must put a grudge aside in order to be the man his father would've wanted. Powell is pretty terrific as well; he's aggressively cocky but never unruly, a difficult mix to execute.
One subtle but admirable element is that the trio of screenwriters (Ehren Kruger, Eric Warren Singer, and Christopher McQuarrie) don't illustrate Phoenix as a strong female archetype who has to one-up the men for a false display of "girl power" bravado. There's nothing manufactured about her. She fits in well with the cast. She doesn't feel like she was inserted.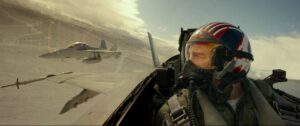 Let's be real, however. The action is the reason you came. Top Gun: Maverick's extended sequences of gravity-defying aerial tricks are so sublime for numerous reasons. For one, cinematographer Claudio Miranda (Life of Pi) never sacrifices clarity, nor a sense of space. Miranda and Kosinski work in harmony, to the point where the young pilots training becomes a palm-sweating experience. But once the life-or-death combat starts, you know you're in for an explosive final 30 minutes that takes you on a long yet fruitful thrill-ride.
You can tell that the special effects are mostly practical as well. It simply doesn't look like this was a film largely conceived in post-production. The sound and speed are all palpable. It feels different when it's real.
The look of everything is downright sexy (thank those 6K IMAX cameras). The San Diego sun beams brightly as all these impossibly attractive human beings test their physical and mental limits on gravity-defying drills. Moreover, the writers know how to keep things moving. This is a movie with no flab and a heightened sense of urgency, particularly once the steep incline of that mountain is introduced.
It's hard to fathom another summer blockbuster being so richly conceived and heavy on adrenaline as Top Gun: Maverick. Furthermore, it's hard to imagine one so inextricably connected to its main star too. Tom Cruise has gone on to be Maverick. He ages in reverse, his thirst for thrills is unquenchable, and a year removed from 60, he still harbors boyish energy levels. There might not even be a better blockbuster this year or next. If there is, we all win.
NOTE: Top Gun: Maverick is now playing exclusively in theaters.
Starring: Tom Cruise, Miles Teller, Jennifer Connelly, Jon Hamm, Glen Powell, Monica Barbaro, Lewis Pullman, Bashir Salahuddin, Ed Harris, and Val Kilmer. Directed by: Joseph Kosinski.