Nope (2022) review
Dir. Jordan Peele

By: Steve Pulaski
Rating: ★★★½
It's quite remarkable that after a year of consistent buzz, teaser trailers, and posters, Jordan Peele's Nope enters theaters as enigmatic as any eight-figure production from a mainstream studio in many moons. In a landscape where studios feed us seven trailers, two dozen posters, and release the first ten minutes of the film onto YouTube, maybe this will help the masses realize that going into a movie completely blind is one of life's greatest joys. Especially when it's this good.
Get Out showed us that Peele was a filmmaker with something to say. Us proved he could layer a story with dense ideas and symbolism. Now, Nope has him graduating to blockbuster status, but make no mistake — this oft-riveting, tactile piece of work features a plethora of memorable characters, and chilling imagery coupled with beautiful cinematography. The underlying themes of spectacle and our reactions to them will be discussed for a while.
The (spoiler-free) plot: after their father, Otis Haywood, Sr. (Keith David), dies in an accident we'll call "bizarre," Otis Jr. (Daniel Kaluuya), aka "OJ," and Emerald (Keke Palmer) are left to run dad's famous Haywood Hollywood Ranch. The ranch lives on the outskirts of Hollywood and supplies movie and TV projects with trained horses. Sidenote: the Haywoods claim to be descendants of the jockey who rode the horse in Eadward Muybridge's 1878 short film The Horse in Motion.
"Since the moment pictures could move, we had skin in the game," says an enthusiastic Emerald to a crew on a Hollywood set.
While Emerald (or "Em") is mastering the art of being a jack-of-all-trades in the performance space, OJ is committed to following in his father's footsteps: he trains the horses, maintains the ranch, and handles business affairs. With computer-generated animals becoming the norm, OJ's had to resort to selling horses to a local Wild West-themed amusement park run by former child actor Jupe (Steven Yeun, Minari). As a child star, Jupe survived a traumatic incident on the set of a '90s sitcom, where a chimp lost his temper and attacked several castmembers. While such an event didn't occur, it might be based on the horrifying "Travis incident" from 2009.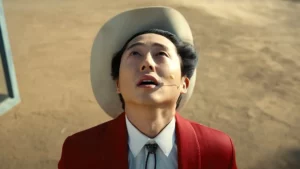 The fun really starts when OJ and Em take note of a UFO circling the ranch. In effort to capture it and rake in a fortune, they enlist in the help of a Fry's Electronics employee named Angel (Brandon Perea), who installs high-tech security cameras all around their combine. Jupe, on the other hand, has other plans to capitalize on the foreign object. Eventually, the siblings seek out the help of a skilled cinematographer (Michael Wincott) in order to get their money shot.
Peele has come out and said that Nope revolves around our addiction to spectacle. With that addiction comes a frenzy to hone-in on the large aspects and abandon any appetite for nuance. Case-and-point, Muybridge's groundbreaking series of cabinet cards more-or-less led to the creation of the medium of film, yet the identity of the Black jockey riding the horse in said short will never be known.
In similar fashion to Get Out — where Peele took aim at goody two-shoes white liberals who assert their lack of prejudice — Nope takes aim at those of us who can't help but scour the internet for footage of the latest mass shooting. Or those of us who love videos of grisly car crashes, 9/11, and other atrocities that, when consumed for entertainment purposes, lose all their value and become as impacting as any given explosion in a blockbuster. During the scene in Nope that terrified me the most, the aftermath of a chimp gazing into the camera is a direct reflection of what we as audience members are doing in that moment: we're animals watching animals.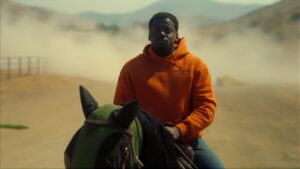 However, a film like this doesn't function well at all without great ingredients, and thankfully, Nope is a delicious meal piled high with likable characters, humanistic performances, and sublime aesthetics. Kaluuya and Palmer illustrate a contrasting sibling dynamic without overdoing it. Kaluuya is far more laconic than you're used to seeing him; significantly less reactive in the facial expression department too. He's muted and workmanlike in his movements, yet when he speaks, we metaphorically lean forward. He's an actor with so much power. I still don't believe he's reached his full potential.
Palmer plays the kind of loud, impulsive sister a lesser actress would've made insufferable. From the first time she appears — fashionably late to a film-shoot — she commands the room with a fast-talking monologue about her family's legacy and horse ranch. It's foreshadowing at its finest, as she steals more than a couple scenes. My personal favorite might be her decisively realistic reaction to getting a glimpse of the UFO: "oh, nah-nah-nah-nah-nah."
Destined to be underrated is Perea, who walks a tight-rope of being necessary comic relief (when Palmer, in some ways, has that job down-pat) and essential to the Haywoods' operation. Peele's screenplay affords him a bit of personal torment, although not as much as Yeun, who predictably captivates whenever he's on-screen. As the veteran in both age and experience, Wincott ties together a perfect ensemble where everyone feels necessary to the plot.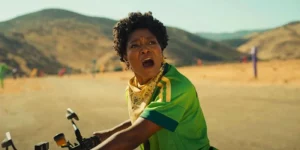 Give it up for cinematographer Hoyte van Hoytema too. Christopher Nolan's right-hand man who has to have an enviable trophy case, he'll surely be making room for a few more pieces of hardware for his work in Nope. Some shots border on looking and feeling unreal. There's a plethora of shots showing the sky and the surrounding clouds, during both day and night. During the day, the ocean-blue contrasts the lifelessness of the desert. During the night, the sky is rendered indigo, a brooding force on a desolate locale. It's an ominous presence, brought to life by the work of a master. Nope can be described accurately that way too.
As far as where it ranks in Peele's canon, I'm not in the business of trying to quantify greatness. I'm also not in the business of making hyperbolic connotations, such as one Twitter user, who suggested Peele is the best horror director of all-time. I'll vouch for a more accurate statement: if he continues on this trajectory, Peele will (and should) be considered this generation's Hitchcock.
NOTE: Nope is now playing exclusively in theaters.
My review of Get Out
My review of Us (2019)
Starring: Daniel Kaluuya, Keke Palmer, Steven Yeun, Brandon Perea, Michael Wincott, and Keith David. Directed by: Jordan Peele.