Don't Worry Darling (2022) review
Dir. Olivia Wilde

By: Steve Pulaski
Rating: ★★
For as much as I love movies, and have predicated a solid portion of my life around them, I couldn't give a damn about celebrity gossip. I don't lose sleep over who is sleeping with who, who's cheatin' who, or whose car is parked next door. In keeping with tradition, with regards to the controversy that's plagued Olivia Wilde's Don't Worry Darling since its premiere, I can assure you I've barely read past headlines or the occasional stray tweet. I'm here to critique the movie. You can look elsewhere for hot takes regarding Wilde's beef with Florence Pugh.
However, I wish there was more of a movie to critique and analyze than what we ultimately get with Don't Worry Darling. Despite an aesthetically pleasing color and visual palette, and two particularly strong performances, this is a surface-level approach to juicy material. A project assembled from odds and ends of other, mostly better movies. Drape some Get Out and Mad Men plot-points over the template of The Stepford Wives and you have Olivia Wilde's latest, which is indicative of a serious sophomore slump following the exuberant and brilliant Booksmart from 2019. Dare I say, I'd even take George Clooney's underrated Suburbicon over this.
The film tells the story of Alice (Pugh) and Jack (Harry Styles), a young couple who live in the desert community of Victory, California. It's an oasis of palm trees, mid-century modern homes, and manicured lawns. It's the 1950s, where the women stay home to cook, clean, shop, and day-drink while the men take their lunchboxes to work at a mysterious employer and return home just in time for dinner and sex. The town gets its name for the Victory Project, a company that's mission revolves around "progressive materials," whatever the hell that means. Victory's headquarters are located on the outskirts of town; the men make the drive every morning, while the wives are forbidden to go anywhere near it.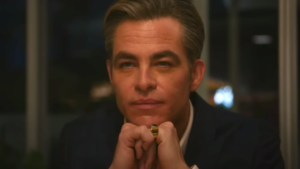 While all the other women are content with the domestic bliss, Alice has a bad feeling about all of it. She enjoys the girls' soirees and the bougie dinner parties, but even the camaraderie has a faint odor of desperation. Jack, like most of the men in the area, is committed to Victory, and he's close to getting a promotion from Frank (Chris Pine), the head of the company. Alice starts getting wise to how every couple has suspiciously similar stories about how they met. She's even more perturbed when she witnesses disturbing events, like a neighbor lady slitting her throat and an airplane crashing outside of town. "Everything is fine," Jack assures her. "It's all in your head."
Florence Pugh winds up ironing out more than a few of Wilde and screenwriter Katie Silberman's (Booksmart) strange tonal shifts with another fine performance — one not too dissimilar from her starring role in Midsommar. Alice refuses to become gaslit into believing she's gone mad. Her co-star in pop sensation Harry Styles is far less experienced, and at times, his novice acting abilities do reveal themselves alongside Pugh and Chris Pine — turning in a slithery performance as a bonafide cult-leader — two veterans. But Styles is never asked to do a whole lot in the long-run. Wilde even affords him a compelling dance sequence, with interspersed shots of Alice breaking down in the women's bathroom. The camera absolutely adores his ruffled, wavy hair and angular facial structure.
Alas, the song "Music for a Sushi Restaurant," a cut off of Styles' new album Harry's House, remains the best thing he's made in 2022.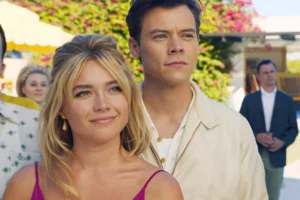 As good as Pugh is, you can't help but feel her segue from paranoia to legitimate fear is a familiar trope in itself. Don't Worry Darling concerns the idea that a patriarchal structure has led to the subjugation of women, and if that sounds like the "no shit" statement of any movie this year, that shows you how the film's depth is akin to a kiddie-pool. Wilde really fumbles in trying to find opportunities for her themes to crackle with revelations. It doesn't help that outside of Pugh, Styles, and Pine, Silberman's script doesn't afford supporting performers Wilde, Gemma Chan, KiKi Layne, or Nick Kroll any humanization at all. As is usually the problem with these Stepford Wives-esque narratives, everyone is an impossibly content robot in search of a personality.
The third act is the most flimsy of all. Once the (stunningly obvious) twist is revealed, Wilde's pacing gets completely out of control, hurling itself to a conclusion so underdeveloped it feels hasty and unsatisfying. John Powell's oppressive score doubles down in telegraphing how we should feel and when we should feel it, one of my ultimate pet-peeves in film. After seeing the trailer for Don't Worry Darling some two-dozen times over the last six months, I wound up conjuring more grandiose ideas for the concept than what ultimately plays out over the film's last 30 minutes. I'm positive I'm not alone.
After more than a month of random, mid-to-low budget genre-works — many of which shockingly good — Don't Worry Darling is set to be the first "big" movie in theaters for quite sometime. All the more devastating is it's a meal in search of calories. I remain convinced that Wilde has quality stories to tell down the road. The sooner she puts the mess that was the promotion and execution of Don't Worry Darling behind her, the better for us all.
NOTE: Don't Worry Darling is now playing exclusively in theaters.
Starring: Florence Pugh, Harry Styles, Chris Pine, Olivia Wilde, Gemma Chan, KiKi Layne, and Nick Kroll. Directed by: Olivia Wilde.