Weird: The Al Yankovic Story (2022) review
Dir. Eric Appel

By: Steve Pulaski
Rating: ★★½
Rock 'n' roll biopics have long been an institution, and the last couple years have afforded us a plethora of examples showing different ways they can be executed. Bohemian Rhapsody tried to be comprehensive, but creative liberties and a sanitized approach considerably stunted its quality. Rocketman embraced the jukebox musical, and found more success than the former by embracing the theatrical qualities of Elton John's music. This year, Elvis was sensory overload, blurring the lines of reality and fantasy, to mixed results.
From the moment the first trailer dropped, Weird: The Al Yankovic Story was immediately incomparable to any of those. The film — based on a 2010 Funny or Die sketch that featured Aaron Paul playing the King of Parodies — could be considered the cousin to Popstar: Never Stop Never Stopping. For a genre that frequently underserves their interesting subjects, this approach works in the regard that it doesn't take itself too seriously. Conversely, that means neither do we, which makes Weird tough to review as fun as it occasionally is.
The film is a satire on the life of "Weird Al" Yankovic, who is valiantly portrayed by Daniel Radcliffe, willing to be as wacky and as outlandish as the film demands. Al's drive to make it as a musician is only furthered by his crusty, curmudgeon father's (Tony Huss) disdain for his aspirations. He'd rather see him risk his life in the same dangerous factory he does. Al becomes a "closet accordion player" so his father won't notice, and ends up mastering the instrument, wowing folks at an underage polka party.
This brazenly fictitious account of Weird Al's ascension as a singer-songwriter packs a lot of Easter eggs and asides. It's almost fruitless to try and explain the plot, so let me just give you a taste of what you're in for: Al's dad beating the crap out of an accordion salesman; Jack Black as Wolfman Jack; Weird Al performing "I Love Rocky Road" and winning over the crowd of a biker bar; "Beat It" being a parody of "Eat It;" Al himself playing Tony Scotti, a record producer, and much, much more.
Supporting performers appear in the form of Rainn Wilson as Dr. Demento, the man who helped propel Weird Al to national stardom, and Evan Rachel Wood as Madonna, who gets cozy with the parodist, introduces him to Jack Daniels, and hopes to be so worthy of seeing one of her songs parodied. The film's best scene involves Weird Al and his bandmates showing up to Demento's palatial estate for a pool party. Al, fresh off of one hit in "My Bologna," is adored by the likes of Pee-wee Herman, Divine, and even Salvador Dali. The crowd momentarily turns on him when Wolfman Jack and John Deacon of Queen challenge him to create a send-up of "Another One Bites the Dust" on the spot. Die-hard Al fans know the song by heart. Despite the scene, like most in this film, being complete and utter hogwash, it sure is funny.
So why did I find my interest in Weird: The Al Yankovic Story wan around, I dunno, the 45-minute mark? Well, the introduction of Madonna leads the film down a strange path of Al becoming an egotistical, heavy-drinking monster. I get the trope being lampooned here; I just didn't particularly enjoy it. Then when Al meets his #1 fan Pablo Escobar, and later finds himself wielding a machine gun in the jungle, Weird goes totally off the rails and gets too weird for its own good. Some of these moments recall UHF, Al's ill-fated attempt to break out as a movie star. As big of a Weird Al fan as I am, even that film didn't do much for me — outside of its killer soundtrack.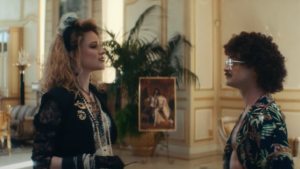 Weird exhausts itself until it starts to run out of steam, far sooner than I would've liked. Director Eric Appel's — who co-wrote the film with Yankovic and directed the original Funny or Die sketch as well — energy matches that of Radcliffe, who turns in a winning performance that should be on the highlight reel of his career when it's all said and done.
Like Weird Al himself, the film is good-natured and hard to nitpick too aggressively. It might be worth it for some just to be reminded of how utterly fantastic songs like "Eat It" and "Like a Surgeon" are; not just as parodies, but as standalone works of creative musical comedy. Fans will also love moments such as Coolio watching Al perform "Amish Paradise" (a parody of his song "Gangsta's Paradise") with great disdain. Some might even catch the opening line — a radio commercial advertising gabardine suits at 30% off as a reference to one of the singer's most underrated parodies ever. Alas, I don't think Weird is as successful as The Compleat Al, the 1985 mockumentary on "Weird Al."
However, I will say, if there was an award for "Best Biographical Parody of the Best Living Accordion Player," Weird: The Al Yankovic Story would win it handedly.
NOTE: Weird: The Al Yankovic Story is now streaming exclusively on The Roku Channel, free of charge.
Starring: Daniel Radcliffe, Evan Rachel Wood, Rainn Wilson, Toby Huss, Julianne Nicholson, and Arturo Castro. Narrated by: Diedrich Bader. Directed by: Eric Appel.