Black Panther: Wakanda Forever (2022) review
Dir. Ryan Coogler

By: Steve Pulaski
Rating: ★★★
Forget the high standards fans have for any given Marvel project; Ryan Coogler and Joe Robert Cole were under immense pressure with Black Panther: Wakanda Forever. How do you make a sequel to Black Panther when the Black Panther himself is no more?
The answer is you do your best to craft a politically minded story and allow colorful personalities, a stellar villain, and some extraordinary Afrofuturist design to fill the screen. That's, of course, a gross oversimplification of the end result. This sequel is without a doubt overtasked from the jump. Beyond trying to honor Chadwick Boseman (after his tragic passing in 2020), and King T'Challa, Wakanda Forever must further a Marvel Universe hurling towards Phase Five while continuing to build the mythology of Wakanda, usher in a new villain, a new central conflict, introduce new characters, and, oh yeah, find his heir to the throne.
The film starts immediately in crisis. We hear the frantic voices of several individuals and the screen fades from black into a Wakandan laboratory, where T'Challa (off-screen), is dying. Shuri (Letitia Wright) tries her damnedest to save her brother, but to no avail. Following the emotional funeral, the usual MARVEL logo appears on-screen; only this time, inside the block-letters are Boseman's most memorable moments as T'Challa. It's an incredibly effective opening.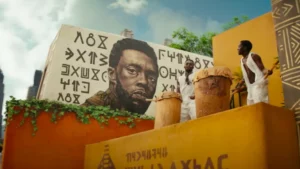 But Wakanda hardly has any time to grieve. Being that the nation is one of the only to possess vibranium, Wakanda immediately becomes the target of the opposition as it hastily searches for a new leader. Vibranium is the source of the nation's power, and a US deep-sea submarine looking to mine it is struck down by unknown forces. Wakanda finds itself in the crosshairs of a geopolitical storm. That's about the time Namor (Tenoch Huerta Mejía) makes his presence known. Namor is the ruler of the undersea kingdom of Talokan, which also runs on vibranium. Namor's people were once part of a Central American tribe until colonizers came to enslave them. In the midst of this conflict, an underwater vibranium plant was discovered, which, once consumed, allowed his people to live under the sea. Because Namor's mother was pregnant with him when she ate the plant, Namor has the ability to live and breathe on both land and sea.
Namor asserts himself to Queen Ramonda (Angela Bassett) and Shuri by imploring that the armies of Wakanda and Talokan unite as one in efforts to maintain their chokehold on the vibranium market. Ramonda will do no such thing. He then wants the scientist responsible for inventing a vibranium detector that was seized from the aforementioned submarine. Low and behold, that machine was invented by an MIT undergrad named Riri Williams (Dominique Thorne). An amusing sequence ensues, involving Okoye (Danai Gurira), the General of Dora Milaje, and Shuri traveling to Cambridge to kidnap Riri and take her back to Wakanda.
Reprising their roles are Lupita Nyong'o as Nakia, the undercover spy from the River Tribe; M'Baku (Winston Duke), a powerful warrior who believes Shuri and Ramonda are doing a disservice to Wakanda by not trying to kill Namor, no questions asked; and CIA agent Everett Ross (Martin Freeman), who is willing to commit treason in order to keep the Wakandan people safe after saving his life.
Themes of grief and hierarchal succession rise to the surface amidst all of this fast-moving chaos that threatens the livelihood of one of the most prosperous nations in the MCU. If only they could've been explored a bit more. Wakanda Forever's biggest issue is that it's beholden to do so much already. The conflicting yet gumptious decision not to recast T'Challa throws a more complicated narrative problem at a movie that's already tasked with setting up a plot-thread that will certainly weave its way through future Marvel movie and TV properties. While Wakanda Forever manages to introduce each subplot with enough depth to justify its existence, it has an understandably difficult time making things fit like a puzzle. Instead, it's more of a smorgasbord: a villain's origins story here, the plight of a nation there, with a gaping hole in the middle to remind us what is missing.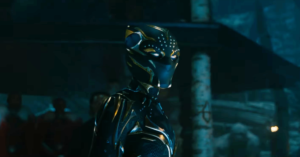 My own fading interest in this entire industry has made me less aware of the franchise's innerworkings than I've ever been. Like its predecessor, Wakanda Forever still doesn't feel as beholden to the superhero conventions as all/most Marvel properties do. Maybe it's the lack of other indestructible spandex-clad titans, but the 30th film in this ever-expanding universe still feels distinct even when it's trying to lay groundwork for the next phase. It could be because the cast is ordered to do more. Rather than just vessels for explosions and confrontations, it's necessary for their characters to strike a balance between grieving and persevering against the odds. While Shuri doesn't assume the reigns quite like you'd expect, a mid-credits scene — which feels like a slight narrative copout, frankly — justifies that in so many words.
It could also be the fact that both these movies are so visually distinctive from anything else that's come before them. A 161-minute superhero movie is bound to have its weight tested, at the end of the day. That's why it's important to recognize the elements that make it work as well as it does. Beyond standout work from Wright, Gurira, and Bassett, there's once again some accomplished visual effects work on display here. Cinematographer Autumn Durald Arkapaw — with her own lofty challenge of replacing Rachel Morrison, the first woman ever nominated by the Academy for Best Cinematography — is up to the challenge of merging a high-tech world with the Afrofuturist aesthetic of Wakanda. Ruth Carter's costumes continue to do just as much to develop this world visually as any sweeping landscape shot, and Ludwig Göransson's score goes downtempo when it needs to, and even remains somewhat subtle as the chaos unfolds.
Against insurmountable odds, Coogler and Cole are able to push the Black Panther franchise forward, which is a big win for a sequel that looked precariously close to getting damned to development hell just two years ago. But the Marvel machine keeps rolling. There are more dollars to make, after all. You just wish that they could all look and feel this sincere.
NOTE: Black Panther: Wakanda Forever is now playing exclusively in theaters.
Starring: Letitia Wright, Lupita Nyong'o, Danai Gurira, Angela Bassett, Tenoch Huerta Mejía, Dominique Thorne, Winston Duke, Florence Kasumba, Martin Freeman, and Julia Louis-Dreyfus. Directed by: Ryan Coogler.