Incredible But True (Incroyable mais vrai) (2022) review
Dir. Quentin Dupieux

By: Steve Pulaski
Rating: ★★★
You must admire a man seeing the great lengths his boss, and even his wife, will go to curb the inevitable aging process and deciding to go fishing with his dog following all the highs and lows he witnessed.
Incredible But True (or Incroyable mais vrai as it's known in France) is another winner from Quentin "No Reason" Dupieux, whose absurdist tendencies have hit a career-best stride between this and his previous film, Mandibles. For over ten years now, Dupieux has been responsible for bringing the deep recesses of his wildest fever dreams to life: sentient killer tires, crooked cops, mythical deerskin jackets, and a housefly the size of a Pitbull just to name a few of his creations. With Incredible But True, his trademark absurdity is still in place, but the overarching theme is perhaps clearer than its been in all of his other works.
This is a film about quietly unhappy people trying to cheat Father Time, to dramatic and outlandish results. The tight narrative revolves around three middle-aged French folks who discover the Fountain of Youth through logic-defying means and spend much of the film drinking from the proverbial oasis until it runs bone dry — as do their own sanities.
Incredible But True opens with a couple, Alain (Alain Chabat) and Marie (Léa Drucker), looking to buy their forever home in suburban France. The real estate agent (Stéphane Pézerat) shows off the fairly normal looking, spacious abode — admittedly too spacious for the couple's desires — but then reveals something fantastical lies in the basement. It's a vertical tunnel, covered by a small trap door. When someone goes down the tunnel, it takes three days off their lives, all while moving time ahead 12 hours. Unfathomable stuff. Especially considering anyone who descends down into the tunnel inexplicably winds up back on ground level. Regardless, they'll take it!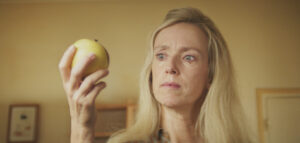 Then enter Gérard (Benoît Magimel), Alain's boss and presumably closest friend in life. Gérard shows up for dinner one evening with his younger girlfriend (Anaïs Demoustier) and reveals the secret to his newfound happiness: he's got a brand new electronic… appendage, we'll call it, which he got installed onto himself in Japan. His sword is now essentially an AI product, remotely operated by a smartphone app that has led him to a sex-life that recalls his college years.
Alain finds both the tunnel and the electronic phallus two curious entities best left unexplained. Meanwhile, Marie becomes obsessed with the effects of the tunnel. She spends large parts of her days descending down into it, returning to the home, and then descending down once more. After much labor, she implores Alain to touch her breasts. "They're nine days younger," she says. "Feel them!" Of course, Alain can't detect a difference. At least not at that point in time. Marie's persistence will soon see her youthful appearance return, but with grave consequences. Meanwhile, an accident at a shooting range leaves Gérard a broken man just as he was in the middle of realizing life as a man with an iron sword.
Incredible But True might be Dupieux's most linear movie yet, which, to me, isn't a negative at all. Faithful readers will recall that I've struggled to wrap my arms completely around most of the French filmmaker-turned-musician's features, though I try and dutifully see all of them. He posits this material as a surrealist fable of sorts. Even when he is totally lost in his sauce — something that doesn't happen with this film nor his last — he weaves a credibility in his narratives that makes you buy whatever ridiculousness he's selling.
Much of Incredible But True works, even the surprisingly swift third act, which is almost entirely in montage. As questionable as it is, for it does make it seem like Dupieux struggled to find a streamlined way to put a ribbon on this story, I think it kind of works. Given the tunnel only takes three days off one's life, and Gérard's robo-member is never seen, there is substantial ground to cover to get things moving. The fast-moving sequence also allows time for Dupieux's ethereal cinematography to shine; especially when married to Jon Santo's subversively funky score. There's a charm to Dupieux as a creative and an auteur — he's progressed to the point of directing, writing, producing, photographing, and editing most of his recent output — one that encapsulates the spirit of keeping cinema weird and experimental. That is something I'll always appreciate.
NOTE: Incredible But True (Incroyable mais vrai) is now available to rent on Amazon Prime Video, Google Play Movies & TV, and a variety of platforms.
Starring: Alain Chabat, Léa Drucker, Benoît Magimel, Stéphane Pézerat, and Anaïs Demoustier. Directed by: Quentin Dupieux.