Bones and All (2022) review
Dir. Luca Guadagnino

By: Steve Pulaski
Rating: ★★★★
Bones and All is the kind of film that stays with you long after the credits roll. It's as outstanding as it is disturbing.
Adapted from Camille DeAngelis' novel of the same name, Italian filmmaker Luca Guadagnino (Call Me By Your Name) plunks us into the Reagan-era 80s, where we first see 18-year-old Maren (Taylor Russell) at school. She appears to be your everyday wallflower student. She lives with her father (André Holland) in a sparse trailer; dad forbids her from going out to social events and even deadbolts her bedroom door at night. Seems extreme. But when Maren sneaks out to attend a companion's sleepover, she commits a shockingly gruesome act that sets this story in motion.
The incident prompts Maren and dad to move. Again. Shortly after the move, Maren wakes up to discover that her father is gone, and has left her only a recorded tape, her birth certificate, and a few hundred dollars in cash. Maren is a cannibal. Her taste for human flesh started when she was a baby, but she has only started to grasp how the curse has affected her life up until this point. The tape her dad leaves her is his personal account of every time she has acted on those cravings. Now, Maren is all alone in a big world, on a journey to find her mother, of whom she has no memory, not even a photograph.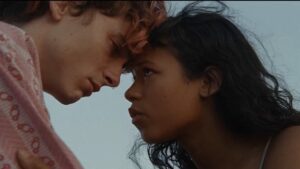 Starting in Virginia, then moving to Columbus, Kentucky, Iowa, Nebraska, and eventually Minnesota (the ultimate destination), Maren finds other cannibals on her journey. They're informally known as "eaters." The first one Maren meets is Sully (Mark Rylance with a thick southern drawl). Sully winds up being a guide for Maren and ourselves into the world of being an eater. Rylance is utterly exceptional in this offbeat role. There's an authentic quality to his character; you can believe he's someone who lives in any given suburb, with a secret known by very few. Sully invites Maren into his home, where he shows her a handmade heirloom of everyone he's consumed over the decades. He also teaches her how to use her nose to smell other eaters. "I smelt you from the yard, missy," he tells her upon making her acquaintance at a bus stop.
Bones and All takes a romantic turn when Maren meets Lee (Timothée Chalamet), a young, lanky eater who has embraced the cannibal lifestyle with little remorse. A pugnacious hard-head, Lee has been on the road for most of the last four years, following an incident back home. His sister (Chloë Sevigny) has no idea of his whereabouts, except when he bothers to call or show up unannounced. Both Lee and Maren strike a bond, but have ideological differences in how they should go about capitalizing on their desire for human flesh. It creates a fascinating push-pull in their already-complicated relationship.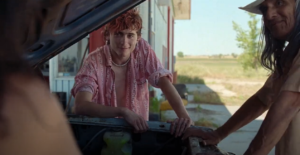 Guadagnino's film — working off an excellent screenplay by David Kajganich, a frequent collaborator — isn't about the shock value of human consumption, as gnarly as those scenes are. As always, it's about the approach. One such feasting between Sully and Maren has Guadagnino's camera pointing at photographs of the victim. We see her childhood, her wedding, and her marriage through framed, black-and-white photos. Her life wasn't for naught. Another feeding results in Lee and Maren looking through dashboard photographs inside their victim's vehicle. He had a wife and a young baby. What on earth have they done?
The ugliness of cannibalism is made palatable thanks to a beatific presentation. Cinematographer Arseni Khachaturan photographs the Midwestern countryside like Terrence Malick, highlighting its vast landscapes and mesmerizing blue and purple skies. The heartland of American and its people, the salt of the country, are so rarely given the time of day on the big screen. Khachaturan makes the sceneries pop, especially a scene in the rolling hills of Nebraska, where the bright sun kisses Lee and Maren's skin with an orange tint.
Also scary good are the performances. Taylor Russell has officially arrived, turning in a knockout performance as a conflicted character whose innocence has evaporated. Maren is on a treadmill moving towards a murky future. Russell nails emotional moments with the poise of a veteran actress. I saw something in her all the way back in 2019 when she was the leading lady in Escape Room of all movies. Even I couldn't have expected this.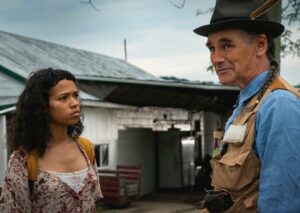 Meanwhile, Chalamet's biggest issue as a young actor has been his difficulty in transcending his icy cool, boyish looks into an actual character. Finally, he does so with Lee, someone your eyes refuse to leave whenever he's on screen. He's as frightened and vulnerable as Maren; he just has a different way of showing it. Michael Stuhlbarg and David Gordon Green (director of the new Halloween trilogy) turn up for eerie cameos further humanizing this inhumane lifestyle. They make the most of their moments, complementing the leads. Once more, I simply cannot stress how incredible Rylance is — certain lines, elongated by his thick accent, refuse to leave my brain even a day after seeing the film.
Bones and All might be the best movie since Parasite in terms of fusing genres and refusing to be neatly classifiable. This is a movie that feels profoundly lived-in, extravagantly beautiful at times and unbearably tragic at others. The idea that there is someone out there willing to take on your emotional burdens with their own is a comforting thought, even as the third act presents us with a star-crossed dilemma that makes you wonder if such a notion is too good to be true. Guadagnino's latest is a masterpieces, bones and all.
NOTE: Bones and All is now playing exclusively in theaters.
Starring: Taylor Russell, Timothée Chalamet, Mark Rylance, Chloë Sevigny, Michael Stuhlbarg, David Gordon Green, and André Holland. Directed by: Luca Guadagnino.