Knives Out (2019) review
Dir. Rian Johnson

By: Steve Pulaski
Rating: ★★★½
The whodunit — or in this case, the "who-donut" — genre has been a staple in American cinema for a reason. There's great pleasure to be had in watching a surplus of talented and recognizable actors become ensnared in a web of mystery and deceit. Hot off the success and overblown controversy of The Last Jedi, writer/director Rian Johnson really could've secured the bag to make any film he wanted. He took a comparatively meager budget of $40 million and turned it into Knives Out, one of the most successful and entertaining pictures of 2019.
Knives Out is so seamlessly effective that it's honestly impressive how many things it accomplishes. We'll get to them soon enough. Here's the rub: Harlan Thrombey (Christopher Plummer), a successful mystery writer, is found dead in his stately mansion. It's his housekeeper Fran (Edi Patterson) who finds him with his throat slashed, knife in hand. It appears to be a suicide, but one can't rule out foul play. A pair of lieutenants (LaKeith Stanfield and Noah Segan) are on the case, and early in the film, we get testimonies from each member of the Thrombey dynasty, who was present the night of his murder for a party.
They are his daughter Linda (Jamie Lee Curtis), a successful business woman, and her dopey husband Richard (Don Johnson), who together had a contemptible son in Ransom (Chris Evans); his son Walt (Michael Shannon), who runs the publishing side of Harlan's business, although there's been some heavy disagreements lately; daughter-in-law Joni (Toni Collette), who is mooching off the old man, and Marta Cabrera (Ana de Armas), Harlan's nurse and most trusted confidant.
Harlan's death is considered a suicide until a week passes, and every member of the Thrombey family is called back for questioning with the arrival of Benoit Blanc (Daniel Craig), a famous detective. Craig accentuates a gummy southern drawl to fit his Texas-sized ego. Blanc is summoned by an envelope with information about Harlan's death and a sizable wad of cash. He mostly sits back and listens. Until he feels he's got a handle on things.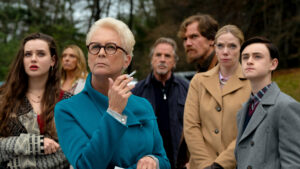 Johnson does something unique for the whodunit genre in that he reveals what really happened to Harlan within the first 30 minutes of the movie. This was a beyond-risky play, as it had the chance to suck all the air and gusto out of Knives Out's sails before it could even get going. I, myself, was admittedly skeptical. While he reveals what occurred during Harlan's last night alive, he doesn't give you the pleasure of painting the full picture. Both the circumstances and ramifications of Harlan's death are revealed gradually, and Johnson does a beautiful job at keeping you in lockstep with the plot, with each morsel of information revealed having its deserved moment of revelation.
Ana de Armas' Marta is really the heart and soul of the mystery. Not only is she the most involved, but she's the most sympathetic character amidst a family of caddish monsters. She's the ideal window into this dynastic family of greed and self-centeredness. Johnson develops her in a way that has her growing confidence and conviction. Marta essentially becomes a character in one of Harlan's perpetually unraveling mysteries, and de Armas — in her first major role at the time — soars as she must stand alongside some of the most popular actors of this generation.
As with any ensemble, the cast is treated as a collective, so individual moments with these familiar faces is somewhat tough to come by. Owning their moments the most is Michael Shannon, who rarely plays as neurotic of a character as he does here, and Toni Collette, a widow of one of Harlan's sons who has successfully parlayed her late husband's death as a way to get a piece of the Thrombey fortune for her mid-level skincare company. Jamie Lee Curtis is pretty incendiary at times, so much so you wonder what she ever saw in a mook like Johnson's Richard.
But it's Craig who might be tasked with the most difficult job, in terms of parlaying Benoit Blanc into an experienced detective unlike any we've seen before. While Johnson's mystery might evoke shades of Agatha Christie, and Blanc might have a whiff of Hercule Poirot in him, but this is not so much a pastiche of murder mysteries as it is an original story of its own. Besides, whodunit fans know a lion's weight of the urgency and investment of a story of this genre really resides in the power of the detective. Craig can't hide the fun he is having with this script, and his passion for it bleeds over to the rest of the cast.
Knives Out spins quite the yarn, but it cleans itself up nicely in the final 20 minutes. It's during Craig's final monologue that you might come to realize just how well-played everything from Steve Yedlin's cushy photography of the Thrombey estate to Nathan Johnson's subdued score was in making sure none of the aesthetics undermined the curious case at the center of the film. In what feels like no time at all, Johnson has made a mind-bending action thriller in Looper, the most subversive Star Wars installment yet, and a winsomely entertaining mystery. He's already solidified himself as one of the premier American filmmakers of the last 15 years.
NOTE: As of this writing, Knives Out is now available to rent on a variety of platforms.
My review of Glass Onion: A Knives Out Mystery
Starring: Daniel Craig, Ana de Armas, Chris Evans, Jamie Lee Curtis, Michael Shannon, Don Johnson, Toni Collette, LaKeith Stanfield, Noah Segan, Edi Patterson, Jaeden Martell, Katherine Langford, and Christopher Plummer. Directed by: Rian Johnson.