Glass Onion: A Knives Out Mystery (2022) review
Dir. Rian Johnson

By: Steve Pulaski
Rating: ★★★★
How does Rian Johnson respond after creating one of the most entertaining movies of the year with Knives Out? By going bigger, craftier, and even more timely with Glass Onion: A Knives Out Mystery. This flashy, full-bodied sequel doubles-down on the mystery that made the original film such a memorable outing. Despite a larger, more enveloping narrative and a slightly longer runtime, Johnson masterfully retains the momentum. If there was any doubt regarding what a chiefly original craftsman he is, it should be put to rest with this sequel.
Let me begin by saying I have no idea what Netflix was thinking with the release strategy for Glass Onion. The film was released in around 600 theaters during the week of Thanksgiving. For perspective, Black Panther: Wakanda Forever was released in over 4,000 on its opening weekend. Given that Netflix prioritized large metropolitans, my lowly self in Dubuque, Iowa was unable to see the film in theaters that week. Netflix also shut out smaller exhibitors from playing the film as the studio thought it was paramount for AMC Theaters, Regal Cinemas, and Cinemark to have the only dibs.
Due to a limited slate of films over the course of Thanksgiving week, Glass Onion impressed at the box office, raking in roughly $15 million. This isn't necessarily surprising. The first film made over $300 million worldwide. Why the hell Netflix decided to skirt a full-blown theatrical release and decide to release it on their streaming platform Christmas weekend — after acquiring the franchise rights for nearly half a billion dollars — makes no earthly financial sense to me. Someone needs to hire Benoit Blanc to figure out how the hell Netflix can afford to bankroll so many $150 million+ projects and leave money on the table in an instance like this.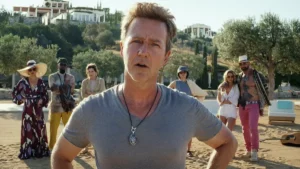 Moreover, we've got an excellent movie on our hands to discuss. Glass Onion starts off with a slew of high-profile individuals receiving a mysterious puzzle box from their billionaire pal Miles Bron (Edward Norton). The box — received by Claire (Kathryn Hahn), the Governor of Connecticut; Lionel (Leslie Odom Jr.), a scientist working closely with Miles; Birdie (Katie Hudson), a washed-up model turned fashion designer and her assistant Peg (Jessica Henwick); Duke (Dave Bautista), a gun-toting Twitch streamer and his girlfriend Whiskey (Madelyn Cline); and Andi (Janelle Monáe), Miles' former business partner — is actually an invitation to Miles' "glass onion" estate on a sun-kissed private Island in Greece.
Joining the crew, known informally as "The Disruptors," is detective Benoit Blanc (Daniel Craig), who also received the box, although, curiously, not from Miles. Each of these individuals has a reason to uplift Miles but also want him dead. He has had a major hand in furthering their careers, but he's also an egotistical prick in his own right — such are these tech bros. Miles runs a company known as Alpha, and has plans to hold a summit regarding a hydrogen-based alternative fuel that could uniformly change energy consumption around the world.
That's all the information I'll give regarding the plot. Don't let anyone ruin the fun and the palpable sense of mystery that permeates Glass Onion. Like the titular object itself — taken from the Beatles' song of the same name — there are layers to this story that are deceptive with how they appear as intricate. But the answer, as Blanc loves to point out, is hiding in plain sight.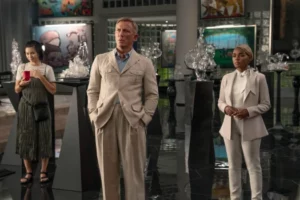 The original Knives Out stunned unassuming audiences by revealing the nature of Harlan Thrombey's death within the first 30 minutes of the film. But that was a red herring in itself, as there was a much greater plot to unpack. Johnson does something almost equally gumptious in this follow-up: he spends the second half of the film peeling back the layers of this onion, revealing all. On paper, this is a recipe for restlessness and boredom. Not when the material is in the hands of a craftsman like Johnson, who I feel can do anything from set arguably the biggest franchise on the face of the Earth up for a new course to make probably the funniest joke anyone has ever made about sweatpants.
Another all-star cast populates this sequel, and each player feels more developed and singular as opposed to the dominance of the ensemble in the first film. The most impressive work is done by both Edward Norton — so good so often, and still so underrated in a way — and Janelle Monáe, who is spectacular as our entry-point into this world. Monáe isn't the initial focal point, however, unlike Ana de Armas in the first Knives Out. Monáe's Andi is the pariah of the party; for some reason, everyone is stunned to see that she even showed. Monáe and Craig make beautiful music together. And speaking of Craig (who adopts a slightly different accent for Benoit Blanc this time around, humorously so), he has his claws firmly dug into this character so much so that he's already one of the great American detective characters of this century.
Filmed in Spetses, Greece and the Aman Resorts in Baar, Switzerland, the film's interior and exterior locations are shot with decadent beauty thanks to the prowess of cinematographer Steve Yedlin. We get outside more in Glass Onion than we did in the original film, and that alone affords this sequel an entirely different visual magic. Also returning to his post is composer Nathan Johnson, who knows so deftly how to use his score to compliment the unfolding events as oppose to overpower them.
By their very nature, mysteries turn us into active viewers as opposed to passive ones. Great ones, like the two Johnson has made, get us to lean forward in anticipation. We know we're being had. But we can't quite figure out how. Johnson's plots are complex enough to mystify, but not alienate us to the point where we're adrift in a sea of confusion long before the final shoe drops. I'm at the point now where I'd thoroughly enjoy one of these movies from Johnson and company every three or four years. I feel that timeline would keep the concept fresh and give the people behind them time to marinate and baffle us all over again, much to our delights.
NOTE: Glass Onion: A Knives Out Mystery is now streaming exclusively on Netflix.
Starring: Daniel Craig, Edward Norton, Janelle Monáe, Kate Hudson, Kathryn Hahn, Leslie Odom Jr, Dave Bautista, Jessica Henwick, Madelyn Cline, Noah Segan, and Hugh Grant. Directed by: Rian Johnson.