The Fabelmans (2022) review
Dir. Steven Spielberg

By: Steve Pulaski
Rating: ★★★
We're at the point with Steven Spielberg — and it's a dreadful point, truthfully — where we are forced to grapple with the idea that his latest film very well could be his last. That might've intensified my experience with West Side Story, an already masterful remake of the 1961 classic. The 76-year-old titan of the film industry is in the twilight of his career, and several of his later films have felt as legacy-minded as they have nostalgic, all while still capturing that cinematic beauty for which he's known.
With The Fabelmans, Spielberg phones home, in so many words. It's his 33rd film, and although this semi-autobiographical account of his childhood has been festering in his mind since 1999, it's unlikely he could've made the optimal version of this story in that era. He had more reflecting to do. The Fabelmans is a measured story about a child's brewing love for filmmaking, but more broadly, it's an intimate picture about recognizing and understanding the flaws and differences in the people we love — most specifically, our family, and how it often takes a lifetime to grasp them.
The Fabelmans are a middle-class Jewish family from 1950s Jersey. The matriarch, Mitzi (Michelle Williams), is a former concert pianist who has pivoted to the life of a homemaker. Her husband, Burt (Paul Dano), is a brilliant scientist, whose career demands the family — with their children, Natalie, Reggie, Lisa, and their only son, Sammy — pack up and move every couple of years. Our first scene with them is mom and dad taking eight-year-old Sammy (Mateo Zoryon Francis-DeFord) to his first theatrical film, The Greatest Show on Earth. He is dazzled by the riveting train crash, created with miniatures, so much so that he asks his parents for a trainset so he can recreate the demolition. His parents' response to the ensuing smashing and crashing of the toys shows the differences in their personalities. Mitzi recognizes her son's fledgling love for the arts, while Burt scolds him for being rough with his toys. "It's not enough to love something, you have to take care of it," he tells Sammy. Both are correct. Sammy doesn't realize it yet.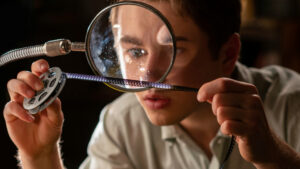 Mom sees Sammy's talent when she buys him a camera to film the trainset crashing. The end result, with the clip her son created boasting various angles and visual storytelling, has her marveled. With this setup, The Fabelmans could exclusively be about Sammy's continued growth and development as a precocious little filmmaker. It's after the first 20-or-so minutes that Spielberg (his first writing credit since A.I. Artificial Intelligence in 2001) and Tony Kushner segue and make this a story of life's complications, such as marriage and parenting, as well as how countless artists pursue their inner-greatness at the expense of their family and relationships.
When the family uproots to Phoenix a few years later, Burt's best friend Benny (Seth Rogen) has become the unofficial uncle to the four children. Sammy's camera starts to capture what anybody can see: Mitzi connects more with Benny than Burt. Where Burt is impeccably intelligent, gifted in his own line of work, he's not as outwardly empathetic as Benny, who spends a large part of a family camping trip telling the girls jokes and singing impromptu songs. Burt, on the other hand, is cursed with enough self-awareness to realize he can be controlling, even boring in the eyes of his family.
Everyone in this family has their gifts. Sammy continues to refine his through copious practice, eventually graduating from boy scout home movies that earn him merit badges to personal projects such as a no-budget western, which we see him hone in on his directorial abilities by being an acting coach. A conversation with his Uncle Boris (Judd Hirsch), a career circus performer, proves to be an important and prophetic one. Boris plainly tells his nephew not to waste his talent; commit to it with a fierceness, or else don't even bother starting. Even if it alienates and renders him as selfish.
Fascinating it is to watch Sammy — played mostly by Gabriel LaBelle in what will be a definitive performance in his very young career — come to realize the power of the camera and the editing process. He fusses over celluloid late into the night, experimenting with different techniques, such as poking pinholes in the film to create a poppy effect to resemble gunshots. Later, he'll grasp the power he holds. He commits to filming a mock "Senior Ditch Day" video project for his school, to be screened at prom. With his guard completely down, and his talents commanding every eye in the room, he discovers that film can embellish and manipulate; make people fly when they barely feel like they can walk; make the truth easily digestible; or create a façade so elaborate no one will bother to question it.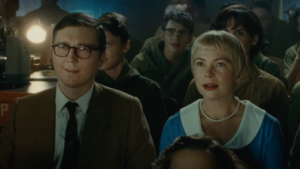 Beyond LaBelle, Dano brings the cold, calculated approach to life men like Burt so often do. He's never villainized as a character, and Dano strikes the right cord of a man being smart enough to be aware of his shortcomings while also passionate, as pyrrhic as it might be, about maintaining a successful career and raising a family. Few other actresses can bring such profound emotional gravitas like Michelle Williams. It's almost as if when she cries, I feel my tear-ducts shift, especially when she too starts to realize she can't shake the loss of Benny's presence when the family again moves, this time to California, for Burt's job. Even Rogen knows how to play his amiable uncle-in-name-only character, while downplaying his trademark schlubb-iness and trading it for something more earnest.
Like the best autobiographies, be them partially or entirely factual, Spielberg and Kushner — who has collaborated with the director on Munich, Lincoln, and West Side Story, some of Spielberg's best, contemporarily speaking at least — don't try to cram an entire life in two and a half hours. Almost harboring the intuition of a stage-play, The Fabelmans sometimes spends an upwards of five to ten minutes in a single setting, letting it breathe. The film ends with a fateful conversation between Spielberg and one of his young directorial idols (I won't spoil who it is, but he's played by David Lynch). It sets the table for a final shot as good as any this year; it earns an immediate laugh, but later, deeper appreciation.
The glacial pacing does give way for an ending that comes across as a bit too tidy. It's not long after probably the first and most seismic event to happen to Spielberg, er, Sammy, in his personal life. It's as if the effect of that cause needed more time to breathe, coupled with the young man screening his short film in front of the entire school. On the other hand, we're also talking about a kid who, at 22-years-old, made his directorial debut directing Joan Crawford in an episode of Night Gallery. Life comes at you fast, as do opportunities, when you're gifted. It's why it takes approximately five decades and 33 features before finally being able to craft your own origins story, and process all the rewards, heartbreaks, and complicated emotions it gave you in the process.
NOTE: The Fabelmans is now playing in select theaters and available to rent on various streaming platforms.
Starring: Gabriel LaBelle, Paul Dano, Michelle Williams, Seth Rogen, Keeley Karsten, Julia Butters, Sophia Kopera, Judd Hirsch, Mateo Zoryon Francis-DeFord, Alina Brace, Birdie Borria, and David Lynch. Directed by: Steven Spielberg.