House Party (1990) review
Dir. Reginald Hudlin

By: Steve Pulaski
Rating: ★★★½
I have fond memories of bumping Kid 'n Play in my headphones on bus-rides to school throughout my freshman year of high school. I binged all the House Party movies — even the fourth one, for completionist purposes — as well as Class Act, while 2 Hype became an album I'll forever associate with my tumultuous first year trying to figure out who the hell I was. Had I grown up in the 1980s, it's likely I would've experienced Kid 'n Play like most of the United States did: at house parties, sippin' on gin and juice, with many "def" honeys to my left and right.
The fact that Reginald Hudlin's House Party holds up so well is a testament not only to its concept but to its flavorful personality. Anchored by a generational roster of engaging screen-presences, recognizable jams, and loud colors, this is as riotously funny a movie as I remembered. But beyond all the debauchery that could occur in a movie with this title, here's one that, against all odds, remains wholesomely funny without ever being lame. It's the welcomed comedy that, at one point, has a character removing a dusty, unused condom out of his wallet, lamenting his luck when the moment seems to finally happen for him and he's unprepared — and the writing doesn't direct us to mock said character.
The star of the film is Christopher Reid's Kid, who boasts a towering hi-top fade and the pluckiness of a kid just cool enough to have a solid group of friends but just enough of an outcast to be the target of bullies. His dad (Robin Harris) heaps tough-love on the poor boy, but he just wants him to be responsible. And ultimately, he wants damn well for his son to spend the night inside after getting into a fight at school.
Kid does what "Kids" his age do best. He sneaks out of the house to attend a party thrown by his best friend, Play (Christopher Martin). Play's got it all figured out by comparison: his folks are out of town, he's conned their mutual friend Bilal (Martin Lawrence) into DJing the party for free, and he's got two ladies — Sidney (Tisha Campbell) and Sharane (A.J. Johnson) — interested enough to attend. It's a can't-miss event. So, Kid sneaks out of the house and navigates a lot of pratfalls to get to Play's house.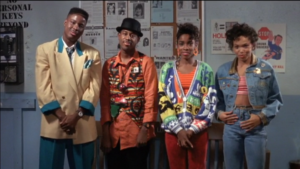 It's only a matter of time before pops wakes up and realizes his son is gone. John Witherspoon is Play's incensed neighbor, and after paying $15,000 for his house, he's not going to have his sleep interrupted by anything. Sharane and Sidney mix and mingle, but when Kid makes a move on Sidney, she's justifiably upset that Kid approached her best friend before her. Meanwhile, the hip-hop trio Full Force are hot on Kid's tale, following a lunch-room altercation at school that same day. And no Black teen nor adult can walk the streets without being harassed by two cartoonishly contemptible police officers (Barry Diamond and Michael Pniewski).
The cast shines as bright as their outfits, most notably Reid, who accentuates the personality that made him one of the unlikely stars of the late-80s/early-90s hip-hop scene. Consider the fact that Kid is someone who doesn't get a second look from most of his peers. As offended as she might initially be, Sidney probably wouldn't have dreamed of going home with Kid at the start of Play's party. But Kid is someone who will impress you, either with his fluid dance-moves, affable demeanor, or wise-cracking lyrics, delivered with an inflection so casual you might, for a millisecond, mistake them for a compliment. He's so consistently charismatic that it's a quiet shame we didn't see him in more leading and/or supporting roles during this era.
As funny as the young-guns are the "old-heads." Robin Harris, one of the most underrated comedians of all-time in my opinion, steals every scene he graces with his gruff, no-nonsense personality. The madder he gets, the more he authentically slurs his lines; all the man wants to do is watch Dolemite and keep his son in line. He's also the type to make his son breakfast in the morning and tell him to eat the "shit" before it gets cold. Harris elevates this movie so insidiously that scenes such as Kid and Play chiding each other during a laidback yet intense battle rap session might make you forget how his stern presence looms over this movie, and simultaneously heightens the stakes.
Harris is only rivaled by Witherspoon. Upon hearing all the noise coming from next door, he thinks "Public Enema" is performing. He then tells his wife that she could look as good as the hussies in the skirts attending that party if she lost weight. Then he proceeds to call 911, but not before messing up the number in an all-out tizzy. As he proved in Friday and The Wayans Bros., Witherspoon is one of the rare actors that's at his best when he's all over the place in a fit of rage.
It's a common piece of trivia that DJ Jazzy Jeff and Will "The Fresh Prince" Smith were set to be the original leads of House Party. As the story goes, New Line Cinema was so unhappy with the duo blatantly parodying Nightmare on Elm Street in their hit song that they sued them both, and the results of the lawsuit required them to be lackeys for New Line. Writer/director Hudlin was unimpressed with their performances, and fought tooth and nail for them to be recast. We'll never know what that particular movie would've looked like, but it's not a reach to say Kid 'n Play wouldn't have left their mark on 90s hip-hop had it not been for the House Party franchise. Not to mention, the squeaky-clean, borderline-corniness of the Fresh Prince was arguably better suited for a sitcom; the exuberance of Kid 'n Play was meant for the big-screen.
While House Party only played in 700 theaters in the peak of its release, its cult status and recent-induction into the National Film Registry proves that the right decision was made.
NOTE: As of this writing, House Party is now streaming on HBO Max.
My review of House Party (2023)
Starring: Christopher Reid, Christopher Martin, Robin Harris, Martin Lawrence, Paul Anthony George, Lucien George Jr., Brian George, Tisha Campbell, A.J. Johnson, John Witherspoon, Barry Diamond, and Michael Pniewski. Directed by: Reginald Hudlin.