House Party (2023) review
Dir. Calmatic

By: Steve Pulaski
Rating: ★★
It's likely been a blue moon since you watched Reginald Hudlin's House Party, and with that, I recommend you do so sooner rather than later. Not only is it still a riotously funny, exuberant work of 90s filmmaking, it's made all the more amiable thanks to the likability of Kid 'n Play. Part of the allure of House Party as a 90s cultural touchstone was its relatable premise. It was about two young Black teenagers looking to listen to great music, have a couple drinks, mack a couple hunnies, and live in the moment. Kid's strict father, who forbade him to leave the house to go to said party, loomed over the film like a dark cloud, adding a layer of urgency and fear.
The simple premise spawned a plethora of sequels. The law of diminishing returns proved accurate in describing the dreadful direct-to-DVD sequels, House Party 4: Down to the Last Minute and House Party: Tonight's the Night). A reboot wasn't the worst idea on the planet; LeBron James and Maverick Carter's SpringHill Company was behind it, and they couldn't do any worse than Space Jam 2: A New Legacy, quite frankly.
While this reboot isn't at all an unmitigated disaster — which says something, as it was initially planned as an HBO Max-exclusive — it is disappointing to admit that once the party starts, the fun basically ends.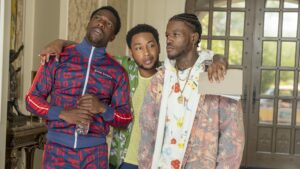 This new House Party revolves around Kevin (Jacob Latimore, The Chi) and Tosin Cole (Till), two young knuckleheads who are trying to get their lives in order. Kevin is working on mixing beats and working joe-jobs to provide for his daughter, while Damon haplessly attempts to get his party-promoting business to take flight. The men get meager income cleaning houses for the wealthy in/around Los Angeles.
The stupidest idea they could think of — or "opportunity," as they call it — comes when Kevin's girlfriend Venus (Karen Obilom) calls to tell them that they're going to be fired after the weekend. Damon decides that the two should throw an enormous party at the mansion they're currently cleaning. That mansion belongs to none other than LeBron James, whose house has seemingly innumerable rooms, a basketball court, and a trophy room with a giant video board of LeBron giving compliments… to LeBron. "Your hairline is perfect"/"You handled your Miami decision perfectly!"
Damon combs through LeBron's stacked contact list, inviting everyone from Lakers superstar Anthony Davis to Kid Cudi, while Kevin tries to keep DJ Vic (DC Young Fly) away from any kind of substance so he can set the mood. Venus helps where she can, even when things get out of hand, and several things at LeBron Manor get damaged and even stolen.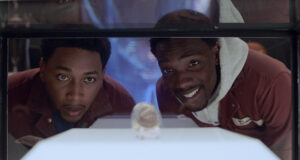 The film is the directorial debut of Calmatic, famous for directing the award-winning music video for "Old Town Road" by Lil Nas X and Billy Ray Cyrus. To his credit, Calmatic flexes on all of us. He goes big at times, including an extended homage to Eyes Wide Shut featuring Cudi and Mark Cuban. I didn't have that on my 2023 Bingo card. Rest assured, however, while the camerawork might be strong, the idea iteslf is better in theory.
Latimore and Cole have a dynamic that recalls the Wayans brothers — Cole even kind of looks like Marlon, crossed with Bobby Shmurda — but that is sidelined for all the chaos, Kush, and cameos LeBron and company can stuff into a 100-minute romp. Sure, a musical performance by Juvenile and a fun bit involving wide receiver Odell Beckham, Jr. might provoke a smirk, but the comedy is flatly uninspired for most of this party.
Hudlin's House Party clicked with audiences because there was a dose of realism, even as outlandish as some moments got. As a teenager, you could relate to the idea of sneaking out of your folks' house for a night of youthful debauchery. You simply can't relate to throwing a rager at LeBron's crib and rubbing elbows with Lil Wayne and Snoop Dogg. This comes across as the corporatized House Party, fitting as nearly everything with a soul evolves to get exploited in due time.
NOTE: House Party is now playing exclusively in theaters.
My review of House Party (1990)
Starring: Jacob Latimore, Tosin Cole, Karen Obilom, DC Young Fly, Andrew Santino, Scott Mescudi, Juvenile, Lil Wayne, Snoop Dogg, Odell Beckham, Jr, Anthony Davis, Mark Cuban, Kid 'n Play, and LeBron James. Directed by: Calmatic.