80 for Brady (2023) review
Dir. Kyle Marvin

By: Steve Pulaski
Rating: ★★½
80 for Brady is silly and superfluous. It's a flyweight comedy that succeeds in making you grin, in spite of how self-aggrandizing it is for NFL legend Tom Brady. Even when the ego of the GOAT is being fellated to an occasionally nauseating degree, the film does call a couple audibles that make it sneak up on you as a deceptively meaningful portrayal of the power and importance of friendship.
Based on a real quartet of octogenarian Patriot fans from Boston, Kyle Marvin's directorial debut casts four legends in a dramatization of their story. Lily Tomlin, Jane Fonda, Rita Moreno, and Sally Field are Lou, Trish, Maura, and Betty, respectively, four longtime friends who are obsessed with all things Tom Brady. There's a reason for it, though. 16 years ago, when Lou was getting chemo treatments for cancer, her three gal-pals were right by her side, particularly when her TV got stuck on that fateful 2001 matchup between the New England Patriots and the New York Jets. You remember. Patriots quarterback Drew Bledsoe went down with an injury, was replaced by sixth-round draft pick Tom Brady, and never got his starting job back. Brady went on to win the Super Bowl with the Patriots that year. The ladies found a mutual love that would bond them forever.
When a local radio show — hosted by Rob Corddry and Alex Moffat, going full "Pahk Ya Cah at Hahvahd Yahd" with their Southie accents — promises four Super Bowl tickets to any caller who gives them the best story, the four jump at the opportunity to see Tommy and the Pats take on Matt Ryan and the Atlanta Falcons in Super Bowl LI, one of the all-time greatest NFL games (unless you are/were a Falcons fan).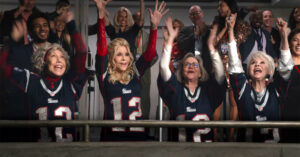 Each of the girls need this trip for different reasons. Trish is nursing a broken heart, and going to the Super Bowl would make her career writing erotic fan-fiction about Patriots tight end Rob Gronkowski come full circle. Maura is mourning the loss of her late husband. Betty is trying to enjoy her retirement following a long career as an MIT professor, but tending to her needy husband (Bob Balaban) has sucked her energy dry. Then there's Lou, who is too nervous to open the envelope of her test results that reveal whether or not her cancer has returned.
My immediate concern for 80 for Brady was that it would simply be a vanity project for Brady. Make no mistake: this is sterling PR for both Brady and the NFL no matter how you slice it. But writers Sarah Haskins and Emily Halpern (Booksmart) do their do-diligence in making each of the four women feel like characters as opposed to fanatic caricatures.
All four of the women are in prime form; age is only a number as they travel to Houston to watch their hero play in yet another Super Bowl. When they finally get to the site of the big game, they run into all sorts of notable faces. Trish has a meet-cute with a former Brady teammate (Harry Hamlin doing some great work); dancer/singer Billy Porter comes in clutch for the girls just before kickoff; Guy Fieri hosts a hot wing eating competition, which Betty takes up because she is starving; and Patton Oswalt has a seat at the poker table on the eve of the Super Bowl.
Marvin's film is one predicated on various asides and antics, such as the girls inadvertently taking edibles, or breaking one of their friends out of a retirement home. Most of the moments get by on their whimsy, and the fact these women are just inherently likable. For my money, Sally Field stole the show. Betty is essentially an elderly version of Kristen Davis' Charlotte York, and her aggressive innocence and logical sensibilities won me over every time she was the focal point.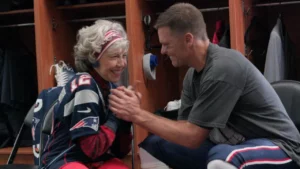 It's the bigger setpieces of 80 for Brady that fall flat on their face. I fully expect and embrace the hate-messages I'll get when I say that I've never seen the appeal of Guy Fieri. He seems like a wonderful person, but his schtick is corny and manufactured. Fieri's scenes grind the film to a halt, including when the weed starts hitting Moreno's Maura and she sees everyone as variations of the Diners, Drive-Ins and Dives host. It wasn't funny in the trailer and it's not funny in the movie.
Moreover, I fully expected there to be dance sequences in this film. I also expected them to drag. Thankfully, they don't overstay their welcome, but they're still unnecessary and hokey.
It all comes together at Super Bowl LI, which, I must say, was a thrill to relive on the big screen. Brady himself is the star of about four or five scenes, each of them underscored by his charisma, boyish goofiness, and overall likability. Some of Brady's former teammates make cameos, including Gronk, and wide receivers Julian Edelman and Danny Amendola. The extended sequence at the biggest football game of the year is consistent with laughs and thrills, ending the film on a high-note.
80 for Brady has a way about itself in how it beats down whatever cynicism or misgivings you might have about the project relatively early. Even during its weakest moments, it's hard to critique too harshly. Any film that gets the often-forgotten, left-behind demographic of 45+ out to the theater is a W in my book.
NOTE: 80 for Brady is now playing exclusively in theaters.
Starring: Lily Tomlin, Jane Fonda, Rita Moreno, Sally Field, Tom Brady, Rob Corddry, Alex Moffat, Billy Porter, Guy Fieri, Harry Hamlin, Patton Oswalt, Rob Gronkowski, Danny Amendola, and Julian Edelman. Directed by: Kyle Marvin.