Creed II (2018) review
Dir. Steven Caple, Jr.

By: Steve Pulaski
Rating: ★★★
One of my observations — and strongest points of praise — regarding Creed was its ability to thoughtfully conduct itself without the need to embellish the allure and nostalgia of its franchise. In addition, it impressed me with its rejection of brazen sentimentality, for there was plenty of natural, raw adrenaline and power in its story and its characters. It was a film that roared like a lion, made as assertive as its protagonist by the commanding direction of Ryan Coogler (who couldn't direct this sequel due to his attachment to Black Panther) and its leading man, Michael B. Jordan, who by any measurement is one of the finest actors working today.
Having said that mouthful, Creed II, with a new man behind the camera, impresses more than it should, especially considering it draws so heavily from the initially maligned but recently beloved Rocky IV — a film that was little more than a jingoistic cartoon and a facile commentary on the Soviet Union with kiddie pool-depth. One of the most integral reasons for its success is its ability to still get us to "lean forward," to speak literally, during its two bloody fight sequences. It's not because we've never seen a fight so gripping in film before, but because we've grown to care deeply about Adonis Creed and his plight of growing up largely without a father, wanting to do right by his family and those around him, while also making sure the Creed name isn't solely associated with a tragic fallout. Director Steven Caple, Jr. rises to the occasion, and mostly succeeds, while screenwriters Juel Taylor and Sylvester Stallone himself, once more, make what should show its wear as a tired, worn boxing story engaging all over again.
Picking up three years after the events of Creed, we see the Ukraine boxing scene rocked by the emergence of Viktor Drago (played by Romanian boxer Florian "Big Nasty" Munteanu), son of the famous boxer Ivan Drago (Dolph Lundgren returning in one of his most cherished roles). He's a frightening brute with a toned physique, iron-jaw, and the permanent facial expression of perpetually unamused. It's obvious foreshadowing for who our primary opponent will be, as in the opening minutes, we quickly cut to the American boxing scene, where Adonis Creed (Jordan) has claimed the heavyweight title. But like any other major championship in sports, claiming the top honor just means you have an even larger target on your back. Still in Adonis' corner is the ever-loyal Rocky Balboa (Stallone), who is fighting his own demons in the form of coping with his estranged relationship with his adult son while trying to figure out a way to mend it.
After winning the then-most important fight in his career, Adonis proposes to his girlfriend Bianca (Tessa Thompson), a renowned R&B singer, and is soon challenged by Viktor Drago. Of course, Adonis agreeing to move forward to meet Drago in the ring inspires tremendous concern from Bianca, Rocky, and even his own mother (Phylicia Rashad), the latter two still raw from the death of patriarch Apollo, who died fighting against Ivan Drago three decades ago. But not even Rocky's refusal to coach Adonis stops him from preparing on his own, entering the match filled with emotion, and then proceeding to get clobbered by a bigger, stronger, more disciplined version of himself. Such a pummeling proves necessary, however, as it allows Creed time to contemplate, feel, enjoy life, and even see the birth of his baby girl. But if you know anything about this series, you know that a rematch is in order.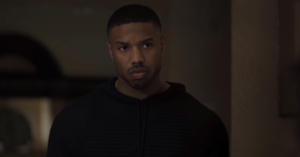 Creed II follows the Rocky blueprints so faithfully that it's reasonable to consider this just as much an homage to the series as a pure-sequel. The same motivations come into play for Creed when he expresses desire for another shot at Drago in order to remain on top. It's a blurry mix of confidence and arrogance that Rocky himself recognizes, as the aging prizefighter sees a bit of him and Adrian in the relationship his understudy has with Bianca, one that held them together while simultaneously, even paradoxically, broke them down. Caple, Jr. and company thoughtfully handle several moments, regardless of how familiar they may be. The scene where Creed tries so hard to quiet his screaming newborn got to me in a way I wasn't expecting. The look in his eyes screams fear, desperation, and vulnerability, and it's another testament to the range of Michael B. Jordan — something we still, even after the better part of a decade, still haven't seen in its entirety.
Creed II does miss its mark on more than just being more emotionally obvious than its predecessor. On top of shameless shots of Bianca's pregnant belly just as the stakes get higher for Creed as a way to remind us how this time, it really is all or nothing, Taylor and Stallone disappointingly shortchange the Drago family, namely Viktor. We get insight into what Ivan has been up to: putting his head down in forming a family dynasty built on the back of his son, who he pushes to the marrow and caustically berates in order to bring honor and (more) wealth to the Drago name. Yet we don't get much of a look at Viktor, largely because he seems like a wayward man driven by the verbal jabs of his contemptible father and the absence of his mother, which his father blames him for on more than one occasion. Seeing as how Rocky IV was shamelessly, if egregiously, political, it's a wonder why some attempt wasn't made to better contextualize the US's presently frosty relationship with Russia through Ivan and Viktor, or even better, contextualize Viktor as someone other than his father's automaton.
Yet this sequel does its part to rouse us when it matters most, even if it's not as handsomely directed or as emotionally nuanced as Creed. I'd be a bold-faced liar if I said I didn't become immersed in both fights all over again. The power of the boxing movie is a special one, especially when it's tied to a franchise as big and bold as this one. Even as Creed II waxes nostalgic and zig-zags in the face of more daring routes, it's far from even a distillation of its genre thanks to its exceptional cast and investing story.
My review of Creed
My review of Creed III
Starring: Michael B. Jordan, Sylvester Stallone, Tessa Thompson, Florian Munteanu, Dolph Lundgren, Wood Harris, Ralph Hornsby, and Max Kellerman. Directed by: Steven Caple, Jr.