Creed III (2023) review
Dir. Michael B. Jordan

By: Steve Pulaski
Rating: ★★★½
Having finally cut the umbilical cord from Rocky, Adonis Creed (Michael B. Jordan) is free to enter his mogul stage, free to write his own legacy moving forward. Creed III finds the undisputed heavyweight champion retiring with a 27-1 record, his mind set on his musician wife, Bianca (Tessa Thompson), and deaf daughter, Amara (Mila Davis Kent), who is showing interest in following in daddy's footsteps. Creed's understudy is the latest heavyweight champion, Felix Chavez (Jose Benavidez), who he is helping coach in the meantime.
Creed's life gets shaken up unexpectedly when childhood friend Damian Anderson (Jonathan Majors, Ant-Man and the Wasp: Quantumania) reenters his life after a nearly two-decade prison stint. Adonis and Damian grew up in foster care together. Damian was looking at a promising boxing career, until a confrontation in front of a liquor store forever altered the lives of both him and Creed. Damian is green with envy as he looks on at his foster brother's life, believing — and maybe rightfully so — that was the glory he would've had. He's ready to resume his boxing career, but he's taking on the world as opposed to one fighter at a time, making him an incomparable, vicious fighter in the ring.
Damian's jealousy of Creed's posh lifestyle and reverence is abundantly clear when he inserts himself into a title fight with Chavez through a malicious setup. For Creed, Damian's reemergence in his life is akin to a repressed memory revealing itself at the most inopportune time. It brings back a flurry of memories for the champion that spark guilt and regret. Damian doesn't need sympathy; he needs a shot at similar glory, even if that means beating the ever-loving hell out of an old friend in order to teach him a lesson.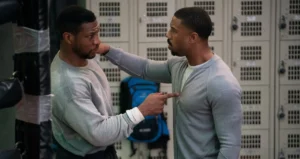 Creed III marks Michael B. Jordan's debut as a director. The film is less than two hours long, and Jordan shows a certain economical sensibility by introducing Damian almost immediately and proving that bygones won't be bygones anytime soon. Jordan's direction shines in certain moments, such as the big battle between friends that has the crowd, commentary, and noise disappear, leaving only the ring and the two friends in a sparing match for the ages. This is an ideal debut for Jordan, albeit a lofty one, as the character of Adonis Creed has become a significant part of his (still) fledgling repertoire. I long for the day he pivots left and makes a smaller, more intimate character study, but this is not that film.
Jordan's debut bursts with urgency whenever Creed and Damian are on-screen together. Jonathan Majors turns the latter into not only one of the most interesting Rocky/Creed antagonists of the series, but one of the scariest. Damian is a man with nothing to lose. He's manipulative and violent as he clings to past grudges and arrested potential he couldn't realize behind bars. Majors somehow remains understated even in the most confrontational moments. The 33-year-old actor has had a trifecta of strong performances over the last four months, between this, Devotion, and Ant-Man 3. This is his knockout punch, delivered with brutal force.
Jordan turns in another standout performance as Creed, even if the screenplay — penned by Keenan Coogler, the brother of Ryan Coogler, the director of the first Creed, and Zach Baylin — shortchanges some of the emotional baggage his character carries. There's a heartfelt scene between him and Bianca that inches closely to a resonant emotional apex, with Creed shedding layers of himself and revealing the bottled-up guilt with how he handled Damian's incarceration, that stops itself short of serving as the catalyst it desperately wants to be.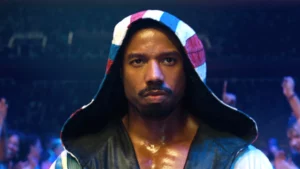 Naturally, Creed III concludes with the sold-out, brightly lit Pay-Per-View boxing match billed as "Creed vs. Dame," and it's every bit the spectacle you want it to be, for both its climactic and dramatic implications. The second sequel in Creed series, not to mention Michael B. Jordan's debut, needed to ditch Sylvester Stallone all together (though he still serves as a producer) and blaze its own trail. The end result is the best film in the series.
NOTE: Creed III is now playing exclusively in theaters.
My review of Creed
My review of Creed II
Starring: Michael B. Jordan, Jonathan Majors, Tessa Thompson, Mila Davis Kent, Wood Harris, Jose Benavidez, Floria Munteanu, and Phylicia Rashad. Directed by: Michael B. Jordan.