Murder Mystery 2 (2023) review
Dir. Jeremy Garelick

By: Steve Pulaski
Rating: ★½
Released in 2019, the first Murder Mystery stood out from Adam Sandler's recent Netflix output as one of the funnier and more amusing films (not hard to do when you're competition is the dreadful The Ridiculous 6 and the miserably overlong Sandy Wexler). It was Agatha Christie by way of Happy Madison, and got by on the chemistry of Sandler and Jennifer Aniston as well as a marginally compelling whodunit setup. It went on to become one of the most-watched movies on Netflix, however nefariously that is quantified.
So, now we have Murder Mystery 2, which returns to the dismal quality standards of Sandler's other Netflix projects. Minus credits, it's 79 minutes long, so at least it's over faster than you can forget its existence entirely. This is a downright bizarre sequel that seems committed to draining everything that made its predecessor entertaining.
The film begins with a recap of the events of the original. Nick and Audrey Spitz (Sandler and Aniston, respectively) have both quit their jobs and started a low-rent detective service. That seems like it could've been the plot of a sequel in itself. Before we can even wrap our minds around this new venture, Nick and Audrey are invited to the wedding of The Maharaja (Adeel Akhtar), their exorbitantly wealthy friend, on his very own private island. In attendance is his French fiancée Claudette (Mélanie Laurent); her best friend and his ex-wife Countess (Jodie Turner-Smith); the countess' assistant, Imani (Zurin Villanueva); The Maharaja's sister, Saira (Kuhoo Verma); the flirtatious Francisco (Enrique Arce); and the Namibian Colonel Ulenga (John Kani), who is missing his hand and eye.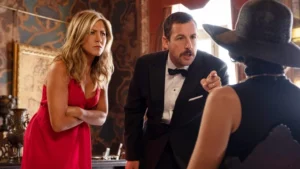 When the Maharaja is kidnapped and the perps demand $50 million in ransom money, Nick and Audrey launch into detective mode. An M16 hostage negotiator played by Mark Strong threatens to undermine their casework. He has years of experience under his belt. Nick and Audrey have a detective guidebook they read prior to starting their own business.
The plot zigs and zags from one location to another. The Spitzes end up in Paris where they meet the eccentric Inspector de la Croix (Dany Boon), and are later kidnapped and smuggled in the back of a van. Murder Mystery 2 is less predicated on finding clues than it is setting up large-scale set-pieces. The aforementioned car chase is one of the only entertaining sequences. It's kinetic and lively, not to mention shot well by cinematographer Bojan Bazelli.
The screenplay, written by James Vanderbilt — writer of Zodiac and Independence Day: Resurgence — is heavy on slapstick and sight-gags; consequently, it's light on laughs. Sandler being unable to stop eating French cheese and de la Croix's propensity for blowing perfect smoke-rings serve as crutch-gags for a comedy filled with one lame aside after another. It's also time for us to acknowledge that despite being a delightful screen presence, Jennifer Aniston plays the same archetype in nearly every movie. Here, she's one again the well-meaning wife victim to her husband's stupidity. It's past the point of redundant. She looks as if it's been a hot minute since she was inspired.
The core mystery isn't remotely riveting in itself either, especially not after the fourth or fifth overproduced action set-piece does everything to distract from its existence. Murder Mystery 2 only further strengthens the notion that Sandler's films are simply expensive vacations for him and his Hollywood friends.
The good news, dear reader, is there is a compelling whodunit streaming on the same platform as Murder Mystery 2. Glass Onion: A Knives Out Mystery made my list of favorite films of 2022. I can already tell you which list of mine Murder Mystery 2 is going to make come the end of 2023.
NOTE: Murder Mystery 2 is now streaming on Netflix.
My review of Murder Mystery (2019)
Starring: Adam Sandler, Jennifer Aniston, Mark Strong, Mélanie Laurent, Jodie Turner-Smith, John Kani, Adeel Akhtar, Kuhoo Verma, Zurin Villanueva, Enrique Arce, and Dany Boon. Directed by: Jeremy Garelick.