Quasi (2023) review
Dir. Kevin Heffernan

By: Steve Pulaski
Rating: ★★
Six years after Super Troopers 2 — which turned out to be one of their best — Broken Lizard returns with another off-kilter, stoner-centric comedy in Quasi. Clearly high off inspiration from Monty Python and Mel Brooks, as well as some other substances, this comedic retelling of Victor Hugo's classic The Hunchback of Notre Dame is the worst case scenario for the hit-and-miss troupe. It runs out of gas shortly after it starts, and leaves us with about 80 minutes of regurgitated jokes set against a plot run amok with pacing issues.
There was a period in the early-to-mid aughts where it looked as if the Happy Madison team would have steady competition with the boys of Broken Lizard (Jay Chandrasekhar, Kevin Heffernan, Steve Lemme, Paul Soter, and Erik Stolhanske, respectively). They followed up their cult classic Super Troopers with perhaps their funniest and most underrated effort in Club Dread, and rounded out the trifecta with the still-amusing Beerfest. After that, Chandrasekhar branched out into TV and feature directing (his most recent being last year's Jo Koy vehicle Easter Sunday) and the group more-or-less dispersed into pursuing their own projects. On that note, it was fair for any Broken Lizard devotee to cross their fingers in hopes Quasi could compare to their best works. Alas, it has more in common with the dreadful Your Highness than any of their success stories.
Set in medieval France, the story revolves around Quasimodo, played by Lemme (somebody should check on his spine and facial muscles). Alongside his best friend, Duchamp (Heffernan), the two "hut mates" are just trying to scrape together a living under the thumb of the narcissistic King Guy (Chandrasekhar). When the King holds a lottery to see who will get the honor of his company, Duchamp gives one of his many tickets to his hunchback friend. Of course, it's Quasi's number who is called. He expects a memorable evening with the king and queen (an admirably game Adrianne Palicki), but instead, is asked by Guy to kill the pope (Paul Soter). Then the pope asks Quasi to kill the king. Suddenly, Quasi's humble existence working the torture chamber with Duchamp seemed far less complicated.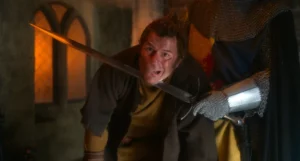 Heffernan — whose only other directorial outing was the middling Broken Lizard effort The Slammin' Salmon more than a decade ago — clearly wants to conduct Quasi rather loosely. The film is more an assemblage of vignettes than a cohesive story. Alas, general pacing issues and long stretches of empty gags exist. Trying to make the Middle Ages funny is an underrated challenge, mainly due to the propensity to retrofit modern sensibilities onto the story at hand. The Broken Lizard troupe has done just that, with tired jokes revolving around Quasi painting himself (a "selfie," get it?) along with a flighty mix of French and Old English accents.
The team proves most successful when they channel their inner Mel Brooks and aim smaller with their comic intentions. I laughed the most during an early scene when Quasi and Duchamp take their friend Michel (Stolhanske) in as a torture understudy. They are part of a local torture union, and Michel is the latest to elect to test out a slew of devices capable of sheer brutality. The setup elicits some quality one-liners, and the situation itself is wryly funny without needing vulgarity or large-scale antics to carry it.
But Quasi is too broad in its scope to commit to that breed of humor. At nearly 100 minutes, it feels double that length, and it runs out of gas faster than any Broken Lizard film since their debut, Puddle Cruiser. Tis pity, for the holiday on which it was released (4/20) deserved far better, and frankly, so did the devoted fans of the group, who are tickled far too infrequently to keep them top-of-mind in this fast-moving entertainment climate.
NOTE: Quasi is now streaming exclusively on Hulu.
Starring: Steve Lemme, Kevin Heffernan, Jay Chandrasekhar, Paul Soter, Erik Stolhanske, and Adrianne Palicki. Directed by: Kevin Heffernan.