White Men Can't Jump (2023) review
Dir. Calmatic

By: Steve Pulaski
Rating: ★½
Where Ron Shelton's streetball classic was rugged and felt lived-in, Calmatic's White Men Can't Jump is pretty and soft — exactly what you don't want to be in basketball. Charismatic performances and insightful navigation of racially tinged trash-talk are traded for a story that's shockingly less believable than its counterpart, coupled with pacing as lethargic as its contemporarily rendered characters.
Ron Shelton's White Men Can't Jump is one of the best basketball movies I've yet to see. It told the story of a white, former college basketball star named Billy Doyle (Woody Harrelson), who traveled across the country with his girlfriend (Rosie Perez) to hustle pickup ball-players in order to pay off his gambling debts. Billy used Black players' stereotypes regarding the perceived inability for whites to play basketball to his favor. Billy's first victim we see, Sidney Deane (Wesley Snipes), eventually became his hustling partner, and the two believe they've found a way to make fast-cash.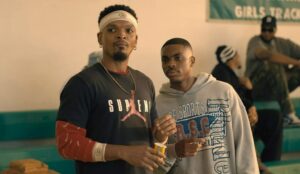 Like all great sports movies, White Men Can't Jump had more meat on it than Shelton's kinetic streetball scenes. It inverted stereotypes in its depiction of its interracial leads, and offered a lot of delicious dialog, namely in the in-game sequences themselves. Calmatic — director of Lil Nas X's award-winning "Old Town Road" music video — offers nothing resembling the energy nor deft narrative touch of Shelton. His White Men Can't Jump suffers the same fate as his recently released House Party reboot. It doesn't know why it should exist, lacks any meaningful, modern spin on the story, and is rendered listless by its screenwriting.
Calmatic's film (written by black-ish creator Kenya Barris and Doug Hall) reworks Harrelson's Billy as Jeremy (Harlow), a personal trainer equipped with an NPR bag and organic detox juice he sells to his basketball clients. A former star at Gonzaga whose two torn ACLs have set his hoop dreams back significantly, he's planning on seeking stem cell treatment in hopes of a shot at the G League. He baits Black players into putting up money, schools them more often than not, and takes his winnings home to Tatiana (an underutilized Laura Harrier).
Enter Kamal Allen (Sinqua Walls), a mysterious should've-been NBA star whose career was derailed before he had the chance to go pro. Armed with guilt and a perpetual contempt for disappointing his father (Lance Reddick in one of his final film roles), Kamal spends his days working a delivery job and playing at the local gym. After Jeremy hustles Kamal, the two decide they can earn pretty good keep doing this together, and eventually decide to join a basketball tournament for a shot at $50,000.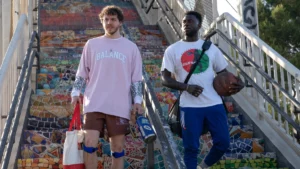 Calmatic's direction is akin to modern rap music videos (shocker): visually appealing but hollow. The basketball scenes themselves have no flair and are not the least bit compelling. They're almost as rudimentary as those seen in this year's Sweetwater. Furthermore, both Walls and Harlow are too casual and laidback as characters, almost afraid to let a modicum of their personality show as if to offset their perceived coolness. The "What's Poppin" rapper is a solid, evolving spitter, but here, he is limited and monotone. Keeping Shelton's film engaging as a two-hour flick was how incendiary both Harrelson and Snipes could be nearly every time they barked at opponents or one another during games. You won't find any of that urgency from either Walls nor Harlow here.
Anything and anyone existing on the periphery of Jeremy and Kamal leave no impression thanks to half-assed subplots, such as Tatiana trying to make it as a professional dancer, or Kamal's girlfriend, Imani (Teyana Taylor), who tries to support him despite his increasingly problematic anger issues. Lance Reddick brings the kind of fatherly guidance that will render him a missed presence in movies, but he's sidelined so significantly, only having one key sequence where he imparts wisdom on his son as he lies on a hospital bed, knocking on death's door.
Calmatic's White Men Can't Jump joins an ignominious list of films like Total Recall (2011) and Poltergeist (2015) as frustratingly useless remakes that exist solely to remind you how daring and subversive the original film was.
NOTE: White Men Can't Jump is available to stream exclusively on Hulu.
My review of White Men Can't Jump (1992)
Starring: Sinqua Walls, Jack Harlow, Laura Harrier, Teyana Taylor, Vince Staples, Lance Reddick, Andrew Schulz, Blake Griffin, and Tyler Herro. Directed by: Calmatic.