Rat Race (2001) review
Dir. Jerry Zucker

By: Steve Pulaski
Rating: ★★★½
To date, I've written over 3,000 reviews, and I've come to learn that the movies with which I struggle the most to review are movies that mean so much to me, especially ones I watched when I was young. I still haven't touched Speed (1995), and I consider that one of the five movies that made me love movies. I've written about Clerks three separate times, and I think a fourth re-review will come in subsequent years. Speaking of which, my review of Casino is in bad need of a rewrite.
Alas, I did write a review of Rat Race in 2011, and after reading two paragraphs of it, I afforded myself a second chance to get it right. I recently rewatched Jerry Zucker's most recent directorial effort with my girlfriend, who had never seen it. In the days leading up to us watching it, I tried my best to contextualize why this zippy, hairbrained ensemble comedy from the early aughts means so much to me as a film lover. After all, the film is more-or-less a soft reboot of Stanley Kramer's It's a Mad, Mad, Mad, Mad World from 1963.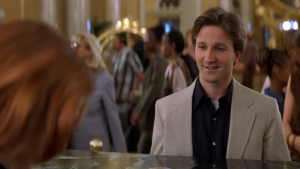 Kramer's film sought to showcase how the very thought of obtaining untold riches would compel ordinary, middle class Americans to lose their collective sanity and become monsters in pursuit of greed. Kramer put together a debatably unrivaled cast for the era — Spencer Tracy, Milton Berle, Sid Caesar, Mickey Rooney, Phil Silvers, and Ethel Merman just to name a few — and made one of the most acclaimed comedies in history, as a result.
Rat Race's impact has been comparatively minor, despite the laundry list of names it assembled, most of whom stars who would receive top-billing for any project in the late 90s. Moreover, the film does have a lot of Kramer's commentary baked into its premise. But even if you don't watch a farce such as this to have your eyes pried open thanks to its revelations, it's still a wildly successful comedy, mainly because of the frequency and specificity of its gags as well as its crowded cast of characters.
An eccentric tycoon named Donald Sinclair (John Cleese, of course) rounds up several visitors of his Las Vegas casino, recognizes them as six distinct teams, and sets them on a crash course to Silver City, New Mexico to retrieve $2 million in cash located inside a casino locker. It's a 563-mile excursion, and some, like Randy (Jon Lovitz), are supposed to be on vacation with their families. Nevertheless, the opportunity of obtaining this fortune blinds all of them to their responsibilities. They can't get down the stairs and out of the casino fast enough to hit the road or take to the skies.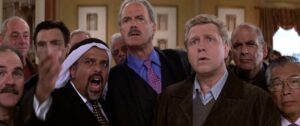 Unbeknownst to them, Sinclair has set this mad-dash into motion in hopes of getting richer. He's invited several global elites to watch the "contestants" race to New Mexico, as they've all placed bets on who they think will be the one to open the locker and retrieve the money.
Rat Race spends the first 20 minutes of its ostensibly overlong (112 minutes) runtime introducing us to these characters. Owen Templeton (Cuba Gooding Jr.) is a referee trying to escape intense criticism after botching a call in a football game; Nick (Breckin Meyer) is a young attorney trying to keep a squeaky-clean persona who pairs up with a helicopter pilot (Amy Smart); the aforementioned Randy is simply trying to appease his wife (Kathy Najimy) and children, while trying not to make it seem like they have to get to Silver City ASAP; Vera (Whoopi Goldberg), who meets Merrill (Lanei Chapman), her daughter she gave up for adoption, for the first time; two dopey con-artist brothers (Seth Green and Vince Vieluf); and Enrico Pollini (Rowan Atkinson), an elfin man-child and narcoleptic.
Zucker uses this broad premise as a flavorful comic landscape rife with hyper-specific situations and sight-gags. Consider Owen, who ends up posing as a bus driver for a slew of Lucy Ricardo impersonators whilst trying to avoid getting caught in the same room with a TV that shows his on-field gaffe. While Green is the straighter of the two ne'er do-well scammers, Vieluf's infected tongue piercing renders his speech mostly intelligible, yet he's sketched just enough to show that he's the gullible and softer of the two men. Meanwhile, in pursuit of trying to stay on the straight-and-narrow, Meyer's Nick winds up in a helicopter with Smart's Tracy, which she uses as a vicious attack weapon on her boyfriend when she discovers him in their pool with another woman.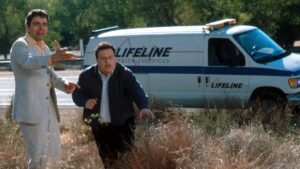 All of these narrative tangents (however, what exactly is a tangent in an ensemble film?) are funny in their own right, but none exceed the hilarity of Lovitz's Randy, which is where screenwriter Andy Breckman (TV's Monk) concentrates much of the focus at times. En route to Silver City, Randy and the family stop at "The Barbie Museum," expecting to see how the Barbie doll has evolved over the years. Instead, this museum is dedicated to Klaus Barbie, a Nazi, and there's a plethora of skinheads in attendance for the tour too. Oh yeah, Randy and the family are Jewish, and wind up high-tailing out of the museum in Hitler's car. Long story.
I'm aware that, like countless farces, relaying the events of Rat Race might prompt eye-rolls. Watching them play out inspires the opposite. Zucker — the brainchild of Airplane! and The Naked Gun series alongside his brother David and longtime writing partner Jim Abrahams — crafts these outlandish sequences like live-action Saturday Morning Cartoons, complete with pictorial settings and ever-increasing zaniness.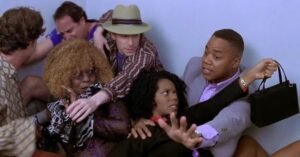 Lastly, the soundtrack simultaneously couldn't be more of its era and couldn't be more fitting. The Baha Men score the titular track, which plays over the memorable animated opening titles, and their anthemic hit "Who Let the Dogs Out?" is essentially the spark that ignites the rat race itself. Predictably (for the time), it's Smash Mouth who steals the show as they end things by performing "All Star." Perhaps Breckman could've turned this farce more sinister in the final minutes, maybe showing all involved how severely they were consumed by their own greed and fascination with money and the fabulous prizes. Such a move would've catapulted this into elite tier farce territory for me, but I can't lie, "All Star" never gets old.
Beneath the surface of Rat Race is some of the flavoring of Kramer's commentary. Take note that not a single one of Sinclair's "contestants" questions why he's giving away $2 million in such a unique way. It doesn't matter. There's money there for the taking. That Rat Race doesn't exhaust itself nor spin its wheels in a comedic rut for any extended length of time is a testament to the subtle power of its screenplay and the devoted performances of its all-star cast. The film introduced six-year-old me to a litany of actors and the power of ensemble comedy. For that, I'm eternally grateful.
NOTE: As of this writing, Rat Race is currently streaming for free on Pluto TV and on Paramount+, with a subscription.
Starring: Breckin Meyer, Amy Smart, John Cleese, Rowan Atkinson, Cuba Gooding Jr, Jon Lovitz, Seth Green, Vince Vieluf, Whoopi Goldberg, Lanei Chapman, Rowan Atkinson, Kathy Najimy, Wayne Knight, Dave Thomas, Dean Cain, and Brody Smith. Directed by: Jerry Zucker.