About My Father (2023) review
Dir. Laura Terruso

By: Steve Pulaski
Rating: ★★½
As-of-late, we have a trend where comedians enter the feature film space by way of a loosely autobiographical story of their younger years or illustrating their traditionalist family conflicting with their more modern, Americanized sensibilities. Three years ago, we had Pete Davidson trying his hand at being a leading man with The King of Staten Island, where he portrayed a wayward punk stuck in neutral while quietly grieving the loss of his father. Last summer, we had Jo Koy giving us a taste of his wacky Filipino family in Easter Sunday, prompting very mixed results.
This Memorial Day weekend, we get a companion-piece to comic Sebastian Maniscalco's many stand-up bits revolving around his father, his traditional Italian ways, and the tough, resourceful mindset he used to parlay a career in comedy. Maniscalco's stand-up is heavily predicated on ribbing Italian culture and honoring his late father, who passed away at 81-years-old. While About My Father finds mixed results in its broad, situational humor, it is marginally elevated by its well-intentional cast and its depiction of familial conflicts, which will prove relatable for many, regardless of heritage.
Maniscalco — who co-wrote the film alongside Austen Earl — doesn't even give his character an alias like "Stefano Maffezzoli." He's Sebastian Maniscalco, the manager of a boutique hotel in Chicago whose partner, Ellie Collins (Leslie Bibb), is everything he isn't. She's open-minded, worldly, and comes from a wealthy background. Sebastian is the son of an Italian immigrant hairdresser named Salvo (Robert De Niro), and seeing the opulent life his girlfriend's family lives — on account of them being the dynastic owners of an international chain of hotels — makes him uneasy. However, Sebastian sees Ellie's invitation to meet her parents over the Fourth of July holiday weekend as the perfect time to propose to her.
The problem? Sebastian wants to do it with his grandmother's ring, and Salvo won't hand it over unless he makes the trip to Virginia to meet the Collins family with him. Cue the inevitable culture clash. Ellie's parents, Bill (David Rasche) and Tigger (a spirited Kim Cattrall), are old money elites who have no problem telling the oral history of every piece of furniture in their home. Irritating Sebastian even more is that his ordinarily charismatic father turns into a bitter curmudgeon during the initial days of the vacation. Then, Salvo starts making too much of an effort and begins to embarrass his son. What transpires are some uncomfortable conversations about the role of families in their kids' relationships as well as the tricky dance that can transpire when the child of an immigrant starts straying from the nest in favor of more opportunities.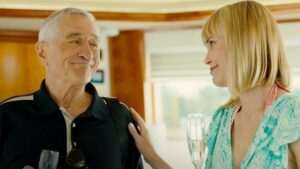 Easter Sunday fell apart due to its sitcom-writing and evident struggle of trying to be everything to its underrepresented target demographic as opposed to nailing one strong concept. Conversely, whenever About My Father veers in the direction of broadly drawn comic set-pieces — such as Sebastian inadvertently losing his pants while waterskiing, or Salvo giving Tigger a hairdo for which she didn't ask — director Laura Terruso reels the narrative back in to put family dynamics in the forefront.
Many are justified in saying that De Niro has spent much of the last 20 years taking roles well below his acting abilities, but a redux of Dirty Grandpa this is not. Lately, De Niro hasn't been nearly this good when it comes to comedies. It feels like he's actually putting forth effort, and his chemistry with Maniscalco is warm and fatherly. He's more effective here than in Meet the Parents or in any other film of that series.
A great moment comes when the two men are getting ready for bed and are mocking the way Ellie's family must give an oral history of every chair and end-table in their home. Maniscalco grabs the desk-chair in their joint bedroom and says, with an exaggerated Italian tone, "Ere's where Thomas Jeffah-sin signed the treaty of 'who gives-a-cray-p!'" It's not revelatory, nor is it high comic art, but it's something refreshingly simpler: Maniscalco playing to his strengths.
Bound to be overlooked is Brett Dier, who plays Doug, one of Ellie's two brothers. Doug isn't anything like Bill (Anders Holm), the obnoxious, self-indulgent one of the family. Instead, he's a Kombucha-drinking, sound bowl-playing, socialist dork who earns his laughs with his comparatively quieter demeanor.
Similar to The King of Staten Island — insofar that it was unclear whether or not Pete Davison could be a leading man seeing as the film was written specifically for and about him — it's tough to say whether or not Maniscalco is a true lead. He's existed on the periphery in films such as Green Book and Tag for so long that one fears if he'll get a reasonable chance outside of his comfort zone. However, About My Father has all the qualities that would make it your dad's next favorite movie. Its genial, eminently relatable nature somewhat irons out its occasionally tired goofiness.
NOTE: About My Father is now playing exclusively in theaters.
Starring: Sebastian Maniscalco, Robert De Niro, Leslie Bibb, David Rasche, Kim Cattrall, Anders Holm, and Brett Dier. Directed by: Laura Terruso.