Elemental (2023) review
Dir. Peter Sohn

By: Steve Pulaski
Rating: ★★★
Peter Sohn's Elemental is solid Pixar, and a breath of fresh air after whatever the hell Lightyear was. Its themes of two opposites coming together borrow from previous movies, thus leaving the impression that earlier Pixar storytelling gurus would've found a way to make this story more nuanced and specific (see Turning Red). However, I found myself pretty invested in the story of the two polar opposite leads, as well as the drop-dead gorgeous animation, which marks yet milestone achievement for the studio who ultimately still has a fastball — even if we sometimes wish it were a curveball.
The film gets off to a fast-start, with an extended prologue showing Bernie and Cinder Lumen (voiced by Ronnie del Carmen and Shila Ommi, respectively), two fire elements immigrating to Element City. Essentially New York City, the bustling metropolis is home to four distinct walks of life: fire, water, Earth, and air elements (personified as living beings, like the emotions in Inside Out). They face xenophobia and cantankerous locals, but don't let that dash their dreams. They go on to own and operate a convenience store known as "The Fireplace," with hopes their daughter, Ember (Leah Lewis) will run it once she matures.
As an adult, Ember realizes the stress of nagging customers causes her temper to explode — maybe one of the most relatable elements in any Pixar movie yet — too early and often. Her red flames turn purple with annoyance before she bursts into a violent fireball of rage. One such fit results in the pipes in the shop's basement exploding, sending a water element named Wade Ripple (Mamoudou Athie) into her life. He's a building inspector, who makes notes on The Fireplace's many violations, cries crocodile tears while doing so, and then sends the findings off to City Hall to be processed, which will likely close the store.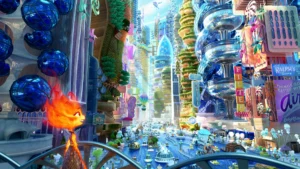 Ember has no choice but to save the family business, so she chases Wade through Element City. It's one of the first times she's left her fire element borough. The longer they bond with one another, the more they see that they seem to be soulmates. However, incompatible makeups and familial expectations get in the way, as they so often do. The story leads you to believe saving the shop will be the end-all-be-all, but actually, it's the complicated romance that takes centerstage with the former plot-point getting wrapped up pretty swiftly.
Elemental is alive with dimension and color. Element City blossoms with visual activity and grandiose cityscapes as it helps the film come alive. The animators are creative with their visual gags, puns, and wordplay — The Fireplace sells shirts that say "Luck of the Firish" — and banal little instances, such as Wade being forced to eat a flaming piece of charcoal, result in spectacle. Disappointingly, the Earth and air elements are stiff-armed amidst the worldbuilding. The lone Earth element we meet is a young boy who sprouts flowers from his armpits and gives them to Ember, and the only air element we see is a boisterous City Hall worker. The air elements appear as clouds. I suppose they would've looked goofy if they were just outlines.
Furthermore, you get the sense that with a few more screenwriting chances, and maybe some additional narrative specificity, Elemental could've dazzled emotionally like some of Pixar's most impressive achievements. The film borrows a little Guess Who's Coming to Dinner, a little Zootopia there, and sadly never breaks the mold of being yet another movie about how we must accept those who are different from us by showing how those differences can make us better people. It's a moral most good and decent people can get behind, but Elemental doesn't have a second gear to take in effort to create excitement like its studio once did so courageously.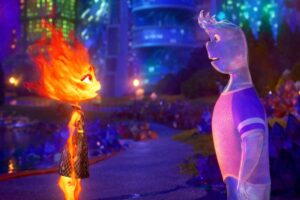 All that being said, Ember and Wade are bound to win you over pretty quickly. I was initially annoyed by Wade's dorkiness and incessant crying during his initial introduction. Thankfully, writers John Hoberg, Kat Likkel, and Brenda Hsueh development him beyond his fragile emotional state (the film's climax even plays into it in a nifty way). Ember, however, is terrific. She's caught in a problem that plagues many first generation children of immigrants, and her short fuse and combustible personality will surely be relatable to people young and old. Leah Lewis, in her breakout role, does some great voice-work as well.
Elemental might not exceed the narrative boundaries of sufficient, good-natured family entertainment, but blessed so it's an original story from Pixar. Sohn takes a page out of Pete Docter's playbook in personifying the four elements of nature, suggesting if they can coexist, why can't we? It's idealism in a time when polarization seems to be everybody's bag, yet it's a story capable of winning you over thanks to its characters and delightful animation — even if, unlike elements, it's easy to contain.
NOTE: Elemental is now playing exclusively in movie theaters. For what it's worth, it's preceded by the short "Carl's Date," which reacquaints us with Carl and Dug from Up. I'm already not clamoring for a sequel, but these shorts really diminish the sweet and poignant qualities of one of Pixar's most emotionally stirring films. This one is completely forgettable by the end of Elemental.
Voiced by: Leah Lewis, Mamoudou Athie, Ronnie del Carmen, Shila Ommi, Wendi McLendon-Covey, Catherine O'Hara, Mason Wertheimer, Joe Pera, and Matt Yang King. Directed by: Peter Sohn.