The Flash (2023) review
Dir. Andy Muschietti

By: Steve Pulaski
Rating: ★★½
Color me surprised. After lingering in development hell for over 20 years, starting and stopping more than LA traffic, The Flash is actually not an ignominious disaster for the much-maligned DCU!
The first hour is its peak as it presents the engaging conflict of two Barry Allens co-existing in the same universe, the struggle of the younger Barry's maturation from naïve teenager to sudden-superhero, and some zippy, light-hearted action sequences. Once Michael Keaton's Batman gets into the fold, things can get a bit messy structurally. While the third act is your usual mess of CGI, the humor and heart remains consistent, as the film commendably doubles down on pathos that linger in the psyche of its titular hero.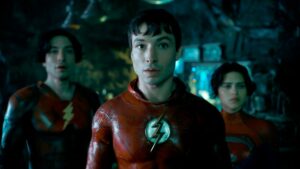 Ezra Miller turns in a loose and engaging performance as the titular hero, who can run with tremendous speed. The opening sequence involves Barry waiting for his breakfast sandwich at a local bistro when he gets a call that a high-rise hospital in Gotham City is about to collapse. He sprints to the city of darkness, and, in a harrowing sequence bolstered by both high-speed and slow-motion videography, rescues nearly a dozen infants in mid-air. He makes it back to the coffeeshop before the barista even knows he's disappeared.
In his spare time, Barry has been studying criminal justice in effort to exonerate his father, Henry (Ron Livingston), who was wrongfully convicted of killing his wife/Barry's mom (Maribel Verdú) many years ago. Even with the help of Bruce Wayne (Ben Affleck) to improve some security footage to prove Henry's alibi, it looks as if Barry's father will spend his life behind bars. In a fit of anger, Barry runs so fast and so far that he manages to outrun the universe himself, successfully reaching a purgatorial space where he can reenter any point in time. Naturally, he decides to go back to 2013, specifically the day he got his powers, when his mother was still alive.
You might find yourself asking: why didn't Barry go back in time to see who killed his mother and have that man brought to justice? Doing such wouldn't run the risk of causing irreversible damage to the future. My rationale: there wouldn't be a 144-minute blockbuster if that was the plot.
Anyway, the present Barry returns to 2013 and finds that his younger self still exists. Barry finds himself trapped with his younger self is far more obnoxious and irresponsible than he is. Barry tries to get back to the present at the worst possible time as General Zod (Michael Shannon), from Man of Steel, arrives on Earth to evoke his terror. The course of time is so badly screwed up that there's no Wonder Woman or Cyborg to help Barry save the day, and Eric Stoltz plays Marty McFly in Back to the Future while Michael J. Fox accepted the lead role in Footloose. The two Barries have no choice but to find Batman, but not the Bruce Wayne they're used to. Instead, a haggard and bearded Michael Keaton must come to their rescue.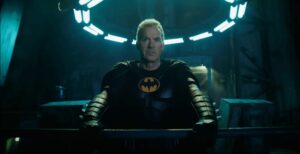 Keaton reprising his role as Batman would've been a delightful surprise, had the trailers not spoiled it the first chance they got. Therein lies one of the issues present in The Flash. It's so predicated on fan service that the surprises are just that: Easter eggs that are only special until they're revealed. Also in tow is Supergirl (Sasha Calle), whose brooding and reluctant hero attitude might've fueled another movie entirely. But seeing as this iteration of The Flash took forever to get to the big screen, perhaps the pressure was on to include every subplot possible as the chances of a sequel — especially with Ezra Miller's countless indiscretions dominating headlines for years now — are slim.
The return of Keaton's Batman at least gives him the opportunity to impart some knowledge on a younger hero a part of a new, tech-heavy generation. However, the film soars at its highest when it's exclusively focused on Barry, or both Barries. There's a touching scene when Barry returns to a grocery store where his mom was on a fateful shopping trip. The setting results in two special, emotional moments for the titular hero that include some of the best pathos to be found in the recent crop of DCU films.
Miller juggles double-duty effectively, even as the film climaxes with your typical onslaught of CGI in a no man's land setting for no apparent reason whatsoever. Andy Muschietti (It: Chapter One and It: Chapter Two) at least assures the action remains clear, and even the abundance of fan service doesn't undermine the tragic grief of Barry Allen. For every unsubtle act of pandering The Flash commits, screenwriter Christina Hodson (working off a story from previously attached directors John Francis Daley and Jonathan Goldstein, with Job Harold) makes an earnest effort to include something heartfelt, and it's a balance that mostly works until it unfortunately doesn't.
NOTE: The Flash is now playing exclusively in theaters.
Starring: Ezra Miller, Sasha Calle, Michael Shannon, Ron Livingston, Maribel Verdú, Kiersey Clemons, Antje Traue, Michael Keaton, Ben Affleck, and Gal Gadot. Directed by: Andy Muschietti.