Zoey 102 (2023) review
Dir. Nancy Hower

By: Steve Pulaski
Rating: ★
Zoey 102 makes the iCarly reboot look like Drake & Josh. This is coming from someone who was once emotionally invested in the Nickelodeon show like a devout fan of All My Children. Beyond missing significant characters, this reboot reeks of sadness and desperation. It's like watching people you knew in high school who are keenly aware that they peaked before they could legally drink yet are so stuck in their ways they know no other path forward.
Zoey 101 was a cut above other Nickelodeon shows of its era. Unlike most Dan Schneider properties, it was one of the only without a conventional laugh-track. Shot on location in Malibu for its entire four-season/61-episode run, it's still to-date one of the most expensive productions for the network. Set almost exclusively at a fictional boarding school, the show revolved around the exploits of co-eds trying to stumblebum their way through adolescence. In contrast to other admittedly great shows like Kenan & Kel and later, Victorious, Zoey 102 was less about broad situational comedy and more about the interpersonal relationships and friendships between the characters.
In contrast, Zoey 102 is all about the antics, most of which simply not funny. This long-awaited reunion is burned by the additions of dreadful new characters, glaring absences from recurring ones, juvenile subplots, and a busy main plot that loses sight of the charms that made this series one of Nickelodeon's all-time best.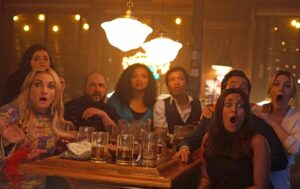 More than 10 years after graduating Pacific Coast Academy, Zoey Brooks (Jamie Lynn Spears) is 32-years-old, painfully single, and struggling as a television producer for a schlocky reality series. After another terrible date, she gets a call from her best friend Quinn Pensky (Erin Sanders), who is now a wildly successful tech inventor, and is asking if she'll be the maid of honor in her wedding to Logan Reese (Matthew Underwood). This would be a dream, but the wedding falls on the same weekend as the shoot for the season finale of Zoey's show.
Complicating matters is her estranged relationship with ex-boyfriend Chase Matthews (Sean Flynn), who you remember was the poster-child of being in the friend-zone before the term was mainstream. Zoey and Chase haven't spoken in years, but Zoey knows that she can't show up to Quinn's wedding looking like the early-thirties loser that she is. So, she takes the logical route: she hires an actor (Dean Geyer) to portray her Australian boyfriend, borrows a co-worker's self-driving car, and tries to handle her wedding and work duties all in the same evening.
Sadly sidelined in the film's fast-moving plot is Christopher Massey's Michael Barrett, who you'll remember as Chase's best friend since day one at PCA. Michael is still as lovably chill as he ever was, but Monica Sherer and Madeline Whitby's script don't give him much to work with aside from a couple of quips. Quinn and Logan are also far too preoccupied with their wedding day to stop and leave an impression in the dialog department.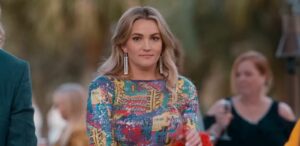 More than any other Nickelodeon sitcom in its era, Zoey 101 had a high turnover rate for recurring castmembers. Kristen Herrera's Dana asserted herself as the tough tomboy in season one only never to be seen again. She was replaced with Victoria Justice's Lola Martinez, the polar opposite of Dana. Alexa Nikolas' erratic Nicole was a live-wire character who bolted before the final season due to personal reasons. In season four, Flynn's Chase left and Austin Butler's James Garrett entered. None of these individuals are in Zoey 102, rendering Zoey's only long-term friend in Quinn (who is, again, so busy on her wedding day that not much chemistry between the two can be rekindled).
Quite honestly, the funniest thing about Zoey 102 might be what Paul Butcher, who played Zoey's younger brother Dustin on the show, said on TikTok regarding the film. It's telling when Butcher, who, like most of the aforementioned names, save for Austin Butler, hasn't done much noteworthy in several years yet still chose to ignore this misbegotten reboot.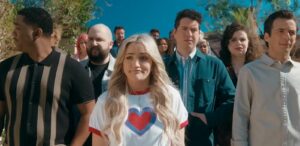 Due to the lack of familiar faces, writers Sherer and Whitby have no choice but to invent new characters and subplots. The reality show on which Zoey works is a total farce; it's tailored to be the gaudiest and most outrageous work of trash TV without any satirical focus. Thomas Lennon clearly gets into playing Zoey's vindictive and easily angered boss, but his character's obnoxiousness has a short shelf-life. While it's understandable that no one wants to give the problematic Dan Schneider a modicum of publicity for good reason, Zoey 102 suffers from his absence.
So, the reboot die-hard fans of Zoey 101 receive in return is a pitifully unfunny slog that amounts to 90 minutes of a lot of talented people struggling with irrelevancy and a downright brutal script. It's actually Abby Wilde's Stacy Dillsen who emerges from this project redeemed. Known for her strong lisp, Stacy has gone on to improve that and host a murder podcast. Her biggest episode yet would be covering the outright bludgeoning and gutting of many adults' childhoods after Zoey 102.
NOTE: Zoey 102 is now streaming exclusively on Paramount+.
Starring: Jamie Lynn Spears, Sean Flynn, Erin Sanders, Matthew Underwood, Christopher Massey, Abby Wilde, Jack Salvatore Jr, Dean Geyer, Thomas Lennon, and Ms. Pat. Directed by: Nancy Hower.