Shortcomings (2023) review
Dir. Randall Park

By: Steve Pulaski
Rating: ★★★½
Shortcomings begins with a movie in a movie. The woman on-screen is Stephanie Hsu, whose application for a penthouse apartment gets rejected by a surly worker. Moments later, her husband, Ronny Chieng in a killer suit, purchases the building. The two take a ride up the elevator to their new home, fireworks go off, and a title card flashes across the screen that reads "just the beginning…"
The film, which is aesthetically similar to Crazy Rich Asians, is being shown at an Asian-American film festival, and it appears to dazzle everyone in the crowd, with the exception of Ben Tanaka (Justin H. Min), a failed film student and misanthropic curmudgeon. Him and his girlfriend, Miko (Ally Maki), go back on forth on the film they both watched long after it ends. She thinks it's a win for Asian representation and will pave the way for other filmmakers to tell distinctly Asian stories. In contrast, Ben believes it's "a garish mainstream rom-com that glorifies the capitalistic fantasy of vindication through wealth and materialism."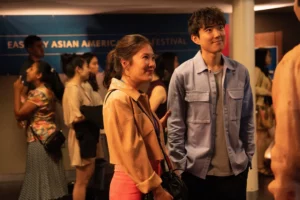 Based on the lovely graphic novel by Adrian Tomine, one of the best in the business who also wrote the film, Shortcomings challenges us to spend 90 minutes with someone who is an undeniable prick. You almost wonder if Ben hears people, specifically women, when they speak, or is he just listening intently enough to know when it's his turn to respond. He's callous and inconsiderate, and also has a thing for white women, the optics of which he finds appropriate to discuss enough to make his Asian girlfriend uncomfortable.
Being that he manages a movie theater in Berkeley, Ben hires an eccentric performance artist named Autumn (Tavi Gevinson) to work the ticket window, and it looks as if he might cheat on Miko. He very well might've, but Miko dumps him shortly thereafter and bolts to New York City for an internship. Soon to follow her to the Big Apple is Ben's closest friend, Alice (Sherry Cola), a quick-witted Lesbian with a propensity for brutal honesty and a lacking filter that assures Ben will hear what he needs to hear. So, without much going on in his own life, Ben takes a sabbatical in New York City to spend time with Alice and her new girlfriend (Sonoya Mizuno) and attempt to patch things up with Miko.
Shortcomings is the directorial debut of actor Randall Park (Veep), who works with Tomine in completely embracing the unlikability of Ben. Before Ben flies to New York City, he does have brief romantic flings with Autumn and then another woman named Sasha (Debby Ryan). At first, the two women see his smug comments and sarcastic quips as part of his charm; that is, until they realize that's his entire personality. Justin H. Min is in complete command of this character; even when he's ostensibly irredeemable in showing how toxic Ben can be, he's never not watchable.
Sherry Cola, who dazzled in last month's Joy Ride, is another major highlight in Shortcomings. Park and Tomine beautifully illustrate the long-term, platonic friendship between Ben and Alice. In many ways, it's the glue of the movie. In one playful bit, Alice has Ben role-play as her boyfriend in front of her traditional Korean parents to humorous results. Moreover, if someone as independent and tough-minded as Alice can see the good in Ben, maybe there is hope that there is a decent person festering in there somewhere?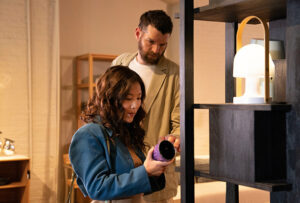 With Tomine writing the film adaptation of his graphic novel — this particular storyline exists as part of his larger series, Optic Nerve — he's able to seamlessly translate his smart characterizations and wry humor from the panel to the screen. Reading Tomine's work is an exercise in seeing how much a particular chapter or scene can say with so little. His dialog is both pointedly funny, but revealing in how it works to develop the characters involved. His simple, attractive sketches draw attention to the words, conversations, and body language of the souls behind them.
A big part of Shortcomings is Ben's attraction to white women, and the identity politics that play into his attraction. His relationship with Sasha starts to fizzle out when he mentions to her that when he notices people looking at the two of them in public, all he can think is how that other guy is thinking "that guy won. He got himself a white woman." It's preposterous and reductive, and at one point, Alice's girlfriend nearly showers Ben with her drink in rage. Tomine explores these ideas through dialog written as conversation rather than fussily written monologues.
Shortcomings has the feel of a breezy Woody Allen comedy that sneaks up on you with its wit, charm, and themes. While the film takes on the structure and appearance of a romantic comedy, Park and Tomine opt for a far more realistic ending — a great one I'll add, which concludes a film that's a win for Asian representation and a win for an immensely talented graphic novelist who could very well have a second career act in screenwriting.
NOTE: Shortcomings is now playing exclusively in theaters.
NOTE II: Take a listen to my interview with Shortcomings star Sherry Cola below!
Starring: Justin H. Min, Sherry Cola, Ally Maki, Deby Ryan, Tavi Gevinson, Sonoya Mizuno, Jacob Batalon, Timothy Simons, Scott Seiss, and Adrian Tomine. Directed by: Randall Park.