Joy Ride (2023) review
Dir. Adele Lim

By: Steve Pulaski
Rating: ★★★½
It feels great to laugh in the dark again. Joy Ride is now the fourth comedy to be released in theaters nationwide over the last month. Even if some early summer fare, such as About My Father and The Machine, had as many jokes miss as they did hit, this sector of bawdy and raunchy humor has steered itself away from the multiplex in recent years.
Now, welcome Adele Lim's Joy Ride with open arms, the first truly great mainstream comedy in a blue moon. Written by Family Guy alums Cherry Chevapravatdumrong and Teresa Hsiao (with Lim as a story credit), the film takes on many different forms of comedy with tremendous success. It treats its four women as individuals with clearly illustrated differences, and gets off on dropping them in one unsavory situation after another just to watch them scramble to adapt. Adapt they do, and the laughs roll consistently for a breakneck 90 minutes.
Joy Ride follows Ashley Park's Audrey, a Chinese girl adopted by white parents, who grows up in an affluent suburb. As a child, she meets Lolo (Sherry Cola), her rebellious counterpart, and instantly finds her lifelong BFF. Fast forward to present day and Audrey is an associate at a law firm tasked with closing a huge deal in Beijing; Lolo lives in Audrey's garage. Lolo comes along on the trip to serve as Audrey's translator.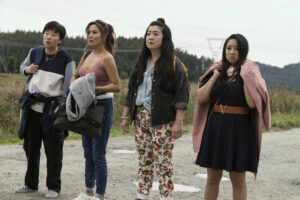 Audrey has never met her birth mother, and after discovering the name of the adoption house on the back of one of her childhood photos, Lolo begs her best friend to seize this opportunity. Also linking up with the girls on this trip is Deadeye (Sabrina Wu), Lolo's eccentric cousin, who is a major K-pop stan, and Kat (Stephanie Hsu, Everything Everywhere All at Once), a famous Chinese actress and former college roommate of Audrey's. As you can infer, the trip is anything but streamlined from point-A to point-B. Chaos ensues almost as soon as the friends meet-up.
Chevapravatdumrong and Hsiao flex their seasoned comic muscles with a screenplay that is shamelessly raunchy and culturally specific — by no means lessening its broader appeal. What I admired most about their work is their fearlessness in throwing this quartet of characters into salacious and transgressive scenarios with their individual responses realistically adhering to their personalities. For the most part. One of Joy Ride's most uproariously funny moments involve the four ladies sharing a passenger car on a train with a drug dealer (Meredith Hagner). There are police knocking on every cabin door, so the only option the ladies have is to do the drugs or… the other option. In a fit of anxiety and panic, each woman chooses a course of action, and editor Nena Erb splices together a brisk montage that piles on visual hilarity to an already funny scene.
Later, the girls are sharing a hotel with members of a Chinese basketball team (one of whom is former NBA player Baron Davis). They're all attractive too, and the girls have had a long day and are in need of a release. Audrey is wired tight and needs to close this deal. Kat got inadvertently high on cocaine, and the drug makes her insatiably horny. Deadeye just wants to find some BTS fans and dance the night away. What will the women choose? The fun is in watching it play out over several minutes, with the writers fleshing out each of the girls' scenarios while Erb presents the four ongoing storylines with clarity.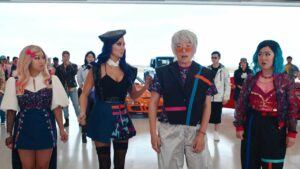 This is what I call equal opportunity writing. Every actress gets several moments to shine, and while everyone brings their A-game, it's the awkward and freewheeling spirit of Sabrina Wu's Deadeye who won me over early and often. Wu's impulsive nature and spontaneity reminded me of Kate McKinnon, but it's the way she plays Deadeye with sincerity and an earnest charm that tactfully underscores the difference between laughing at and with someone. Ashley Park oozes charisma as the lead; she could charm a dog off a meat-wagon in some scenes. Sherry Cola doubles down on the gross wit of Lolo insofar that you truly never know what she's going to say next. Watching Stephanie Hsu play a character that tries so hard to walk a tightrope between being a "good girl" and a raging nymph leads to additional comic magic.
Even scenes that sound like they would elicit immediate eye-rolls — such as the four ladies singing and dancing to their own version of "WAP" — are effective thanks to the energy the cast provides as well as Erb's undeniable strengths as an editor.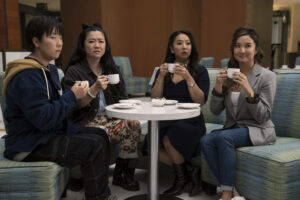 Adele Lim (the woman behind Crazy Rich Asians and Raya and the Last Dragon) deftly navigates the emotional beats to make them more than just that. The third act may blindside you with some strong emotional resonance that examines the struggles with identity that adoptees, particularly minorities brought into a whole new walk of life, experience. Park throws herself into these scenes as much as she does the brazen comedy, and finds just as much success too.
I remember getting some flak for my lukewarm review of Crazy Rich Asians. I found its representation laudable, but its characterization flat and presentation mostly akin to a soap-opera. It's one thing to demand representation; it's another to hold such representation to certain standards. Chevapravatdumrong and Hsiao let Asian women be raucous, loud, and unapologetically themselves. They let Asian men (Desmond Chiam, Chris Pang) be seen as hunky heartthrobs. These are both rarities in American cinema. To top it off, all of this is housed in a genuinely hilarious comedy.
NOTE: Joy Ride is now playing exclusively in theaters.
NOTE II: Take a listen to my interview with Joy Ride star Sherry Cola below!
Starring: Ashley Park, Sherry Cola, Stephanie Hsu, Sabrina Wu, Desmond Chiam, David Denman, Annie Mumolo, Ronny Chieng, Meredith Hagner, Daniel Dae Kim, Baron Davis, and Chris Pang. Directed by: Adele Lim.