Better Luck Tomorrow (2002) review
Dir. Justin Lin

By: Steve Pulaski
Rating: ★★★★
"[….] Nobody would say to a bunch of white filmmakers, 'how could you do this your people?' This film has the right to be about these people. And Asian-American characters have the right to be whoever the hell they want to be. They do not have to 'represent their people'." – Roger Ebert on Better Luck Tomorrow following its Sundance premiere in January 2002
If you would've told Justin Lin that one day he'd be able to pluck a character in his major debut, Better Luck Tomorrow, and make him an integral player in one of the longest-running and most lucrative film franchises in American cinema, he'd probably tell you'd he have to commit crimes way worse than those in his second feature in order to come close to achieving that.
But he did. And ever since The Fast and the Furious: Tokyo Drift, Sung Kang's Han Lue has been entrenched in the lore of the series, which just got its eleventh installment this year.
Back to Better Luck Tomorrow, a film that deserves more than being a footnote in the legacy of a tentpole series. Lin's first outing as a writer/director has the feel of Larry Clark's Kids. Clark's debut gave us an uncomfortably close look at teenagers without inhibitions, parental figures, and moral compasses. The same man who made it was responsible for using photography as a way to pull back the curtains and pass by the white picket fences to show suburbs as havens for youth drug use and recklessness in the later 1960s.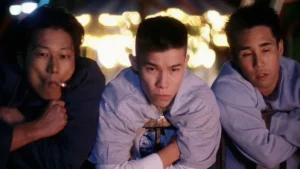 Lin's film revels in taking the piss out of the stereotypes of Asian-Americans. It's about a plethora of well-rounded, straight-A high school kids who fill their daily schedules with extra-curricular activities and block out just enough time to commit petty crimes on the side. As the film rolls on, the crimes become darker, and the consequences become greater. Shot well before smartphones dominated our lives, Better Luck Tomorrow still has relevant commentary about a certain portion of young people in this day-and-age. Money, power, and greed, even at the granular academic level, is the name of the game, and morality takes a backseat if the opportunity to earn any of those presents itself.
Set in Orange County, the film focuses on Ben Manibag (Parry Shen), who is trying to get off the bench of his basketball team, participate in his Academic Decathlon, and show his crush, a cheerleader named Stephanie Vandergosh (Karin Anna Cheung), that he's not a total dork. Academics come easy to him and his friends, which is why he can work with his pals, Virgil (Jason Tobin) and Han (Kang), to sell cheat-sheets. Soon, they learn more cash can be made by selling computer parts. Then eventually drugs. Then robberies. The proverbial snowball starts rolling down the hill faster than any of them can and will stop it.
Back to Stephanie. She's dating Steve (John Cho), who rides a motorcycle and knows he's cool because of it. Steve is aware of Ben's crush on Stephanie, and later slithers his way into their petty crimes in hopes of being let in on the big score. Eventually, he conjures up one of his own for the four to attempt, but it comes with its horrific consequences.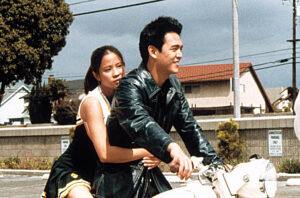 Our straight-As were our passports to freedom," Ben says in narration early in the film. We never meet any of these boys' parents and why would we? Their consistently high marks in school earns their parents' trust and belief that when they don't come home until the wee hours of the morning on a school night, they're at somebody's house studying the evening away. Lin and co-writers Ernesto Foronda and Fabian Marquez use this as two-fold irony: the absent parents are like white society's view of Asian-Americans. The latter rarely engages with them outside of work and school contexts, so it's assumed they're studying or handling business.
Of course, these beliefs are compounded by the absence of Asian representation in mainstream American films. Justin Lin had to climb mountains in order to get Better Luck Tomorrow funded and released. Without many options, he called rapper M.C. Hammer, whom he met and mingled with a couple years prior, and a couple hours later, he had the money to make his first feature. With $250,000, Lin's debut looks as visually accomplished as anything of its era. Patrice Lucien Cochet's impressive cinematography gifts this film the look of a teen comedy even as it descends down a darker path. Following its Sundance debut, the film was acquired by MTV Films, and to date, it's their best and boldest release.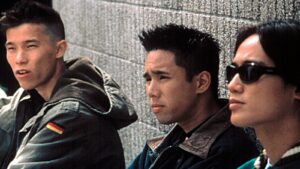 Better Luck Tomorrow operates, in some ways, like Martin Scorsese's Goodfellas. It exists on a similar plane where it's rife with suspense, harsh consequences, and dirty business. However, through it all, you want to see these characters succeed, despite their amoral decisions and the fact that they are clearly smart enough to know better. Parry Shen, Jason Tobin, Sung Kang, Karin Anna Cheung, John Cho (in his breakout role), and Roger Fan (who plays Daric, the hot-headed school valedictorian) operate like they have been waiting for juicy roles like these for their entire lives. Because they undoubtedly have.
On one hand, it's a pity that Justin Lin didn't go down a path ala David Gordon Green, who he got to make a few films that were small, intimate, and clearly personal before achieving his big opportunity. On another, however, Better Luck Tomorrow's success eventually propelled Lin to be the director of massive big-screen hits in the Fast and the Furious series, as well as Star Trek Beyond. That's a success no matter how you slice it, in addition to the fact that we at least can sleep at night knowing Han Lue made something marginally respectable of himself.
NOTE: Better Luck Tomorrow is available to rent on a variety of platforms.
Starring: Parry Shen, Jason Tobin, Sung Kang, Roger Fan, John Cho, and Karin Anna Cheung. Directed by: Justin Lin.