Circus Maximus (2023) review
Dir. Travis Scott, Harmony Korine, Gaspar Noé, Nicolas Winding Refn, Valdimar Jóhannsson, Canada, Andrew Dosunmu, and Kahlil Joseph

By: Steve Pulaski
Rating: ★★
Travis Scott's Circus Maximus arrived in theaters without much press or promotion. Scott announced the film during his performance at Rolling Loud Miami on July 23rd, and on July 27th, the finished project was released in select AMC Theaters for a brief run. The asking price? An absurd $25 for a single ticket, more than double the average one-night only Fathom Event at the same theater chain. For Scott to then release the film for free on YouTube a mere three weeks later demonstrates the swell of an ego perhaps unseen since Will Ferrell played nine different positions for 10 MLB teams in a brazen attempt for publicity.
Scott's experimental anthology — released as a tie-in with his fourth studio album, Utopia — is ambitious, but alienating. At merely 75 minutes, it's still liable to test the patience of devout fans of the extremely popular rapper, whose shows sell-out and are prone to violent mosh-pits. Moreover, Circus Maximus as Scott's inevitable follow-up to the devastating 2021 concert at Houston's Astroworld Festival that saw ten people fatally crushed. Anyone looking for any clear insights into Scott's feelings on the tragedy won't be rewarded with any kind of reflection, unless they can decipher cryptic imagery and dialog.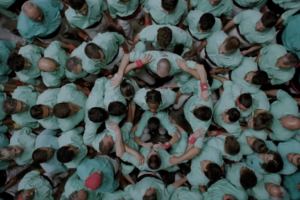 Directed by Scott — in addition to several heavy-hitting filmmakers, such as Harmony Korine (Spring Breakers), Gaspar Noé (Enter the Void), Nicolas Winding Refn (Drive), Valdimar Jóhannsson (Lamb), Canada, and music video directors Andrew Dosunmu and Kahlil Joseph — the film starts with the embattled rapper battling a squid-like monster before transitioning us into several vignettes. In one, Travis has a barely audible conversation with Def Jam co-founder Rick Rubin about his current state-of-mind. If you manage to pick up on the incoherent conversations, you'll hear some morsels about remorse, but nothing in the way of true substance.
Similar to Beyoncé's Lemonade, which helped redefined this genre of musical movies for artists pushing new projects, Circus Maximus spends the first 30 minutes cycling through an assortment of music videos. One is set in Ghana with well over 100 extras. Another is a high-speed chase sequence directed by Refn, where Scott is in the backseat of a taxi driven by a crash test dummy as he chiefs a blunt. You won't know who directed what segments until the closing credits, but you know right away that this is the work of Refn from the neon sheen and the moody streets.
At another point, Scott gets hundreds of people to form a human tower with a child positioned at the top. How this was pulled off begs to be the subject of a short documentary in itself. There's maybe a commentary about crowds, and lifting one another up in the midst of tragedy as a way to echo the devastation left in the wake of Scott's performance in Houston, but you won't find it without some serious over-analysis of alleged symbolism.
One other short before the "main attraction," if you will, is directed by Gaspar Noé. Serving as the music video for Scott's song "Modern Jam," it features the rapper DJing at a club while clubgoers dance to the beats and are engulfed by epileptic imagery, strobe lights, and more neon colors. Like Refn's short, it's visually gorgeous, and there's a precision in the framing that makes it stand out as distinctly modern. But these shorts don't coalesce due to the absence of an overarching theme, and mostly, they're over before the song even finishes.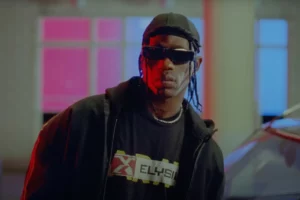 After this montage of shorts directed by some of the finest international filmmakers working today, Circus Maximus takes us to the Amphitheatre of Pompeii in Pompeii, Italy to perform for nobody. He's surrounded by a wall of speakers, and Harmony Korine directs Scott as he performs about a dozen songs, a couple of which we just heard with their accompanying music videos. Where the previous music videos were defined by their meticulous styles, this concert-of-one is far messier. Scott nor Korine seem to care that we can see various production elements such as booms and microphones in-frame, or even crafty and other production tents setup in the stadium seats of the Amphitheatre. If it's to cultivate a broader message, once again, color me lost.
Travis Scott's musical output has been rather conservative when compared to contemporaries such as Future, Drake, and even Kendrick Lamar. Over the last eight years, he's only released four albums, though each of them are musically accomplished and worthy of heavy rotation. His debut, Rodeo, blew me away when I first heard it, and in lieu of Astroworld's designation as a modern rap classic, I mourn for how Birds in the Trap Sing McKnight has gone on to be slightly forgotten. I still need to listen to Utopia. If anything, I hope it erases the numbness I felt while watching Circus Maximus.
NOTE: Circus Maximus is now available to watch on YouTube, free of charge.
Starring: Travis Scott, Rick Rubin, James Blake, Sheck Wes, Yung Lean, and Teezo Touchdown. Directed by: Travis Scott, Harmony Korine, Gaspar Noé, Nicolas Winding Refn, Valdimar Jóhannsson, Canada, Andrew Dosunmu, and Kahlil Joseph.