You Are So Not Invited To My Bat Mitzvah (2023) review
Dir. Sammi Cohen

By: Steve Pulaski
Rating: ★★½
Clear from the beginning of You Are So Not Invited To My Bat Mitzvah is Adam Sandler's undying love and commitment to his family. The 56-year-old father of two, his latest Happy Madison/Netflix production is a love-letter to those particularly difficult tween years where social cliques form, boys and girls alike are raging with hormones, and if you're Jewish, your bar/bat mitzvah is the defining point in your very young life.
It doesn't help Sammi Cohen's film that Are You There God? It's Me, Margaret. came out earlier this year, and so thoughtfully brought Judy Blume's beloved novel to life by intermixing the story of a young woman coming-of-age while also experiencing a crisis of faith. Alison Peck's script prefers to leave questioning God, the Torah, or religion as a whole mostly out of the picture in favor of a colorful swash of teen spirit. That makes for a vibrant and fast-moving film exclusive to a streaming service that is in dire need of some morsel of faith from its subscribers, but it doesn't make for a particularly deep one.
Adam's younger daughter, Sunny, is an amiable lead, as she plays Stacy, who lives with her parents (Adam Sandler and Idina Menzel). Stacy dreams of her upcoming bat mitzvah as a lavish party that will welcome her to the world of adulthood, even though all she has to do is look at her supportive older sister, Ronnie (Sadie Sandler), to get a glimpse of where she'll likely be post-mitzvah. However, Stacy isn't so much into the religiosity of the event — "[Judaism] is important to you and other old people and God and stuff, but to me, it's the party," she tells her parents at one point. She just wants to have a banger of a time with her friends.
And who could blame her? Her lifelong best friend is Lydia (Samantha Lorraine), and the two are planning to navigate the treacherous waters of their teens together. They both feverishly outline their bat mitzvahs, hashing out the finer details of whether or not they want a Candyland theme or to include a Twizzler bar, and are so close to one another that Lydia entrusts Stacy to film and edit her bat mitzvah video that will be shown to a crowd of hundreds of her closest family and friends.
But of course, it's a boy who begins to drive a wedge between the two besties. In effort to impress her crush, Andy (Dylan Hoffman), Stacy humiliates herself in front of him and everybody who matters at her school. Later that week, Stacy spots Andy kissing Lydia, which prompts her to speak the film's title. It's on.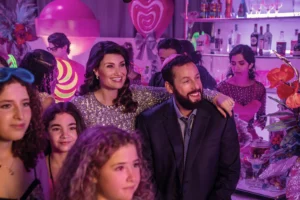 Those expecting the traditional Sandler comedy will be disappointed to see that he's relegated to a background father who specializes in dad jokes, tough love, and one very loud (but admittedly funny) argument with his younger daughter. Stacy and Lydia's storyline is strong enough to support the film on its own, so Sandler and his usual brigade of buddies aren't needed. Supporting characters come in the form of Saturday Night Live alum Sarah Sherman as an eccentric, acoustic guitar-playing rabbi — who sings a cringeworthy song called "God is Random" — and Luis Guzmán, who can't wait to get divorced from Sandler's real-life wife, Jackie. That might be the funniest detail within the film itself.
After a shaky and slightly scatterbrained start, You Are So Not Invited To My Bat Mitzvah finds its footing once Stacy and Lydia ignite their beef. Inevitably, however, the film suffers by comparison to Are You There God? It's Me, Margaret. Peck's script, which works off the Fiona Rosenbloom novel of the same name, adopts the presentation of a sitcom with the usual bursts of situational comedy to be found in a Happy Madison film. While never grating nor desperately unfunny, it lacks the perceptive storytelling qualities of Kelly Fremon Craig's film, which was a gaggle of vignettes that defined what it's like to be a girl at the awkward age of eleven.
Peck's screenplay shines when it affords its dynamic duo opportunities to confront their transition into adulthood with all the excitement yet awkwardness that usually transpires. There's a scene when Stacy begs her mother to let her wear stiletto heels to appear more adult, but instead, switches them out for her traditional sneakers when no one is looking. There's also Stacy's palpable discomfort when she's invited to her first "boy-girl party" when she anticipated a night of movies with her gal pals. Even when they're at one another's throats, Sunny Sandler and Samantha Lorraine are a lovable duo.
You Are So Not Invited To My Bat Mitzvah manages to arrive at a conclusion that's mature and meaningful, even if it is presented in speech-form. However, when the inevitable bat mitzvah occurs and ends the film, heartwarming qualities aside, the opulent nature of it all recalls Dick Clark's New Year's Rockin' Eve more than it does a Jewish party. Where another film this year showed the realistic life of a lower-to-middle class girl going through a transitory time in her life, this film's boundless budget and focus on rich kids fails to make it as universal. That said, if Sandler wanted to set his daughter a-course on a fruitful acting path, he's done more for her filmography than Kevin Smith has done for his thus far.
NOTE: You Are So Not Invited To My Bat Mitzvah is now streaming exclusively on Netflix.
Starring: Sunny Sandler, Samantha Lorraine, Adam Sandler, Idina Menzel, Sadie Sandler, Jackie Sandler, Dylan Hoffman, Sarah Sherman, and Luis Guzmán. Directed by: Sammi Cohen.