The Hill (2023) review
Dir. Jeff Celentano

By: Steve Pulaski
Rating: ★★
About as bland as vanilla ice cream, with barely a sprinkle to be found, The Hill fits comfortably within the oft-uninspired assembly line of faith-based sports dramas that, despite no shortage of good intentions, are marred significantly by their predictability.
Since he was a boy, Rickey Hill (played by Jesse Berry as a child and later by Colin Ford as a teenager) has been quite the slugger. The Hill opens with Rickey whacking stones with a long stick, hardly hampered by his large leg braces due to a degenerative spinal disease. Rickey lives in a nowhere town in Texas with his pastor father, James (Dennis Quaid), who discourages him from even daydreaming about pursuing baseball due to risk of worsening his condition. He desperately wants his son to become a preacher just like him. But everyone else in the family — including mother Helen (Joelle Carter), his grandmother (Bonnie Bedelia), and siblings Robert (Mason Gillett) and Connie (Hailey Bithell) — can see that baseball is in fact Rickey's calling, but they're powerless to the sermons of their patriarch.
The first half of The Hill revolves around Rickey's childhood, which, in between verbal lashings from his father, is highlighted by a fledgling romance with the neighbor girl, who reappears inexplicably when he's become a ballplayer, and mentorship from country singer Randy Houser. The film does pace itself and lets us get to know Rickey as a young boy, as well as his family, for a large amount of time before jumping forward when Rickey starts playing ball. James isn't supportive of his son's disobedience (he's going against God's will, after all), so he elects not to attend his son's games in favor of preaching to a depleting congregation.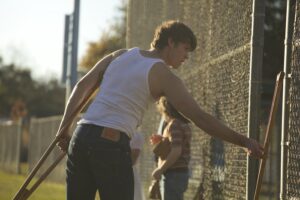 The second half of The Hill focuses on Rickey's literally and figuratively painful climb as a hitter, who doesn't catch the eyes of scouts despite his powerful swings. An unfortunate injury in the outfield results in him seeing his first doctor in years, who tells him that his legs are rapidly deteriorating, potentially beyond repair. This is where The Hill really falls apart. Rickey's rehab and journey back to the diamond are shortchanged to a few scenes before he's again running the bases and hitting dingers in no time. That's the tragedy with so many faith-based movies. They are so eager to get to the miracle that they don't bother to show the trials and tribulations leading up to it.
Dennis Quaid played one of the most contemptible movie dads in recent memory in I Can Only Imagine, and he's back in the role here, to great effect. Scott Glenn also plays Red Murff, an MLB scout who walks and talks like he's Connie Mack reincarnated. The third act of The Hill has Rickey competing in an exhibition game with other Texas alums in order to achieve "his opportunity in the majors." I put that in quotes because the film makes it sound as if Rickey's performance gets Red's approval, he will be on his way to an MLB roster. Screenwriters Angelo Pizzo and Scott Marshall Smith start to insult our intelligence suggesting that Rickey will be batting for the Texas Rangers or another franchise should he succeed at this opportunity. Once again, the result is praised. The journey is shortchanged.
Handsomely filmed and competently acted, The Hill might go on to have a good life on free streaming services and networks like UP TV. Even those who don't know Rickey Hill's improbable story will likely find themselves predicting each step of the way, indulging in a film whose desire to uplift and inspire winds up floating in one ear and out the other.
NOTE: The Hill is now playing exclusively playing in movie theaters.
Starring: Colin Ford, Dennis Quaid, Joelle Carter, Bonnie Bedelia, Randy Houser, Jesse Berry, Mason Gillett, Hailey Bithell, Scott Glenn, and John Smoltz. Directed by: Jeff Celentano.