I Can Only Imagine (2018) review
Dir. Andrew and Jon Erwin

By: Steve Pulaski
Rating: ★★★
It's been many a holy night since I've enjoyed a faith-based drama as much as I Can Only Imagine. The fourth film from the Erwin brothers, Andrew and Jon, whose previous efforts include the so-so abortion melodrama October Baby, the peculiar comedy Moms' Night Out, and the hokey Woodlawn, I Can Only Imagine flies past their previous efforts, and most of the genre's recent products, to deliver a feel-good film not beholden to grating acts of proselytizing.
This is one of the less common cases of screenwriters doing their story a greater justice by broadening it rather than minimizing it for a very specialized crowd. Rather than use the film as another opportunity to affirm the time-tested, devout beliefs of their core audiences, screenwriters Alex Cramer, Jon Erwin, and Brent McCorkle consider the larger elements of main character Bart Millard's life, which deal with abuse, father issues, and an unstable homelife; three things many people, religious or not, could easily relate to. It's one thing to tell a story about a man who comes to forgive his father a short time after he finds God and all of a sudden the answers are clear and the road is substantially easier. It's another to show a religious young boy grow into being a religious man, whose anger and resentment towards his father is now handicapping his dream career. The former is a few beats away from being propaganda. The latter is a credible and realistic story with great human interest. Thankfully, by the grace of God even, the filmmakers found the latter the better story to tell.
The film's title comes from the name of the Christian rock band MercyMe's triple-platinum ballad. Released in 2001, the song has been deemed the most played/request song on Christian radio, and it came to fruition thanks to the band's lead singer, Bart Millard, who wrote it in ten minutes as a sendoff to his father who had just passed. But long before "I Can Only Imagine" was dominating the airwaves, Bart was a young boy stuck in a dour situation at home. His father, Arthur (Dennis Quaid), was a disillusioned college football star, who took his anger out on his only son, and his mother dropped him off at a sleepaway camp one morning to hardly be seen again. By high school, Bart initially tried football, like his father, but an injury forced him to step away from the game early. By the request of his girlfriend, Shannon (Madeline Carroll), whom he met at camp, he joined choir, took on a headlining role in the school play, and became part of MercyMe, named after his grandmother's (Cloris Leachman) vocal reaction to her grandson striving for a career in the music industry.
I Can Only Imagine follows Bart's journey with MercyMe, playing dive-joints and youth groups, fighting for recognition that soon comes from talent-seeker Scott Brickell (country musician Trace Adkins). Brickell likes what he sees in the band, but notes their lack of authenticity, which only manifests in rare instances, though it is present. A heart-to-heart between Brickell and Bart has the seasoned producer recommending that the novice musician look to confront whatever is holding him back from being a more natural singer-songwriter. That barrier is, of course, Bart's father.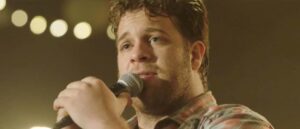 Bart is played by J. Michael Finley, a real find of an actor, who handles his character's good ol' boy charisma as well as he handles his conflicting emotions. Finley is made only better by the presence of Dennis Quaid, who gives a truly great performance as a cruel, contemptible father with a grimace chiseled to evoke fear and little else. There's an exceptional moment of this fear illustrated when Bart goes back to visit his father. It comes when his father goes to the kitchen to get his son some ketchup for his breakfast while Bart is criticizing him for suddenly wanting to make things right after he made him feel so insignificant for many years. There's a look Quaid shoots Finley while at the refrigerator that suggests he's either going to throw the bottle of ketchup at him or loosen his grip and put his head down in shame. I won't dare tell you what he chooses to do; I'll just tell you to watch Quaid's facial expressions in that scene to see how effective his nuances are.
Also surprisingly effective after finding himself in a series of tacked-on supporting roles is Trace Adkins. The gravelly voiced, "Honky Tonk Badonkadonk" singer gives a performance as surprisingly endearing and earnest as the film itself. The film neither overplays nor underscores his role as a tough-love mentor/manager of the boys, and while his role as the former is only shown in regards to Bart, the moments Adkins has with Finley are well-played and kept grounded in reality rather than in abstract.
I Can Only Imagine does have the issue many music biopics have, and that's the desire to be completionist, so to speak, in their narrative. Many moments — such as Bart's short-lived football career, his mother coming back into his life, which is only noted in epilogue, his on/off relationship with Shannon, and the sense of time — are either downplayed or completely omitted in favor of moving the story along. Some of this could reasonably be blamed for the partially padded out third act, where a lot of things come together that could've had a greater impact had we seen them better illustrated over the course of the film (Bart and Shannon's romance is a big one).
I cannot take away from the film's real strength in being a downright well-told story, however, and one that deals with forgiveness in an emotionally cathartic manner. Generally speaking, I have a hard time going along with many faith-based stories of forgiveness; a good part of that is due to my belief that some people are just unworthy of being afforded such a difficult state of mind in a person. Bart isn't shown reading several passages of Leviticus nor attending church on Sunday and being moved by the pew's rendition of "Amazing Grace." He also doesn't talk with an old soul much wiser than himself to hear him expound upon how he only has one father, and though he isn't perfect, he's still a man whom Bart should love in respect. In Bart's incredibly trying journey to forgive his father, he is shown coming to it in his own way, through music, which was the tool he used to cope when him and his mother were at the mercy of their patriarch's violent tirades. The screenwriters show how the strength of one's outlet can be used to do something that many of us might've never thought we could do, and that's much more difficult to portray than the treacly path to forgiveness that we see unfold in many like-minded films.
I make it a priority to seek out as many Christian films I can in a given year for a variety of reasons, and every so often, it leads me to a real gem like I Can Only Imagine. A sweetly inspired and emotionally involved drama that rises above the common pitfalls of its formula, it delivers a pleasant affirmation of the human spirit in a well-acted work of drama. Finally, give it some credit for also including its titular song in the film, something past films like Beer for My Horses and Take Me Home Tonight couldn't even manage to swing.
REVIEWS OF OTHER FILMS DIRECTED BY JON ERWIN:
My review of The Jesus Music
My review of American Underdog: The Kurt Warner Story
My review of Jesus Revolution
Starring: J. Michael Finley, Dennis Quaid, Trace Adkins, Madeline Carroll, and Cloris Leachman. Directed by: Andrew and Jon Erwin.