PAW Patrol: The Mighty Movie (2023) review
Dir. Cal Brunker

By: Steve Pulaski
Rating: ★★½
The first PAW Patrol movie — released in theaters and on Paramount+ back in 2021 — was one of the more pleasant animated surprises that year. It was a slick piece of entertainment, with more than a couple rousing setpieces, but also tackled themes of anxiety, depression, and feelings of inadequacy in ways that were communicable to young children. Having never seen a single minute of the show, I was taken by its potency as both kinetic fun and emphasis on a meaningful message.
Its sequel, PAW Patrol: The Mighty Movie, disappointingly regresses to the mean. Where the previous film found pup Chase (voiced by Christian Convery) fretting his new responsibilities as a member of the titular gang of police/rescue dogs, the internal conflict shown here is that of Skye (Mckenna Grace), a cockapoo who is perpetually upset that she hasn't hit her growth spurt yet. Mind you, she's like two or three inches shorter than her comrades, but that doesn't stop her from moping about it for most of the film.
So, PAW Patrol: The Mighty Movie makes it pretty clear from the jump that this will be another animated movie about how you can overcome any obstacles and challenges even if you're vertically challenged. Not a bad message to send to children, no, but a terribly overused one that fails to make an impact, especially when compared to the first film.
The story begins with Vance (Taraji P. Henson), who works with the evil Mayor Humdinger (Ron Pardo), stealing a gigantic electromagnet from a junkyard in order to steel a meteor. Instead, the plan fails, and the meteor crashes into Adventure City and leaves crystals scattered about the area. The members of PAW Patrol obtain these crystals, and thus are afforded their own newfound superpowers, such as the ability to fly, manipulate fire, etc.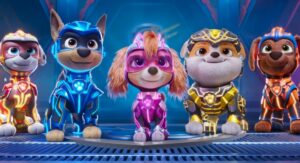 Left out of the superpower sweepstakes is Liberty (Marsai Martin), who instead takes on the role of mentoring three Pomeranian puppies known as the "Junior Patroller Program." They have aspirations to work for the PAW Patrol one day, but they're a little too small at their current state to be full-fledged members. No less, they do contribute in the clutch, including a clever, late-third act moment when they help trigger Mayor Humdinger's allergies (you have to see it to appreciate it).
Led by their 10-year-old human leader Ryder (Finn Lee-Epp), the pups must try and stop Vance, Humdinger, and his army of kittens from harnessing the power of meteors.
PAW Patrol: The Mighty Movie is a conduit for a lot of noise, flashing lights, and colors. The best sequence comes when Skye is ambushed by Vance and Humdinger. The PAW Patrol gets a call about a plane engine being on fire, and when Skye parachutes inside the plane, she realizes it's a setup by their archnemesis. When Vance and Humdinger bolt, she's left to try and land the aircraft on the busiest street in Adventure City. It's quite exhilarating, and plays very well on the big screen.
Screenwriters Cal Brunker and Bob Barlen don't have much to add in the realm of humor either, rendering much of the film just a sprint from one scenario to another. At one point, Skye must lower herself down into Vance's apartment via rope and retrieve the crystal she snatched from her on the fiery plane. The crystal is on a necklace that sits around her neck. The scene is curiously similar to one in Hey Arnold!: The Movie, where Arnold must retrieve a key in the same scenario. Why am I mentioning this? The mind tends to wander when faced with an onslaught of mayhem in a theater so early on a Sunday morning.
If you see PAW Patrol: The Mighty Movie in theaters, know that it's preceded by a couple extraneous additions. There is a sing-along music video for Bryson Tiller's song "Down Like That," which has each pup performing their own dance ("Do the Skye!" Do the Chase!"). Following that is a Dora the Explorer short that features creatures that look like sleep paralysis demons and low-rent CGI animation. There's something quietly funny about Dora demanding an audience to yell the age-old line "Swiper no swiping," and your theater remaining dead silent in the process. There's fun to be had with PAW Patrol: The Mighty Movie, but it's fun you might as well have when it inevitably finds itself on Paramount+ for a fraction of the price before year's end.
NOTE: PAW Patrol: The Mighty Movie is now playing exclusively in theaters.
My review of PAW Patrol: The Movie
Voiced by: Mckenna Grace, Taraji P. Henson, Ron Pardo, Marsai Martin, Finn Lee-Epp, Christian Convery, Kim Kardashian, Chris Rock, North West, Saint West, Lil Rel Howery, Serena Williams, James Marsden, and Kristen Bell. Directed by: Cal Brunker.