Svengoolie: Uncrypted (2022) review
Executive Produced by: Rich Koz, Michael Sorensen, and Matthew Kelly

By: Steve Pulaski
Rating: ★★★½
Part of me and my girlfriend's 30-movie Halloween marathon.
Longtime executive producer of Svengoolie, an eminently popular horror movie TV show in Chicago, Jim Roche says it best in the character's first-ever special: "In Chicago, there's the '85 Bears, Michael Jordan, Oprah, and Svengoolie." I couldn't agree more.
For those unaware, Svengoolie is a late-night program that first started in Chicago. It now airs nationally on Saturday nights. Hosted by Rich Koz (playing "Svengoolie," a caricature in skull-like makeup donning a moustache, goatee, wig, and black top-hat), the program features a low-budget horror film. While the movie is played in its entirety, Svengoolie pops up before and after commercial breaks to crack deliberately corny jokes, contextualize scenes, and perform parody songs. He's among the last of the dying breed of horror hosts, and might be the only one brave enough to make dad jokes in the middle of such classics as Night of the Living Dead and Trilogy of Terror.
Regardless, his schtick has endeared him to millions, myself included, and Svengoolie: Uncrypted is the long overdue TV special that has him in the starring role. Forced out of his tchotchke-laden dungeon, where Kerwyn and an ostensibly endless supply of rubber chickens, his closest companions, also reside, Sven must go on a quest to retrieve his original top-hat and rubber chicken. But that's not all. The destination is actually Berwyn, IL — the town that has become the wink-and-nudge punchline of so many of the show's jokes over several decades — where Sven will be honored by the city for his contributions.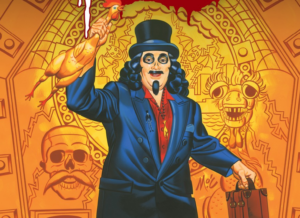 This roughly 40-minute "road" movie features appearances from Mark Hamill and Jeff Daniel Phillips (Rob Zombie's The Munsters). who initially serves as Sven's "taxi driver." I put "taxi driver" in quotes because Phillips is, in fact, driving a hearse. He shuttles him to The Brewed, a horror-themed coffeeshop in the Avondale neighborhood of Chicago. There, Svengoolie meets a devout archivist of his memorabilia. It's there where he finds one of the two items for which he's searching; the other was bartered for a Chicago horror convention. Upon learning of this, much like Svengoolie in real-life, he's off to the next event.
Svengoolie: Uncrypted is made more delightful because it serves as a retrospective look at the history of the character, originally created and played by Chicago radio personality Jerry G. Bishop. When Koz — a Park Ridge-native-turned-TV-personality — assumed the role of the character in 1979, he was the "Son of Svengoolie," not officially owning the moniker until 1994, years after Koz's original iteration was cancelled. The show was broadcast on WCIU, and eventually, MeTV, where it's become a national sensation, often trending on Twitter/X on Saturday evenings.
The now-71-year-old Koz shows no signs of age nor slowing down either. His energy remains high, and Svengoolie: Uncrypted makes visible his delightful and heartwarming interactions with his adoring fans of all ages. The wonderful part about Svengoolie is the fact that it's appealing to both kids and adults. When Sven finds himself being honored in Berwyn, crowd-shots show everyone from toddlers to seniors gathered to heap love and praise on the horror icon itself.
Svengoolie: Uncrypted premiered on MeTV last year, both as primer for Halloween and a lead-up for Sventoonie, a spinoff show that has one of the network's puppet characters playing the horror host himself (it's part of MeTV's newfound fascination with puppets and "toons"). The special is a long overdue ode to one of Chicago's longest-running television icons, and the beauty, like in the program itself, is in its good-natured sentiments and the valuable time we spend with one of the most likable individuals ever to grace the airwaves.
NOTE: As of this writing, Svengoolie: Uncrypted is available to watch on YouTube, free of charge.
NOTE II: Take a listen to my interview with Rich Koz himself, where we discuss Svengoolie's Halloween BOONanza, his legacy, his favorite horror movies, and more!
Starring: Rich Koz, Jeff Daniel Phillips, Mark Hamill, and Jim Roche. Executive Produced by: Rich Koz, Michael Sorensen, and Matthew Kelly.