Priscilla (2023) review
Dir. Sofia Coppola

By: Steve Pulaski
Rating: ★★★½
One glance at the poster for Priscilla might lead you to believe you're in for a frothy, fabricated look at the relationship and subsequent marriage of Elvis and Priscilla Presley. The line "Written and directed by Sofia Coppola" should put that misconception to rest almost immediately.
The story of Priscilla Presley perfectly fits Coppola's oeuvre of capturing the lives of privileged yet isolated women. The film also comes at the perfect time, more than a year after Baz Luhrmann's Elvis gave us a sweaty, breakneck biopic on the King of Rock and Roll. While equal parts ambitious and rapturous, the film was brought down by Luhrmann's clip-show-style pacing and its intense focus on Elvis' manager, Colonel Tom Parker, portrayed by Tom Hanks in an ultra-rare terrible performance. Where Elvis forgot to humanize the larger than life musical titan, Priscilla picks up the slack, only this time, giving his wife her due.
Before he was known as simply "The King," Elvis met Priscilla Beaulieu in 1959 when he was in the U.S. Army, stationed in Germany. Priscilla was the daughter of an Army officer, and the two became enamored with one another when he was 24 and she was merely 14. With the surprising blessing of her strict parents (the somewhat underutilized duo of Ari Cohen and Dagmara Domińczyk), Priscilla begins dating Elvis. However, when he returns to the United States, he loses contact with her, all while she continues to write him and cover her bedroom wall with his posters.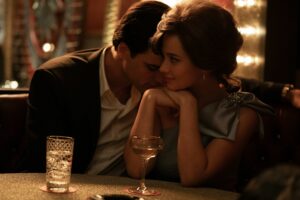 It's 1962 when Elvis reenters her life and implores her parents to let her live with him at his Graceland estate in Memphis. The high school-aged Priscilla enters Graceland as its youngest resident, and spends more time in the company of his extended relatives, maids, and chefs than she does the man she loves. Although Elvis assures her parents that she'll have a normal upbringing, dating arguably the biggest celebrity on the planet is hardly ordinary, especially at such a tender age. She attends Catholic school during the day, spends the evening engulfed in the posh interiors of Graceland, and plays with a dog Elvis gifts her shortly after her arrival.
During the rare stretches of time when Elvis actually stays at Graceland, the two pop pills and he outlines her life as a stay-at-home spouse. "Cancel your plans, in case I call," he tells her over the phone, at one point, also encouraging her to "keep the home fires burning" while tabloids swiftly report on rumors that he's dating his costars Nancy Sinatra and Ann-Margret. The young Priscilla is more of a decoration in the life of a man who longs for superstardom and an acting career of Marlon Brando's stature. Moreover, Priscilla has everything from her wardrobe to her hairstyles controlled by her man, who also turns physically abusive towards her at the drop of a hat.
Cailee Spaeny (Pacific Rim Uprising) gives a poignant and modulated performance as Priscilla from age 14 all the way up to the point she turns 30. With so much of the runtime spent showing her as a teenager, leading up to her high school graduation, one wonders how Spaeny will transition to playing Priscilla when she's a full-grown adult. While the makeup and costuming do their part, Spaeny remains grounded and vulnerable as she forfeits her formidable years in favor of a life of luxury she isn't sure she ever wanted.
Euphoria actor Jacob Elordi gives Austin Butler a run for his money as Elvis. Where Butler was tasked with bringing the performing side and stage presence of the King to the big screen, Elordi exudes the side of the rocker that is defined by the duality of a hushed demeanor and erratic outbursts that faintly suggest bipolarity. While the two create an intimate chemistry, Coppola doubles down by showing their opposite personalities. Elvis seeks the limelight. Priscilla seeks a life where she can just be with the man she loves. Even the birth of their daughter, Lisa Marie (who died suddenly in January from a small bowel obstruction), is seen by Elvis as a blasé opportunity for a family photo-op despite him impulsively convincing Priscilla that they need to have a child.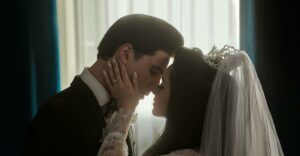 Editor Sarah Flack — who has worked with Coppola dating all the way back to Lost in Translation in 2003 — predictably chunks the story of Priscilla's life through vignettes that show the world through her eyes. Only one Elvis song is heard throughout the entirety of Priscilla (a brief snippet of "Love Me Tender"), and even the well-documented combination of paparazzi and fan-mobs swarming the King are infrequently depicted and kept brief when they do occur. Cinematographer Philippe Le Sourd retains the gauzy and muted color palette for which Coppola favors, with beaming natural light often cutting through the stuffiness of Graceland estate. It's visually attractive, even at its most modest.
There might not be a better director than Sofia Coppola to make a film on Priscilla Presley, particularly one that bears this much empathy and compassion. Coppola likely has an inkling of what life was like for a woman thrust into the world of fame and luxury beyond her wildest imagination before she could even reckon with the consequences. She undoubtedly knows what it's like to be inextricably tethered to a man who is of legend status. Coppola expertly chips away at the legacy of the King while dutifully adapting Priscilla Presley's memoir Elvis and Me from 1985.
Lastly, the final shot is a phenomenal one. Without spoiling it, it involves Priscilla's emancipation to the point where even her appearance, free from the beehive hairstyle and eyelash extensions, resembles an ordinary woman in her early 30s. Simultaneously, it involves Elvis' mythical status reaching critical mass in the eyes of the public but perpetual disappointment for the artist himself. Here's hoping Priscilla prompts a little more conversation while, unlike its cinematic counterpart, offering a little less action.
NOTE: Priscilla is now playing exclusively in movie theaters.
Starring: Cailee Spaeny, Jacob Elordi, Ari Cohen, Dagmara Domińczyk, Tim Post, and Lynne Griffin. Directed by: Sofia Coppola.