Everything Everywhere All at Once (2022) review
Dir. Dan Kwan and Daniel Scheinert

By: Steve Pulaski
Rating: ★★★½
A film like Everything Everywhere All at Once comes but once a year, if we're lucky. It's a film propelled by the power of its own ingenuous zeal to the point that you're disarmed by its ability to tell a new story; almost when you forgot what one of those was. Even if the similarities to other films are present, there's a good chance you haven't experienced a narrative quite like this.
While being about a lot of things, this kaleidoscopic trip through the multiverse is a testament to the power of young, ambitious filmmakers who are tired of regurgitating the same old stories and are brave enough to be bold.
Directed by the "Daniels" — the duo of Dan Kwan and Daniel Daniel Scheinert, the same pair who once made a movie starring Paul Dano as a stranded disillusioned man, who found companionship in the farting corpse of Daniel Radcliffe — Everything Everywhere All at Once revolves around a Chinese nuclear family. Evelyn Wang (Michelle Yeoh) is the worn-out owner of a laundromat currently under audit by the IRS. We meet her on an evening spent sifting through countless receipts and tax filings with her husband Waymond (Ke Huy Quan) while also trying to cook for a Chinese New Year party that will impress her visiting father Gong Gong (James Hong).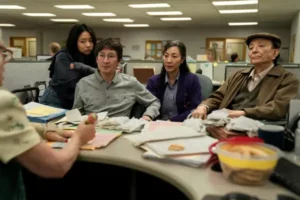 Evelyn's daughter Joy (Stephanie Hsu) wants to bring her new girlfriend Becky (Tallie Medel) to the party, which Evelyn knows will unnerve her father. Her husband wants to serve her divorce papers as well. It's when Evelyn, her father, and Waymond take their bundle of taxes to a cranky IRS inspector (Jamie Lee Curtis) that things really go off the rails. Just as the pressure of the meeting is going to break her, Evelyn visited by a version of Waymond from another dimension (the Alpha verse).
See, there are other versions of ourselves in different dimensions, living completely different lives. It's through that multiverse that humans have learned to "verse jump" into those other dimensions. The collective "omniverse" is threatened by a chaos agent named Jobu Tupaki, who has created an "everything bagel" (essentially a black hole) that can destroy all universes. In no time, Evelyn is haphazardly hopping across different universes, trying to get a handle on her own life and her family by seeing what other versions of herself have accomplished.
Most of this action occurs in an IRS office building. Curtis' agent and a gaggle of security guards that are present when Evelyn's family initially arrive also appear in alternate universes. A big credit for making this compelling cavalcade of sensory overload work is thanks to production designer Jason Kisvarday. It's in this average assembly of cubicles and windowfront offices that Kisvarday makes everything from run-of-the-mill office supplies to a butt-plug shaped "auditor of the year" award integral to a battle for the universe. Paul Rogers has the tough task to make this material cogent from an editing standpoint. His success translates insofar that the movie, no matter how chaotic, remains coherent. Rogers' dynamic editing keeps pace with a lot of rapid dialog and layers of universes stacked on top of one another, sometimes in the same frame.
One of the magical elements of Everything Everywhere All at Once is how much it respects its core trio and the actors who so delicately embody their characters. It's about time Michelle Yeoh was afforded an opportunity to have her own virtuoso performance. The Daniels are nuanced in including callbacks to Yeoh's early career in Hong Kong action films by having her engage in kinetic combat sequences. Her comic timing along with her eminently relatable plight of a struggling mother/business owner are never lost no matter how manic the film gets.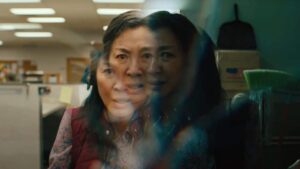 Meanwhile, Ke Huy Quan — a former child actor, most famous for his roles as Data in The Goonies and Short Round in Indiana Jones and the Temple of Doom — carves a keeper out of the mousey but lovable Waymond. Like Yeoh, Quan is challenged by playing several different versions of himself. Both navigate a terrain filled with comedy, drama, action, and fight choreography like the veterans they are. Perhaps they feel so natural because they've been waiting for this opportunity their entire lives.
Many young people are bound to see some of themselves in Stephanie Hsu's Joy, the queer teen daughter who feels as if she's grown up to be a disappointment in the eyes of her parents. She has to put on an act to appease her grandfather and mother while shouldering the impossible weight of adhering to family tradition and forging her own path. Her struggle — along with her fractured relationship with her mother — is similar to the one we saw in Pixar's Turning Red.
A less compelling movie would've focused on the mind-bending trips to other universes and skirted the potential for human interest. But it's through Evelyn's ability to gain strength and empathy during her many dimensional trips that the purpose for this experience is to better understand the lives of others. For too long, Evelyn has defined herself by her own failings and taken her family down with her. Her inability to listen is also a recurring source for humor. Over the course of 136 minutes, we see Yeoh's Evelyn not necessarily grow more confident but more compassionate — we can use the latter more than the former in this battered, broken world.
Like movies themselves, Evelyn's experience is about finding empathy.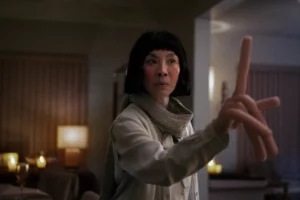 These lofty ideas are quite admirable for what is a hot mess of a movie, featuring hot dog-fingers, a sentient raccoon, and one of the most heartfelt moments of the year between two boulders speaking via on-screen text. Everything Everywhere All at Once is categorically bonkers, but it arrives at a conclusion that feels worth the sit.
If losing ourselves by focusing on our own flaws and shortcomings compounds generational trauma and breeds nihilism, then maybe a compassionate approach (to others and ourselves) is in order. Life's clarity might only come in moments, but like time with our loved ones, it's those moments we should hold onto. Some outward appreciation for others and the acceptance of who they are might be the only way to cut through the chaos.
NOTE: Everything Everywhere All At Once is now playing exclusively in theaters.
Starring: Michelle Yeoh, Ke Huy Quan, Stephanie Hsu, Jamie Lee Curtis, James Hong, Jenny Slate, and Harry Shum Jr. Directed by: Dan Kwan and Daniel Scheinert.