The Guardians of the Galaxy Holiday Special (2022) review
Dir. James Gunn

By: Steve Pulaski
Rating: ★★½
The 1978 Star Wars Holiday Special could've perhaps been the trendsetter in beloved franchises donning their gay apparel and getting their fans in the seasonal spirit. However, the lackluster execution of that much-maligned special inadvertently made such a detour the butt of jokes. Make no mistake, long-running kids show obviously still had their annual Christmas episode; yet it was going to take a lot of goodwill-building and course-correcting before such a comparable move could happen again, especially with a beloved IP.
James Gunn seemed as capable as anyone of taking on the challenge. With Gunn having the kind of enviable creative control over the Guardians of the Galaxy series that Zack Snyder has over much of the new DC Universe, there might not be a more equipped cast to go down to the Christmas path than Marvel's flagship band of misfits. Still, The Guardians of the Galaxy Holiday Special isn't a revelatory work of creative brilliance. At its core, it's the kind of cheerfully stupid, marginally satisfying burst of energy that feels right at home on Disney+.
There are worse ways to kill 40 minutes, but there are also better ways the time itself could've been utilized to make something truly magical.
The Guardians' purchase and subsequent rehab of the land of Knowhere coincides with Christmastime on Earth. The thought of the festivities makes Kraglin (Sean Gunn) recall the time when Yondu ruined Christmas for Peter (Chris Pratt) as a young boy. Hearing the story makes Mantis (Karen Gillan) and Drax (Dave Bautista) want to do something special for Peter, especially in lieu of Gamora's absence. A quick brainstorming sesh leads to the two coming up with a present that would instill all the warm fuzzies of Peter's childhood, and give him the hero he's always wanted: Kevin Bacon.
Yes, the Kevin Bacon. Mantis and Drax fly to Los Angeles without a clue in the world of how they're going to obtain the popular actor, let alone find him. But they're armed with the spirit of gift-giving, regardless of whether or not Christmas is even relevant in their homelands.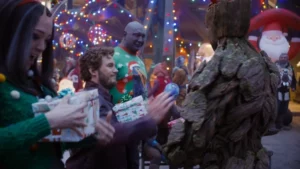 Gunn makes clear very early that this entry into the Marvel Cinematic Universe is anything but canonical. It's hardly meant to be taken seriously, evident by Mantis and Drax showing up to a cosplaying event and taking selfies with adoring fans who think they're part of the party. You might have to double-take during the sequence where the two aesthetically frightening aliens chase a hapless Bacon around his home. It's as cockamamie as can be, but it's light-hearted enough to produce the smiles it craves. Sometimes.
For the most part, at least. Bacon's presence is fun, and the veteran actor is clearly game for whatever senselessness Gunn's screenplay throws at him. The special is also bookended by two memorable songs, particularly the Old 97's rollicking "I Don't Know What Christmas Is," performed before the Guardians and fellow residents of Knowhere. The disappointment, however, is that outside of Mantis and Drax, no other member of the Guardians is meaningful featured. Rocket and Groot get six or fewer lines between them, reduced to cameos. Peter isn't a significant force either, despite the concept of the special revolving around him.
It's also nothing short of stunning that Bacon — who played Sebastian Shaw in X-Men: First Class — doesn't get the slightest reference to the one Marvel character he did play in the past. Rights be damned. A subtle zinger was at least in order. I could've compromised with a Tremors reference.
Par for the course with Marvel, the technical aspects are terrific. The Christmassy set design of Knowhere is eye-catching, even if we're staring at another world brought to life by hundreds of high-powered computers. Even if I hit the "back" button on The Guardians of the Galaxy Holiday Special with a smile and a shrug, I'd still find myself quicker to embrace a light-hearted superhero joint like this one as opposed to yet another sequel to yet another hero whose timeline on which I constantly need a refresher. There are far frothier and more unsubstantial ways to spend this holiday season. Yet, remember: the implication therein is that there are better ways too.
NOTE: The Guardians of the Galaxy Holiday Special is now streaming exclusively on Disney+.
My review of Guardians of the Galaxy
My review of Guardians of the Galaxy Vol. 2
My review of Guardians of the Galaxy Vol. 3
Starring: Chris Pratt, Karen Gillan, Dave Bautista, Kevin Bacon, Sean Gunn, Pom Klementieff, the Old 97's, Vin Diesel, Bradley Cooper, and Michael Rooker. Directed by: James Gunn.