Violent Night (2022) review
Dir. Tommy Wirkola

By: Steve Pulaski
Rating: ★★★
Movies featuring a killer Santa Claus are a dime-a-dozen. I say that as someone who unapologetically watches Santa's Slay every year, and will still gorge myself on the genre for the rest of my life. That said, Violent Night dares asks the question: what if Santa Claus was a vigilante, forced to save Christmas for a wealthy family whose home is being raided by burglars on Christmas Eve? Such a question doesn't necessarily lead you in the direction of high art, but it does produce high octane entertainment.
It especially works when the concept is not just valiantly handled but taken seriously over the course of 112 minutes. Hats off to director Tommy Wirkola (Dead Snow) and writers Pat Casey and Josh Miller (Sonic the Hedgehog) for not just settling on a one-sentence premise, but instead fueling this concept with a heaping helping of black comedy, brutally satisfying kills, and some menacing performances from a plethora of familiar faces.
David Harbour is Santa Claus, but he has more in common with Willie Soke of Bad Santa than he does your average mall Santa. He's sick of the rampant materialism, and drowns his sorrows at a bar shortly before hitting the skies to deliver presents to kids on his "Nice list." He winds up at the mansion of Gertrude Lightstone (Beverly D'Angelo, a staple of holiday movies these days), a wealthy and crude matriarch who is hosting her entire dysfunctional family for the holidays. Her two children, Alva (Edi Patterson) and Jason (Alex Hassell), vie for her approval. Even Jason's daughter is named Gertrude (Leah Brady), aka Trudy, after her mother (Alva's son is named "Bertrude"). The family's caustic attitude towards one another puts off Linda (Alexis Louder), Jason's wife, and has led to their own marital issues.
Keeping Jason and Linda cordial enough to be in the same room together is their daughter. Trudy still believes in Santa Claus, and it's Jason who gives her a "magical" walkie talkie she can use to communicate with him. Little does he know it'll turn into a lifeline for the whole family when a group of criminals, led by "Mr. Scrooge" (John Leguizamo), take the Lightstone family hostage in hopes of retrieving the $300 million in cash Gertrude embezzled.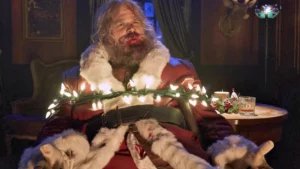 Don't mistake Violent Night as just a carbon-copy of Die Hard, except set in a home and proudly wearing its holiday movie status on its sleeve. Casey and Miller impressively balance character development with elaborate sequences of Santa Claus fighting off criminals, sometimes one, and other times in a group. As hectic as the film can get in the pacing department, it still finds time to slow its roll and linger on conversations Trudy has with Santa via the walkie talkie. It's quietly touching stuff, even as Santa gets progressively bloodier from repeated blows. Credit is due to editor Jim Page for making this affair busy but never frenetic.
The cast does its part in selling this material as well. Harbour clearly has a blast playing a jaded but still motivated Santa Claus. John Leguizamo is delightfully evil as a man whose pure hatred for the holidays has compelled him to do something so rash. Beverly D'Angelo does solid work as a miserable high-ranking government official, and her ubiquitous presence in more traditional holiday fare loans the film a nice bit of irony. Brendan Fletcher is worth a shoutout as well. He plays "Krampus," one of Scrooge's henchmen, with a strong commitment to unhinged physicality in his performance.
Though the film ultimately belongs to Harbour, relative-newcomer Leah Brady holds her own, especially as her character Trudy gains confidence as the film goes on. Amusingly germane is her rigging a series of elaborate booby-traps Kevin McCallister-style in the attic while Santa takes out criminals all around the home. If they gave awards for best montage sequence, Harbour's bloody beatdown of several goons as Bryan Adams' timeless song "Christmas Time" plays would be one worthy of at least a couple pieces of hardware.
Praise be an entertaining, light-hearted, bloody action-comedy like Violent Night — one that's not trying to set up a five-movie franchise and instead functions as a rousing bit of counterprogramming for the usually schmaltzy holiday season. Booze might help your movie experience, but it isn't essential in stomaching this truly fun burst of creativity.
NOTE: Violent Night is now playing exclusively in theaters.
Starring: David Harbour, Leah Brady, Alex Hassell, John Leguizamo, Alexis Louder, Beverly D'Angelo, Edi Patterson, Cam Gigandet, Alexander Elliot, and Brendan Fletcher. Directed by: Tommy Wirkola.