Christmas Bloody Christmas (2022) review
Dir. Joe Begos

By: Steve Pulaski
Rating: ★★★
Christmas Bloody Christmas is my introduction to the work of Joe Begos, and now it appears I have some additional homework on my plate. The Rhode Island-native goes for broke in delivering a bitterly nasty, grungy lump of Santasploitation down our stockings this holiday season. Weeks after Violent Night, the VFW director's latest feature is a vibrant nightcap of anti-cheer, shimmering with blood and neon.
If Begos was merely a strong stylist, Christmas Bloody Christmas would still probably be worth a watch on that merit alone. The fact that he enlists in the help of 16mm video and enough fake blood to cause a supply chain shortage is commendable. It's his love for lengthy interpersonal dialog that struck me. At various points in the film, characters vulgarly rattle off their controversial music opinions and try and cogently detail their checkered love-lives to one another in a way that's beautiful in its offbeat sensibilities.
At one point, the lead states the sequel to Pet Sematary is superior to the original, particularly due to former porn star Traci Lords' contributions to the soundtrack. These inessential but enjoyable conversational asides reminded me of Tarantino's Death Proof — which is high praise for a film about a pickaxe-wielding animatronic Santa.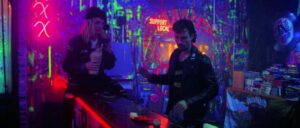 Begos' film grabs you from the start with a series of brief vignettes that parody typical Christmas advertisements. Through all the Robot Chicken-esque channel-changing, the invisible viewer stops on an ad for a robotic Santa Claus that is equipped with 900 different words and phrases. It's as terrifying as those stiff-as-a-board Chuck E. Cheese animatronics that still make cameo appearances in my nightmares.
Cut to a record store, where owner Tori (Riley Dandy) and her employee Robbie (Sam Delich) fight sexual tension on Christmas Eve just before locking up the store for the holiday. Robbie pines for Tori, so much so that he successfully convinces her to ghost her Tinder date and go out drinking with him. The two link up with their friends (Jonah Ray and Dora Madison), who plan to have sex in a toy store. Inside the toy store is one of those aforementioned Santa robots.
Meanwhile, at the bar, the news states that those robotic Santas are being recalled due to various malfunctions. About the same time, the one in the toy store comes to life and hacks both of the lovers to pieces. After some bickering about which Soundgarden and Metallica albums sucked the hardest, Tori takes Robbie home. The robotic Santa (Abraham Benrubi) follows them, pays a bloody visit to the nuclear family next door, and then targets Tori, Robbie, and Tori's family.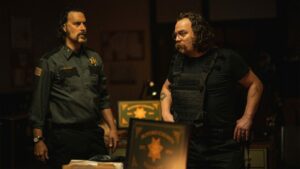 Good directors can take a one sentence premise and parlay it into a serviceable feature. It's the ones with greatness in them that go the extra mile in making you want to say more than one sentence about the film itself. Begos does so with some strong stylistic decisions. The first that comes to mind is how big of a role neon sheen plays into the ambiance of the film. Christmas lights saturate the 16mm videography in a way that doesn't convey holiday spirit so much as it does dirty ominousness. The black-light of the record store fills the screen like wet paint, cultivating an unsavory atmosphere — not so much cheap as it is dazzling in its eeriness.
Some strong crosscutting occurs during the juxtaposition of Santa Claus hacking the neighbors to bits while Robbie makes Tori scream with pleasure from going down on her. All this while a deafening rock tune blares from the downstairs record player. Tori's moaning is silenced by the wail of vocals and guitar shredding. It's almost sensory overload; yet it turns Christmas Bloody Christmas into a rousing experience that prompts excitement as opposed to one that settles for simple amusement.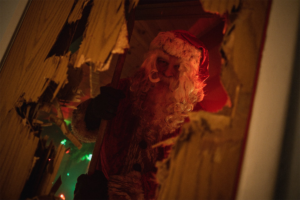 Little of this works without the magnetism of the cast, namely Riley Dandy and Sam Delich. You could have a romantic comedy featuring these two and their respective characters and I'd probably enjoy the hell out of it. Begos knows how to write contemporary millennials as eccentric people harboring extensive knowledge and opinions about pop culture. They're not quippy, reference-spewing automatons. They're engaging personalities who have something to say about their passions. Sidebar: get a load of the elite names in this cast: Riley Dandy, Abraham Benrubi (very good as a lurching, robotic Santa), Kansas Bowling, and Graham Skipper. Shoutout to all their parents.
Other supporting performances transcend their limited screentime by being memorable role-players. Jeff Daniel Phillips (Herman Munster in Rob Zombie's The Munsters) turns in a fine outing as the town sheriff, while Jeremy Gardner (The Battery) is off the rails as a cop who arrives at the crime scene convinced Tori is the killer. Credit where credit is due, though: Dandy soars as the main character. The term "final girl" has become a popular one in horror as of late. She earns that moniker with the work she does.
In a year chockablock with quality horror films, Christmas Bloody Christmas is a late-in-the-year surprise that gets in on the renaissance, with a director planting a flag reminding people that this is a genre that can still surprise us seasoned fans.
NOTE: Christmas Bloody Christmas is now streaming exclusively on Shudder.
Starring: Riley Dandy, Sam Delich, Abraham Benrubi, Jeff Daniel Phillips, Jeremy Gardner, Jonah Ray, Dora Madison, Kansas Bowling, and Graham Skipper.