M3GAN (2023) review
Dir. Gerard Johnstone

By: Steve Pulaski
Rating: ★★★
Gemma (Allison Williams, Get Out), a roboticist/inventor at a massive toy company, learns that her sister, along with her brother-in-law, were killed by a snowplow during a massive blizzard. Her niece, Cady (Violet McGraw, Black Widow), is now an orphan, and Gemma is in line for custody. But Gemma is such a career-focused woman that she hardly has anytime to be the de facto mother-figure to a lonely and clearly traumatized young child. So, she does what she does best: she gets busy finishing her latest project in hopes for a solution to the problem.
That project is a Model 3 Generative Android, or "M3GAN," for short. This lifelike doll is programmed to be a child's closest companion, as well as a lifesaver for busy parents. Designed with complex AI innerworkings, M3GAN (played by Amie Donald, voiced by Jenna Davis) can pick up on emotions, hold a conversation, and be a nurturing confidant for a lonely little girl like Cady. M3GAN quickly becomes Cady's best friend, babysitter, and shoulder on which to cry, leaving Gemma plenty of time to convince her boss (a hilarious fussy Ronny Chieng) that M3GAN could be a game-changer not only for their company, but Big Tech itself.
Because M3GAN is also programmed to be a guardian figure to Cady, she is willing to do anything to protect her. Be it a neighbor's menacing dog or a miserable bully who harasses her at camp, M3GAN will handle the dirty-work in a bloody, brutal manner. "But she's safe, right?" "Totally. Let's launch this new product!"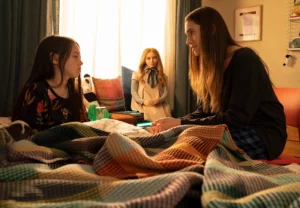 Avid moviegoers are conditioned to look at the first weekend of a new year as a Red Carpet-rollout for whatever schlocky slasher or loathsome paranormal movie Hollywood decided to throw at us. But Gerard Johnstone's M3GAN sets the table for what will hopefully be a great year for theatrical moviegoing. More than just a Child's Play or Orphan rip-off — no matter how inevitable the comparisons are — this is a film beholden to concept more than formula, which is the key to its many delights.
A flurry of great minds — Malignant writer Akela Cooper handling script duties, James Wan with a story credit, and Gerard Johnstone tying it together with some astute framing — make M3GAN as much a tech-parable as it is an entertaining thriller, with a healthy dose of cyberpunk nightmare-fuel. One of Cooper's most thoughtful screenwriting moves is to place a great deal of the blame not on M3GAN, but on her creator, Gemma. Gemma is like most parents these days: too busy to raise a child, so perpetually in search of something to do the job for her. Her job is demanding and the stress-level is high, absolutely. But she has an out: her brother-in-law's parents in Jacksonville. Regardless, she stubbornly invents and inserts M3GAN into Cady's life with little regard for how a connection between the two will be so strong that it will render Cady unable to function without M3GAN by her side.
The human angle of Johnstone and Cooper's story keeps M3GAN afloat when it inexplicably segues its titular robot from attentive companion to Movie Monster, with the ability to start cars, shut off emergency alarms, and perform a handful of other tasks convenient for the plot. Yet even when its already incredulous story gets more outrageous, Cooper's developed human characters are able to keep the material buoyant. Allison Williams plays the conflicted mother-figure very well, but the shining star is Violet McGraw, whose blank stares convey all the emotions (or lack thereof) of a child too young to know the complex emotions they're feeling. The scenes when McGraw's Cady lashes out at Gemma are a profound work of horror in their own right.
It merely took five days for 2023 to have its first very good movie hit theaters, hopefully a promising sign of what's to come. In a world where the next big thing becomes diluted about as quickly as it catches on, and quality is sacrificed in pursuit of the almighty dollar, credit must be given to Jason Blum and Blumhouse Productions for remaining admirably consistent with their own standards. Many of us gave M3GAN a side-eye of skepticism when the poster and subsequent trailer dropped. When she gave us the same look back, however, that's when we should've known we were in for something more.
NOTE: M3GAN is now playing exclusively in theaters.
Starring: Allison Williams, Violet McGraw, Amie Donald, Ronny Chieng, Brian Jordan Alvarez, Jen Van Epps, and Stephane Garneau-Monten. Voiced by: Jenna Davis. Directed by: Gerard Johnstone.