Big George Foreman: The Miraculous Story of the Once and Future Heavyweight Champion of the World (2023) review
Dir. George Tillman Jr.

By: Steve Pulaski
Rating: ★★
Big George Foreman — or as it's known by its full title, Big George Foreman: The Miraculous Story of the Once and Future Heavyweight Champion of the World, which takes about as long to say as it does to watch the film — is another by-the-numbers biopic that takes an incredible story and distills it down to a two-hour montage showing an extraordinary life in fast forward.
It has not been a banner year for sports biopics. Less than a month ago, we had Sweetwater, which told the story of Nat Clifton, one of the first Black players in the NBA, with depressingly low energy. Big George Foreman might not be as lethargic, but save for a commendable performance from Khris Davis (Space Jam: A New Legacy), there's desperately little here that comes remotely close to capturing the charisma and unlikely story of Big George.
Before my generation basically knew him as "the guy with his name on a grill," George Foreman won his first heavyweight title fight back in 1973 and eventually retired due to a lost interest in boxing and a newfound love for Jesus Christ. Then came the comeback in the early 1990s. His second run was capped off with another title victory in 1994, at age 46. Questioned as much as his love for the game was his competitiveness in the ring, due to his age and his abandonment of his rage-filled demeanor once he found God.
Directed by George Tillman Jr. (The Hate U Give), the film looks at Foreman's entire life, starting as an impoverished young boy with an anger problem. His mother (Jasmine Mathews) sends him away to a paramilitary Job Corps in the mid-1960s where he still has problems controlling his anger, especially when ignorant people steal his Converse. Nobody can blame him. He's had desperately little his whole life, and what little he has, people want to take.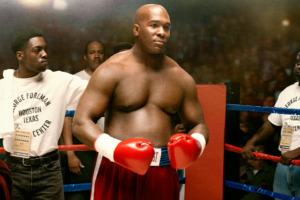 Doc Broadus (Forest Whitaker) sees something in the troubled youth. He's a security officer at the Jobs Corps who also runs a boxers' training camp. He believes in Foreman, specifically his mean right hook. By this point, it's 1967, and Doc tells Foreman that with some intensive training, Foreman could be ready for the Olympics in fix years. Cut to one year later, and Foreman is already in the 1968 Olympic Games in Mexico City, with just a year of training under his belt — not the only belt he will wear throughout his career, mind you.
Once Foreman wins by TKO against Soviet boxer Iones Chepulis, his career takes off. Fueled by his former friends and neighbors in Houston calling him a sell-out, Foreman takes his anger out in the ring, which leads him all the way to his fight with Joe Frazier (Carlos Takam), which wins him his first title. A religious epiphany coupled with a near-death experience prompts Foreman to retire at the age of 28, where he turns his life over to God, opens a youth center, and purses a life filled with less anger and more optimism.
Big George Foreman is a product of Affirm Films, the same Sony-owned label that released Paul, Apostle of Christ, War Room, and other Christian-fare tailormade for a larger audience. The studio admirably leaves the politically slanted evangelical fare to Pinnacle Peak (formerly Pure Flix), famous for the God's Not Dead series of films. However, the company's weakest releases are usually plagued by the same problems: they're terribly uninspired despite all the inspiration they look to convey. Tillman Jr's pedestrian direction and broad script (co-written with Frank Baldwin) look to tell this story in comprehensive fashion. That results in us skipping over what had to be a vigorous year of training and competing for Foreman to make the Olympics in record time, underdeveloped relationships between Foreman and his mother, and eventually his second wife (Sonja Sohn), and a presentation as ordinary as you can find.
Helping retain your waning interest is Khris Davis, who disappears into the titular role from a physical and mental standpoint. He also captures Foreman's difficult-to-imitate southern drawl; he's magnetic in all the right ways. Liable to be overlooked but still-worthy-of-mention is Sullivan Jones as Muhammad Ali. Jones nails Ali's humorously cocksure edge. One of my favorite scenes comes when a newly enlightened Foreman makes the trip to Ali's estate to apologize to him personally. Jones earns his laughs with the kind of back-sass Ali could doll out in his sleep. Perhaps Jones needed to be in the writer's room to have some of that edginess and personality rub off on a film clearly in need of some.
NOTE: Big George Foreman: The Miraculous Story of the Once and Future Heavyweight Champion of the World is now playing exclusively in theaters.
Starring: Khris Davis, Forest Whitaker, Jasmine Mathews, John Magaro, Sullivan Jones, Lawrence Gilliard Jr, Sonja Sohn, Shein Mompremier, Carlos Takam, and Matthew Glave. Directed by: George Tillman Jr.