The Machine (2023) review
Dir. Peter Atencio

By: Steve Pulaski
Rating: ★★
Memorial Day weekend 2023 must be the holiday for vanity projects from stand-up comedians. Besides Sebastian Maniscalco's About My Father, we have The Machine, a feature-film based on the signature routine from comic Bert Kreischer. Famous for his boisterous personality and protruding gut, Kreischer's lore started when he was the subject of a Rolling Stone article in the late 90s, which billed him as "the top partyer at the Number One Party School (Florida State) in the country." His college stories were the basis for National Lampoon's Van Wilder. Then came the reality TV hosting gigs, and eventually stand-up comedy.
Kreischer is very funny, and an underrated storyteller. He burst on the stand-up scene just as some were beginning to realize that Tucker Max's brand of "fratire" might be not merely a glorification of asshole culture but rape culture too. When recounting stories of his drunken college escapades, Kreischer has a schlubby humility to his schtick. It helps he looks less like a football player and more like that dude you remember showing up to a college shindig at 7:30pm, already dangerously close to blacking out.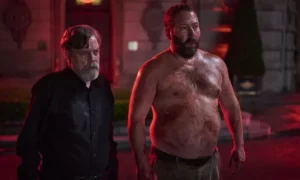 Peter Atencio's The Machine takes Kreischer's most popular stand-up bit and stretches it from a roughly 13-minute routine to a 112-minute action-comedy. The allegedly true story explains how Kreischer acquired his nickname "the Machine" on a college trip to Russia where he spent a summer in buddying up to mobsters in between/during drunken stupors. This could've made for a wacky and ribald comedy, and to its credit, it comes equipped with many laughs and memorable one-liners. But the same way Atencio's Keanu had difficultly converging its raunchy and violent material, The Machine suffers the same fate of never finding a consistent comedic rhythm.
Rather than being a direct adaptation of Kreischer's well-known bit, screenwriters Kevin Biegel and Scotty Landes focus on present day Bert, whose home-life is defined by confrontations with his teen daughter, Georgia (Jessica Gabor) and wife, LeeAnn (Stephanie Kurtzuba). The sweet 16 party he throws for his daughter is dampened by the arrival of his overbearing father, Albert (a very game Mark Hamill), and before they know it, the father-and-son are cornered by a Russian mobster named Irina (Iva Babić), whose family-heirloom was stolen during the robbery committed by a college-aged Bert. Irina hauls both their asses back to Russia to locate the watch.
Flashbacks to 22-year-old Bert (Jimmy Tatro) wandering around Russia in the company of contract killers serve dual purposes: they bring Bert's famous story to life and help contextualize the locations the now middle-aged Bert, his father, and Irina visit in efforts to find the watch. These scenes are quite good in their own right, mainly because Tatro so naturally nails the disaffected, simple-minded character of Bert so well; a man whose only interests are where he can find or make his next cocktail. Rowdy party scenes show him imitating characters in American pop culture (Austin Powers is a big one) for Russians who have no idea that they're not original ideas from "the Machine." But who cares? Pass the vodka!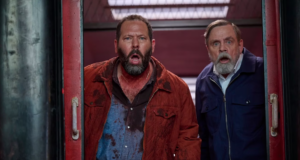 The Machine is to Kreischer what About My Father is to Maniscalco, Easter Sunday was to Jo Koy, and The King of Staten Island was to Pete Davidson: a proverbial safe space testing for a stand-up comic to gauge their mainstream appeal as a leading man in feature films. To its credit, The Machine is attractively stylistic. Eigil Bryld's cinematography is rife with intense color palettes. Unsurprisingly, red is a popular one, and various settings, such as the tight quarters of a passenger train, the winding halls of a Russian hotel, and a casino make sure we're never confined to one interior for very long.
Where The Machine underwhelms is in its writing. Like Atencio's Keanu, the verbal comedy and bloody shootouts are never merged together to create an even project. The film is staccato, wildly swinging from Bert wise-assing his way through his second adventure in Russia to impalements, beatdowns, and gunplay. As soon as the violence starts, the comedy completely stops. The climax itself stretches over 20 minutes and feels like it jams two or three different finales into an already overlong movie.
Kreischer is at his best when he ostensibly ad-libs, or serves up a throwaway line. At his daughter's sweet 16 party, a recently divorced friend of his asks Bert, "no booze?" Bert, in the middle of a stride, simply hits her with, "no husband?" and keeps on moving. At the end of the film — no spoilers — LeeAnn asks Bert where his father is. "He's back in Florida visiting his doctor friend who doesn't ask questions," he responds before turning his head to his daughters, "we could all use one of those, am I right?" That's quintessential Bert Kreischer; a man whose off-handed commentary works as well as the larger joke.
Alas, The Machine turns a winning finale of a stand-up special into a nearly two-hour film with decisively mixed success. There's a reason this doesn't happen very often. Bébé's Kids is the only other film I can think of, and that film at least had the wherewithal to start and end within 72 minutes.
NOTE: The Machine is now playing exclusively in theaters.
Starring: Bert Kreischer, Mark Hamill, Iva Babić, Jimmy Tatro, Stephanie Kurtzuba, Jessica Gabor, Nikola Đuričko, and Oleg Taktarov. Directed by: Peter Atencio.