Gran Turismo (2023) review
Dir. Neill Blomkamp

By: Steve Pulaski
Rating: ★★½
Defining what Neill Blomkamp's Gran Turismo actually is might be a bit more engaging than analyzing the movie itself. While the film is based on the ever-popular PlayStation video game series, it's also based on the remarkably true story of Jann Mardenborough, a gamer who became a real-life racecar driver, and a successful one at that. I've never played the video-game, so I'm unaware if there are any Easter eggs to be found within the film, or if the employed graphics are true to the video game counterpart. As a film, however, this is a perfectly serviceable racing drama, so long as you don't look too deeply under the hood.
Jann Mardenborough (Archie Madekwe) is a teenager struggling to choose a path in life. His father, Steve (Djimon Hounsou, The King's Man), would rather Jann be playing soccer with his brother (Daniel Puig) than walled in his room wasting brain-cells on a racing simulator called Gran Turismo. Like your typical movie father who doesn't understand his son's passion, Steve doesn't realize that Jann's skillset could have the ability to take him far in life. Jann isn't so much enamored with video games as he is the lore and competitive nature of racing.
Jann gets his opportunity to race thanks to a Nissan marketing executive named Danny Moore (Orlando Bloom), who believes a key to unlock new success for the car company will be targeting gamers with an enormous contest. Danny helps create the GT Academy, which will recruit some of the most skilled players of Gran Turismo from all around the world in effort to turn them into real racing drivers. The thought of this would've/should've turned off any company for fear of liability, reckless damages, and even death, but with the opportunity at untold millions, who can say no?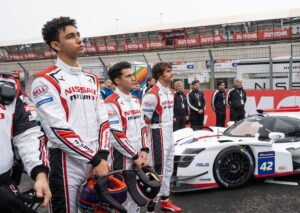 Jann manages to get one of the elusive invites to participate in GT Academy, where he and nine others are trained by a grizzled racer named Jack Salter (David Harbour). Jack is initially against the idea of turning gamers into racers, but he goes along with the film's training montage that shows him instilling the values of safety protocols, precision, and commitment into these novice drivers. Jann rises to the top of the crop, even though Danny wants another racer to succeed over him, as the exec believes Jann isn't marketable (IE: he doesn't give people much at the podium). Jann refines a lot of the skills he obtained from the video game, and gets his chance to compete in the Le Mans race.
Neill Blomkamp's conservative output has sadly relegated him to being one of the more forgotten contemporary filmmakers of our time. Call it the curse of storming on the scene with an Oscar-nominated tour-de-force in District 9 and then having an uncertain path forward (at least it wasn't a Josh Trank-level flameout, at the end of the day). Blomkamp has always known how to incorporate visual flair into his films as an enhancer rather than a distractor. Gran Turismo looks sleek and accomplished. Some of the crispest moments, oddly enough, are not the racing sequences — which are no less polished — but the ones that show Jann playing the Gran Turismo video games. He sits in front of the driver's wheel and a CGI car forms around him until it eventually encases him, leaving spectators out of his immediate center. It also shows the weight that Jann puts on himself and the game in these moments that eventually prepare him to race Le Mans.
While screenwriters Jason Hall and Zach Baylin (Creed III) do right by the relationship between Jann and Jack, they also render many of Gran Turismo's most pivotal scenes toothless thanks to some contrived writing. "That life I had is in the rear-view," Jack says to Danny upon first meeting him. Hall and Baylin also position Hounsou's Steve as being an integral part in Jann's story once he does become a racer, but that father-son relationship is left mostly underdeveloped, save for the first act. There's also a love-interest of Jann's, played by Maeve Courtier-Lilley, who is barely a character. With only two scenes of note, with her purpose being to encourage Jann to continue following his dreams, she is the reason the Bechdel test was created.
It's not a huge deterrent, but Gran Turismo also lacks a distinctive soundtrack. I remember the Need for Speed games not only being defined by fleshed-out racing mechanics, but also their incredible soundtracks, featuring Bad Religion, Hot Action Cop, and other hard rock bands. Gran Turismo could've been given life with some familiar needle-drops. Composers Lorne Balfe and Andrew Kawczynski adequately score some of the more suspenseful elements of the film, but the film as a whole lacks the bangers that kick your adrenaline into overdrive when you play them.
Archie Madekwe's poise and David Harbour's versatility manage to lift up Gran Turismo when it appears headed down a path of being a more generic sports drama. While Hall and Baylin's script is erected on a foundation of tropes, most exist in the realm of watchable as opposed to pablum. Jack has multiple confrontations with Danny's assembled racing team, which is more concerned with profits than people. There's a horrifying crash that sends Jann down a path of self-doubt, and Madekwe's lead has an everyman quality to him that makes us believe, as incredulous as it might be, that this story could happen to anyone. I was hoping with Blomkamp at the helm that Gran Turismo would accelerate past familiar biographical fare, but being less an advertisement for the game and more of a commercial for Nissan was a pleasant twist at the very least.
NOTE: Gran Turismo is now playing exclusively in theaters.
Starring: Archie Madekwe, David Harbour, Orlando Bloom, Djimon Hounsou, Geri Halliwell, Maeve Courtier-Lilley, Darren Barnet, and Daniel Puig. Directed by: Neill Blomkamp.