Theater Camp (2023) review
Dir. Molly Gordon and Nick Lieberman

By: Steve Pulaski
Rating: ★★★
Adapted from a short film of the same name, Molly Gordon and Nick Lieberman's Theater Camp has a lot of the same energy as Honk for Jesus. Save Your Soul. That film was a biting satire on megachurch culture shot in mockumentary style (and was also adapted by sisters Adamma and Adanne Ebo). Its Office-style fly-on-the-wall approach made our introduction to the world easy and the humor as funny as it was (often) dry.
Theater Camp — the work of four writers and former "theater kids," Gordon, Lieberman, Noah Galvin, and Ben Platt — is very much a film for those who spent late nights in the dimly lit auditoriums of their high schools and colleges, unfazed by others in school who looked at them as "weird" or "nerdy." Its pokes and prods at theater culture are loving as they are spot-on accurate, and the comprehensive nature of the film assures that every type of person gets profiled, although few truly get developed.
After opening with a home videos of summer camp theater performances and shenanigans alike (including real-life footage of Gordon and Platt as young performers), the film opens the curtain on what looks to be another wonderful season for AdirondACTS, a summer theater camp. What we're watching is supposed to be a documentary of this summer's rehearsals and production, but uncertainty strikes the camp early when its founder, Joan (Amy Sedaris), is put in a coma while watching a performance Bye Bye Birdie (a title-card tells us it was the first coma caused by the show — cluing you into its sense of humor early).
The show goes on, as it always does. Joan's ne'er-do-well influencer son, Troy (Jimmy Tatro), takes over the camp, but has no connection whatsoever with the many kids in attendance. At best, the camp is truly run by Amos (Platt) and Rebecca-Diane (Gordon), childhood friends who are now dating, still bonding over their love for theater. They are working hard to assure this year's original production, "Joan, Still," a biographical play based on their founder's life, will be one for the ages.
Like I presume a lot of people in their shoes, Amos and Rebecca-Diane see their work at summer theater camp as a springboard for to performing professionally. A springboard 10 years in the making, mind you, which has brought their relationship to an impasse. Assisting them are a dance instructor (Nathan Lee Graham) and a costume director (Owen Thiele), as they work with a litany of talented young kids (Bailee Bonick, Donovan Colan, and Alexander Bello). Others who pop up from time-to-time are Galvin's Glenn, who plays a stagehand who literally shines the spotlight on others, as well as Alan Park (Alan Kim from Minari), a would-be young talent agent who wheels and deals all day long by making hasty phone-calls on behalf of his clients.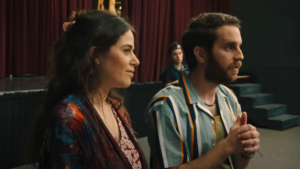 Looming over AdirondACTS is the camp's dire financial situation, which Troy must both manage and downplay. Troy has dreams of being a finance bro. Things are in good hands, especially after he Googles the word "repossession." Some of Theater Camp's strongest bits come during montages. During auditions for "Joan, Still," Donovan Colan's Devon, who is new to theater, performs "Better Now" by Post Malone for the judges. A half-awake Troy suddenly leaps up from his seat and sings along with him, distracting both Devon and the judges.
Another strong montage sequence comes during "tech week" (aka "hell week" — the week prior to the opening night of the show) when we watch a poor stagehand helplessly run from building-to-building as he responds to maintenance request. There's a missing prop here, a broken smoke-machine there; at one point, he physically rolls himself down a hill in hopes of saving time.
Theater Camp nails all of its theater stereotypes, whether it's the overachieving Amos, who monopolizes the production as if it's King Lear at Carnegie Hall, to the timid but quietly ambitious Rebecca-Diane, and a slew of kids who are simply trying to carve out a place for themselves at a busy summer camp. The writing is sharp, and beyond the mockumentary aesthetics, the film has that stamp of authenticity that's hard to fake. It's made with care by people who lived this life as performers. Gordon and Platt grew up together, co-starring in Fiddler on the Roof at age four before finding their paths as performing actors. Platt, of course, became famous for Dear Evan Hansen, which, for as terrible of a film as it was, garnered a lot of fans when it was a stage production.
I suppose if Theater Camp underwhelms in any capacity, it's due to the fact that the expansive cast and brief runtime don't allow its characters much development. The film zigs and zags all over the AdirondACTS in effort to profile who it can while collectively shortchanging the characterization of what amounts to a very strong ensemble. Despite this, never do Gordon and Lieberman lose their grip on what Theater Camp sets out to be: a light, breezy satire of a group of individuals who, while insulated, do their part to brighten up camps, schools, and universities all over the world.
NOTE: Theater Camp is now streaming on Hulu.
Starring: Ben Platt, Molly Gordon, Noah Galvin, Jimmy Tatro, Patti Harrison, Nathan Lee Graham, Ayo Edebiri, Owen Thiele, Caroline Aaron, Amy Sedaris, Bailee Bonick, Donovan Colan, and Alexander Bello. Directed by: Molly Gordon and Nick Lieberman.