Shelter in Solitude (2023) review
Dir. Vibeke Muasya

By: Steve Pulaski
Rating: ★★★
With Shelter in Solitude, Siobhan Fallon Hogan has planted her flag in the faith-based genre at the right time. The writing/directing team of Andrew and Jon Erwin (American Underdog: The Kurt Warner Story, Jesus Revolution) are probably eternally grateful. They've been carrying the genre on their backs for so long that their chiropractor bills have likely added up to eye-popping dollar amounts.
A career supporting actress in everything from Forrest Gump to Men in Black, Hogan got the opportunity to flex all that she's learned over five decades in the film industry with Rushed (2021), her screenwriting debut as well as her first outing as a lead. Two years later, her sophomore project, Shelter in Solitude, is a low-key surprise as it details a woman's relationship with a death row inmate during the thick of the pandemic.
Set in small town Tennessee, Val (Hogan) runs a tavern while clinging to the dying gasp of a musical career that's long been on life support. Her brother, Dwayne (Robert Patrick), also the warden, is sick of watching her flirt with young, upstart musicians (Michael Oberholtzer) and drown the memories of her glory days with one glass of wine after another. With nationwide lockdowns commencing, Val is forced to close her tavern and find supplementary income to pay her mortgage and fix her leaky roof.
COVID-19 is also disrupting operations at the prison, forcing Dwayne to hire the down-and-out Val as the new death row guard. Her job is looking after the only inmate, Jackson (Peter Macon), who is faced with the last 10 days of his life. Jackson initially ignores Val, but her chatterbox tendencies eventually tear down the wall he builds between the two of them. By her own nature, Val is a kind-hearted, well-meaning people person, and the friendship she forms with Jackson is as inspiring as it is limited by the inevitable.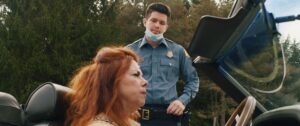 Mere weeks after Dumb Money, Shelter in Solitude is another movie that seeks to depict the tailspin in which the pandemic threw our society. Hogan humanizes a sector of individuals not frequently seen on the big screen, especially not with this degree of ruggedness. Hollywood loves to present the poor as individuals still rich enough to wear expensive makeup. Here's a film that brings us to a remarkably unremarkable rural town with few opportunities, and arrogant cops like Chris (Pete Hogan), who try to enforce protocols but are met with pushback from a town who knows him and his family like the back of their hands.
One of the strongest scenes in the film comes when Dwayne picks Val up from her tavern. Chris harasses her for not wearing a mask, despite the fact that she's trying to enter her now-closed bar to obtain the funds in the register. Val is distraught over the income she can't afford to lose. The two siblings go back and forth about their plights in a way that feels lived-in. This is America for so many; unfortunate individuals in afterthought communities who work hard for what little they have.
Just when you think Hogan might make her aging southern belle character a bit too much of a caricature, then comes the relationship she develops with Jackson. She brings him breakfast, sings songs for him, and tries to make his final days on Earth at least marginally enjoyable. As the relationship between the two develops, Val must confront the failures of her own life while Jackson attempts to process how his (justifiable) rage led to an act of violence that forever ruined his. The film turns especially dark in the third act, as you might expect. What you might not anticipate is the lack of a silver lining. Shelter in Solitude made me nervous late, as it seemed as if it would teeter towards depicting incredulous circumstances in favor of a happy ending. Thankfully, it does not. It stays grounded in realism, as harsh as it might be.
Director Vibeke Muasya makes beauty out of hopelessness when it comes to capturing lonesome prison hallways, desolate downtowns, and Val's cluttered yet cozy abode. Hogan's script remains tethered to the humanity of each of its characters, even Dwayne, whose hard-lined, authoritarian stance on matters conflicts with Val, who leads with her heart. Shelter in Solitude is one of the more pleasant surprises of the year, as it seeks to pivot contemporary Christian cinema away from its frustrating obsessions with proselytizing and phony persecuting in pursuit of something tangible and emotionally moving.
NOTE: Shelter in Solitude is now playing exclusively in theaters.
Starring: Siobhan Fallon Hogan, Peter Macon, Robert Patrick, Pete Hogan, Michael Oberholtzer, Patricia Scanlon, and Dan Castellaneta. Directed by: Vibeke Muasya.