Jesus Revolution (2023) review
Dir. Jon Erwin and Brent McCorkle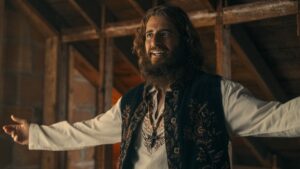 By: Steve Pulaski
Rating: ★★★
It's California in the late 1960s. The staid Pastor Chuck Smith (Kelsey Grammer) is watching his older congregation dwindle as young people embrace the hippie movement. Even his daughter, Janette (Ally Ioannides), looks at the counterculture with doe-eyes and a sense of wonderment. She's completely sold on it when she picks up Lonnie Frisbee (Jonathan Roumie), a hitchhiker with an uncanny resemblance to Jesus Christ and a passion for sharing the word of the Lord. She brings Lonnie into her father's home. Before long, the ordinarily stoic pastor is letting him lead his church and watching the pews fill with a decisively younger crowd as a result.
Meanwhile, there's Greg (Joel Courtney), a young man looking at a bleak future in the military until he meets Cathe (Anna Grace Barlow), an attractive flower-child who leads him into an entirely new space. Greg navigates casual drug use and his alcoholic mother, but is saved when he joins Chuck and Lonnie's church, which is the elixir for lost souls in search of salvation.
Jesus Revolution is a faith-based film not afraid to address the fact that there was a time when the gospel of Jesus Christ and the holy trinity of sex, drugs, and rock 'n' roll intersected to form the greatest spiritual revolution America has ever seen.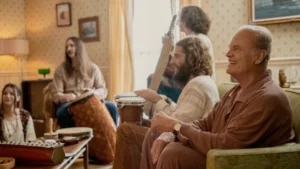 Based on true events, which saw the real-life Chuck Smith and Lonnie Frisbee join forces to create the Calvary Church and the concept of "power evangelism," Jesus Revolution is mostly anthological, with intersecting timelines and characters over the course of the early sixties. You have all the archetypes in place to represent their respective generations: Chuck is the "square" pastor, confused by the hippie movement yet simultaneously willing to give it a shot at the insistence of his daughter; Lonnie is the changing face of the spirituality movement, which will only survive if people like him are given their turn at the pulpit; meanwhile, Greg is the one who inched close to conformity until he found that the word of God was worth making a sharp pivot in life.
Directors Erwin and Brent McCorkle explore the counterculture with a PG-lens. No less, there is some personality in the scenes when acid becomes a supporting player, with hallucinogenic camera effects and ample lens flare. It's functional given the world Erwin and McCorkle build; one that's admittedly sanitized but illustrated well enough to represent the period. At times, however, it gets a little hokey, such as when a drugged-out Greg notices that Cathe is in his showing of Romeo & Juliet at the multiplex. The second she turns around, an angelic glow forms around her.
I might say Jesus Revolution is a cut above 95% of Christian movies released these days, but I didn't say it wasn't without its own brand of corniness.
Thankfully, the more treacly bits don't distract from the captivating qualities that sustain this two-hour feature. Making a name for himself is Jonathan Roumie as the beloved-but-controversial Pastor Lonnie Frisbee. Roumie looks like a cross between Jesus Christ and Aaron Rodgers, and speaks with a confident softness that forces your guard down and earns your trust almost immediately. He displays all of Lonnie's likable and detrimental qualities on-screen with a real gravitas. I hope he gets his shot at larger roles.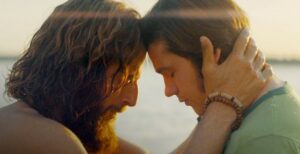 Kelsey Grammer does fine work as Chuck Smith, who is Lonnie's opposite. The welcomed subtraction from Jon Gunn and Erwin's screenplay is that it doesn't take Chuck half the movie to give Lonnie and his friends a seat at his church. In fact, it's within the first 15 minutes of the film that him and several of his barefoot friends are in the pews. That leads to a full house, which then leads to Chuck washing the feet of each hippie before they enter the church after some old hats griped about them staining the carpets. That's one of the many excuses some make for not letting the hippies into the church. As we know, there's no love quite like Christian hate.
Jesus Revolution creates a symphony of era-specific attire, youthful energy, a nostalgic 60s soundtrack, and a flurry of good performances and captivating stories to go along with it.
This is probably the single-best faith-based film since I Can Only Imagine, or maybe American Underdog: The Kurt Warner Story. The common-thread of all three movies is director Jon Erwin (who directed the former two with his brother, Andrew). The Erwin brothers have been dutiful in their convictions, gifting audiences Christian movies geared towards telling a complete story as opposed to proselytizing and capitalizing on a persecution complex. If the God's Not Dead series wasn't baseless Christian conservative propaganda, those films would probably look an awful lot like Jesus Revolution.
NOTE: Jesus Revolution is now playing exclusively in theaters.
REVIEWS OF OTHER FILMS DIRECTED BY JON ERWIN:
My review of I Can Only Imagine
My review of The Jesus Music
My review of American Underdog: The Kurt Warner Story
Starring: Joel Courtney, Jonathan Roumie, Kelsey Grammer, Anna Grace Barlow, Ally Ioannides, and Kimberly Williams-Paisley. Directed by: Jon Erwin and Brent McCorkle.